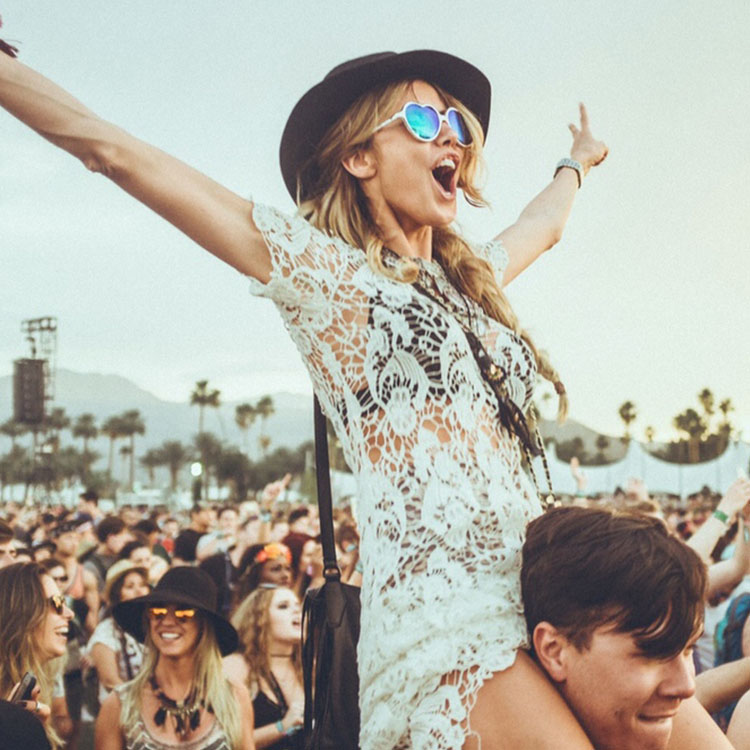 That's right, it's time to head to Indio for the second time this year, and this time, we're not talking Coachella. I've been anticipating this weekend since last April, when talks first swirled that six of the greatest musicians of all time were going to put on the show of a lifetime in the middle of the desert. The millennials are calling it "Old-chella," I'm calling it the best line-up in the history of music, and it's technically known as Desert Trip. From Paul McCartney, to The Rolling Stones, Bob Dylan, The Who, Neil Young, and Pink Floyd's Roger Waters the star studded festival is in a league of its own. We're not ssure what to expect, but with Goldenvoice, (the same guys who put Coachella on every year) at the helm, we know we wont be disappointed.
This year isn't so much about the fashion as it is about the music, so we'll leave that to Coachella, but incase you aren't already up to date on the what's what in Palm Springs, I'm here to give you a little Palm Springs city guide to keep you occupied over the next two weekends. Seeing as the party doesn't start until the sun goes down, you'll have all day to run around Palm Springs, and I have just the places for you.
1. Moorten Botanical Garden and Cactarium : Located right off the main road, at 1701 S Palm Canyon Dr lies a cacti lovers heaven, and offers it's visitors exactly what you would imagine. Established in 1939 by husband and wife Patricia and Chester "Cactus Slim" Moorten, the couple were Palm Springs royalty as they assisted Walt Disney with designing Disneyland's Frontierland. Stop in to say hi, grab a succulent, and take a look around, you won't regret it. Another comprehensive article about the best botanical gardens in the U.S. can be seen HERE.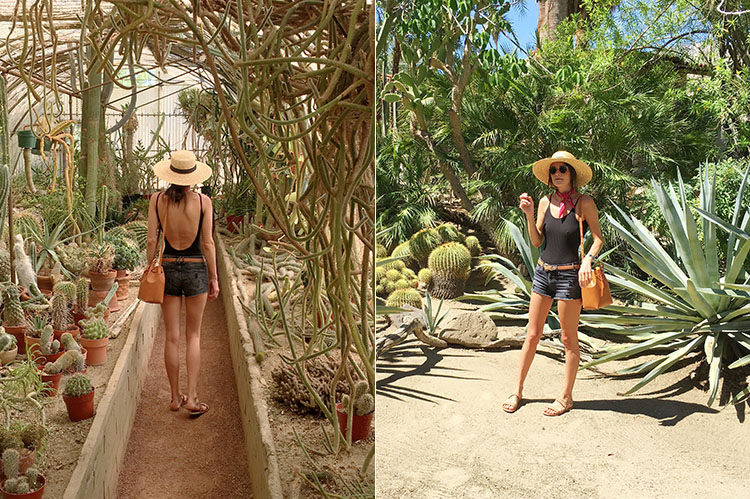 2. The Parker Palm Springs Hotel for Spiked Lemonade : Ten years ago this month, the Parker Palm Springs opened its iconic orange doors to the public, revealing a fresh, luxurious-yet-tongue-in-cheek interior renovation and garden landscape straight out of "Alice in Wonderland." It has become synonymous with celebrity names such as Brad Pitt and Robert Downey Jr, as well as the style conscious fashion bloggers who seem a natural fit amongst the Jonathan Adler interiors. Pull up a chair, order a spiked lemonade, and walk the grounds… Just be careful not to get lost in the beautiful maze.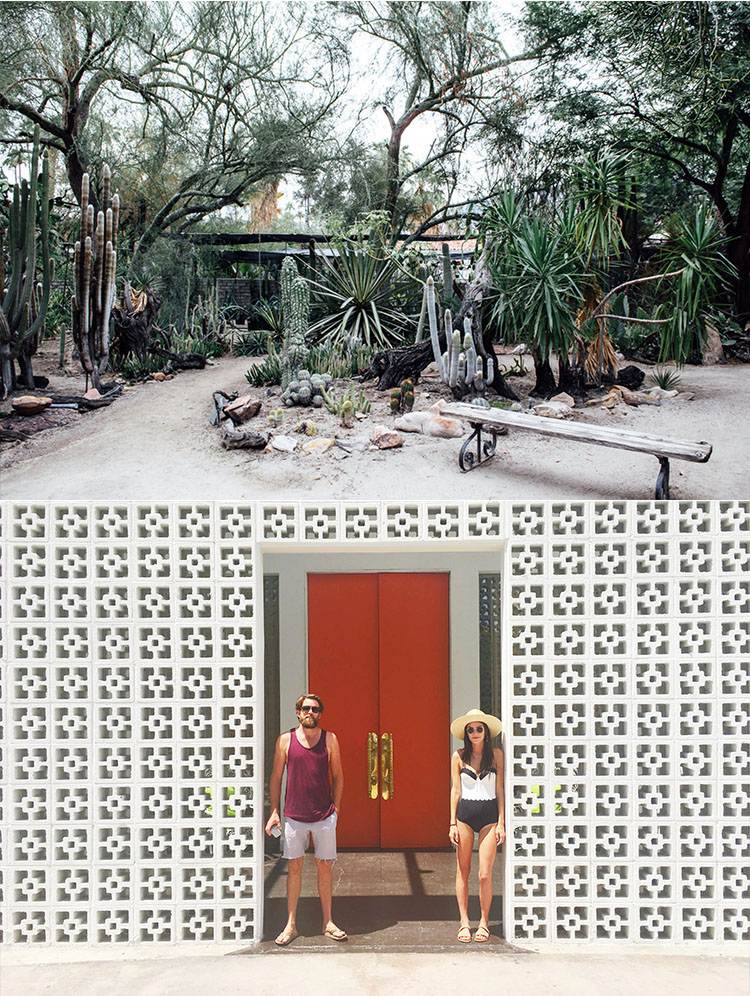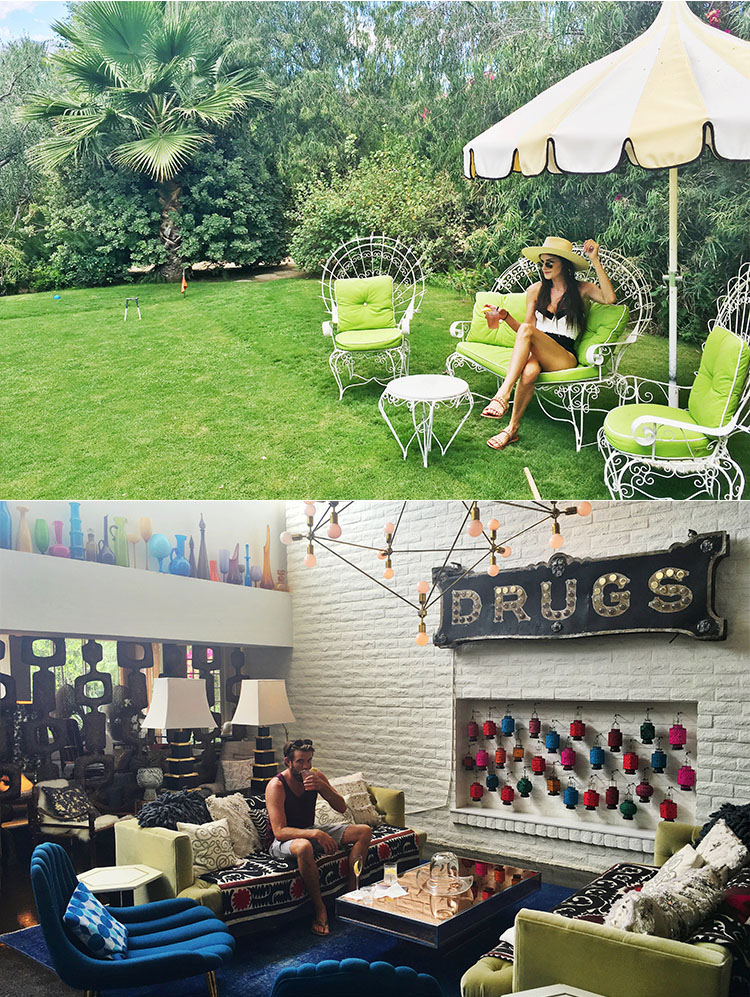 3. King's Highway at The Ace Hotel : This hip Ace Hotel restaurant offers an eclectic menu with a variety of American eats amid quirky decor. An ode to organic farmers market fare makes this my favorite place to grab a bite! Don't forget to step out back for a quick photo-booth session.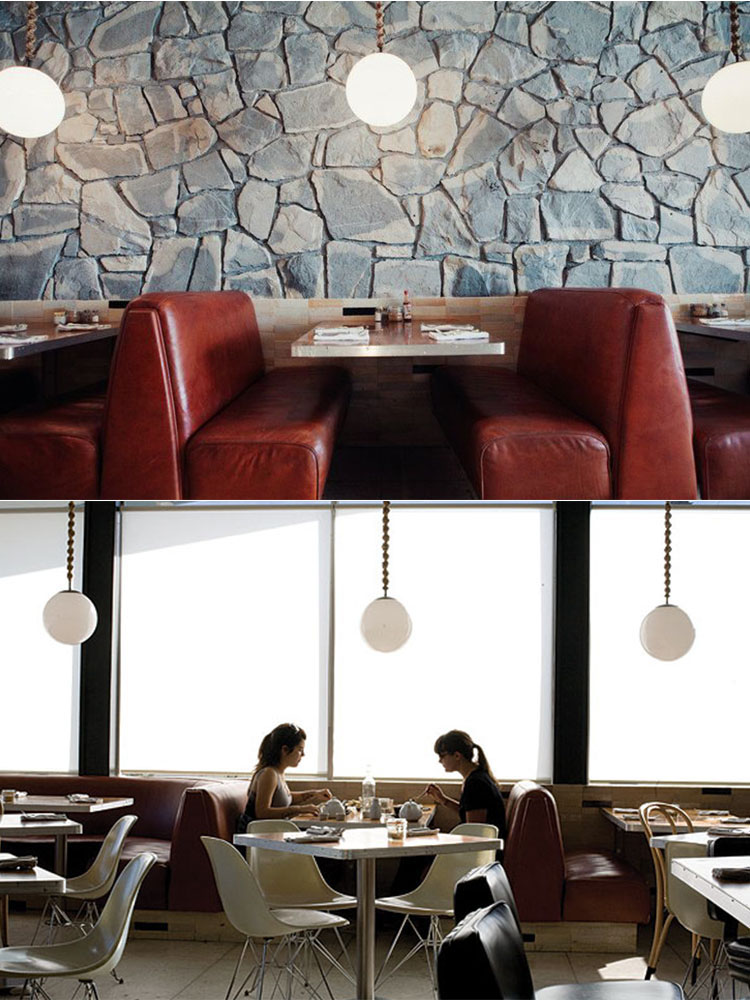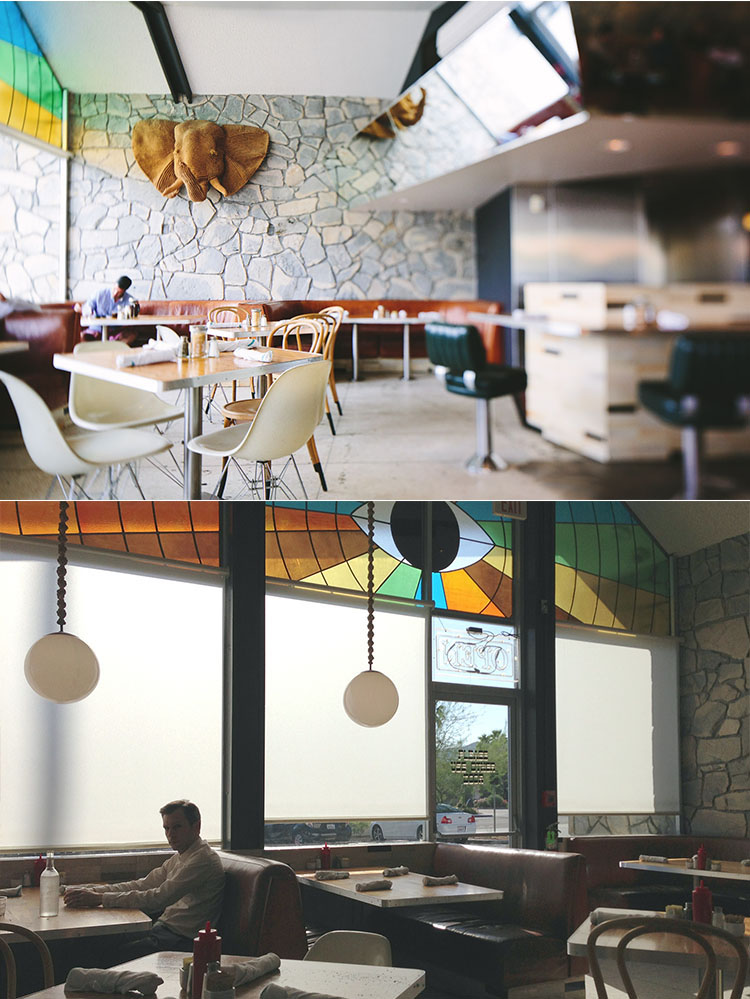 4. Two Bunch Palms Spa Resort Hot Springs : An award winning spa and resort, Two Bunch Palms Spa Resort is known for their famous hot mineral springs that bring you the best wellness experience the desert has to offer. The goals Two Bunch Palms Spa Resort has for its guests are: to savor their delicious farm to table fare and to nourish and replenish your soul. Take a night to your soul, and share a warm and inspired setting with friends or that special someone. Seduces your senses, and feed your passion, Two Bunch Palms Spa Resort is unlike anywhere else in the world.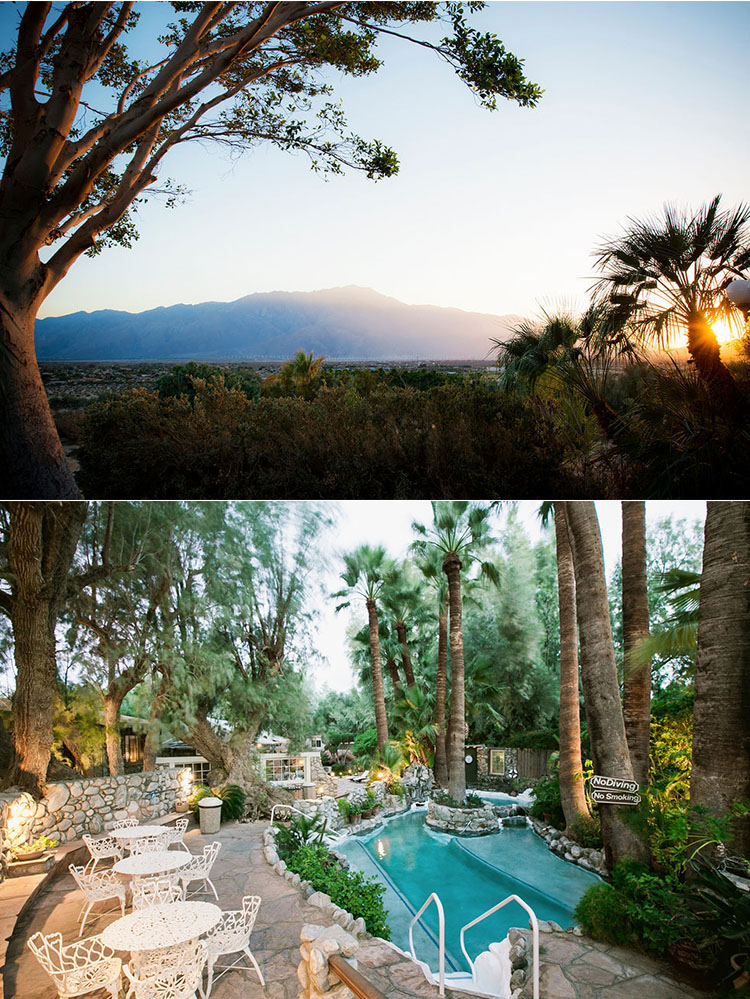 5. SO•PA : Dramatic, refined, and intimate, SO•PA offers a unique alfresco dining experience. Finished with fire pits, fountains, and Lindsey Adelman chandeliers, SO•PA is the desert's most distinctive gourmet restaurant and cocktail lounge. Enjoy craft cocktails, unique wines, and fresh food while overlooking the most dramatic desert mountain views in Palm Springs.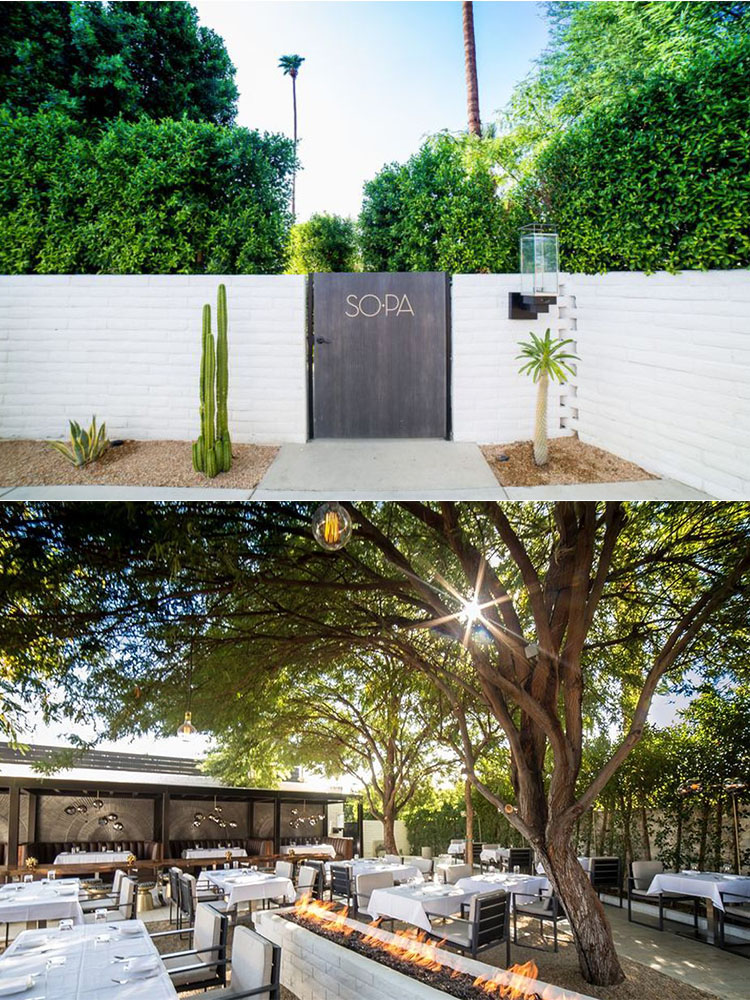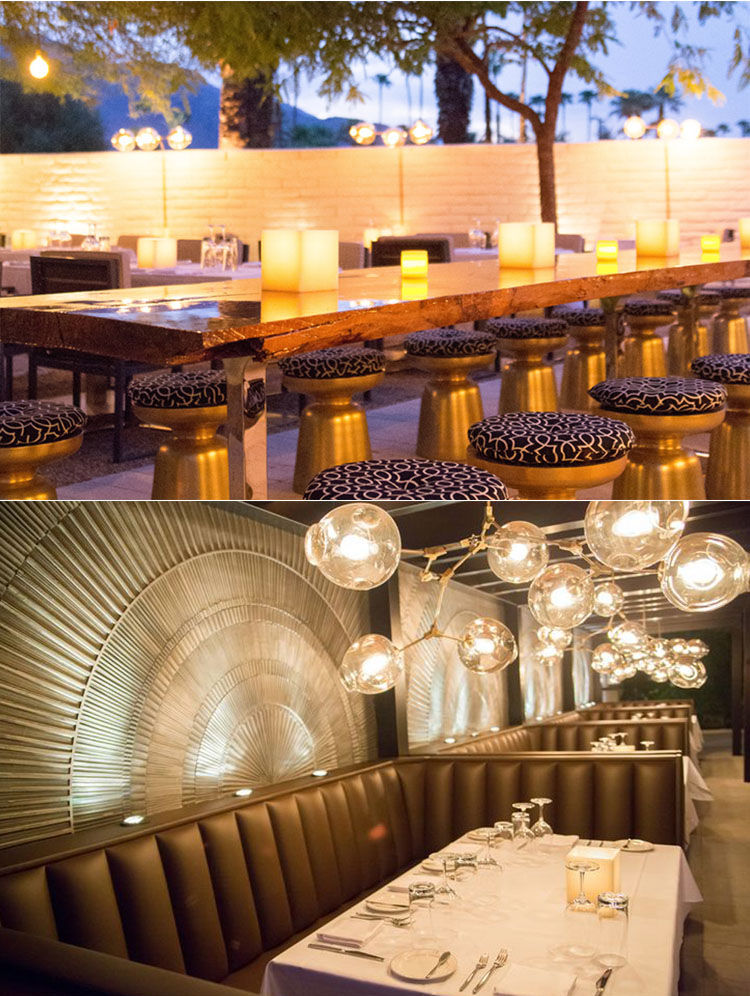 6. Great Shakes : They're not exaggerating when they make claim to the world's best gourmet shakes, malts and floats. To start, Nelson and his family, wife Patricia and son Scott, make everything by hand, including butterscotch, salted caramel, fudge, marshmallows, graham crackers, and whipped cream, and don't use any artificial flavorings. If that wasn't enough to get you hooked, they use a unique, modified soft serve machine that allows them to serve actual ice cream, not frozen yogurt. Every straw is adorned with a house-made mini-doughnut, and you're allowed to create whatever combination you desire. If you choose two ill-fitting flavors, say Oreo and lemon, and they end up tasting foul together, Nelson will make you another shake, no questions asked. It's a sin if you make it to Palm Springs and don't indulge in a Great Shake!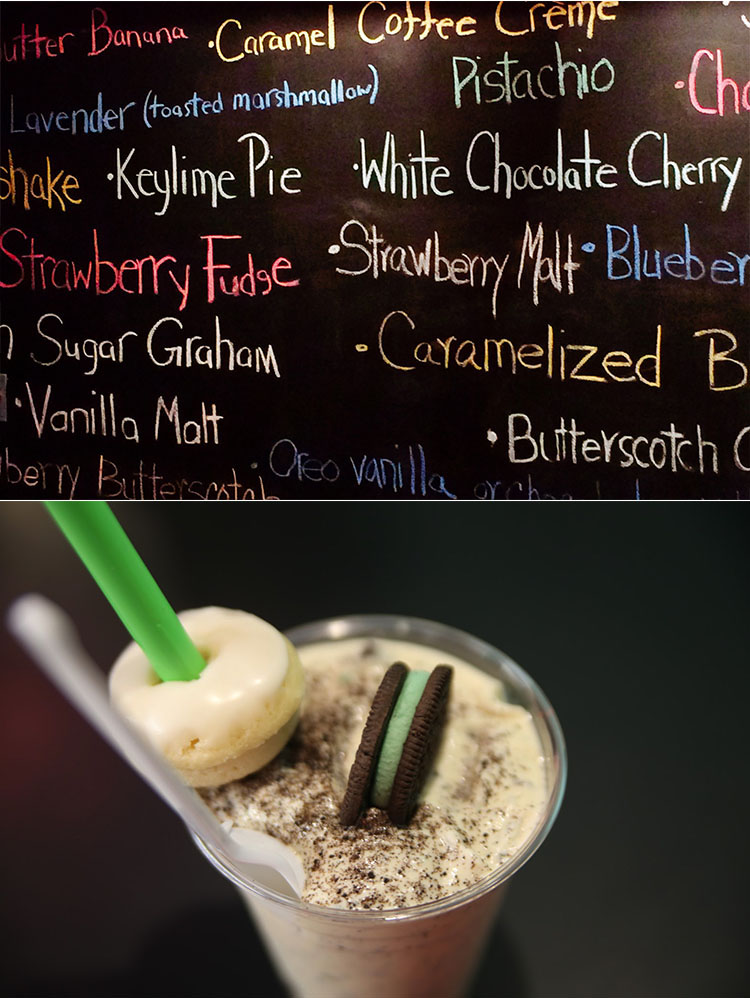 Let's make it a weekend to remember!
xo,
Jadan Huter