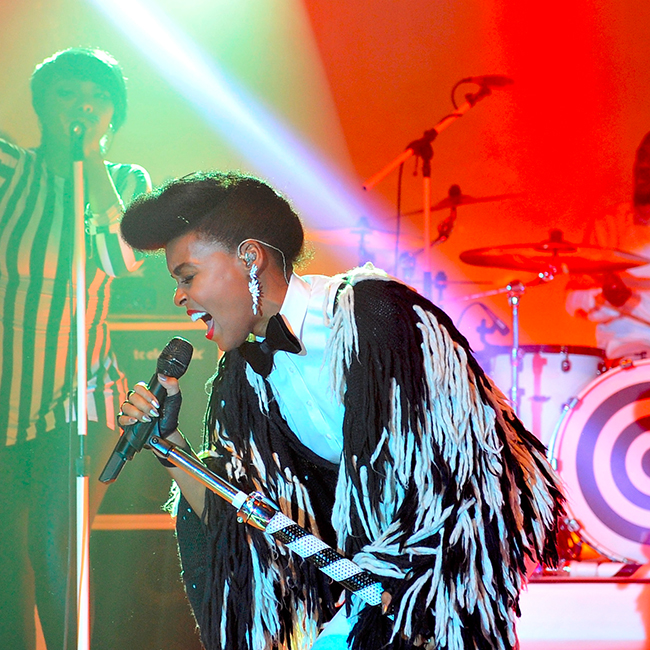 The MOCA Gala. It's always one of the best events in LA and this past Saturday night was no exception as a very star studded crowd of more than 770 international guests from the worlds of art, design, architecture, fashion, film, and music turned up ready to party, pay tribute to renowned artist John Baldessari, and rock to Janelle Monae. In fact, you could feel the excitement in the air from the second everyone stepped on the orange carpet at the Geffen.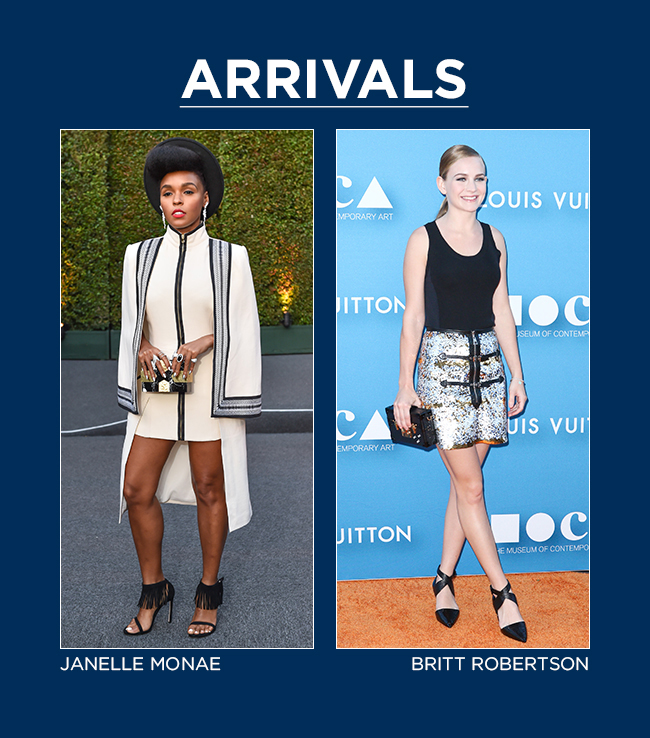 Once again presented by Louis Vuitton, the annual gala is always the perfect, eclectic mix, and this year celeb roster included everyone from Dita Von Teese, Marissa Tomei, Janelle Monae (who's performance brought the house down) to Tomorrowland's Britt Robertson in LV, Patricia Arquette, Roseanna Arquette, Gia Coppola also in LV, DJ Kiss, fashion icon Joy Venturini Bianci all joined by MOCA Director Philippe Vergne and his wife Sylvia Chivaratanoud, Co-Chair Lily Tartikoff Karatz, along with artists from Ed Ruscha, Retna, Doug Aitken, and Shepard Fairey, to art lovers such as China Chow as the stylish LA crowd all gathered to pay tribute to renowned artist John Baldessari at the Geffen. Of course, I was there and in Louis Vuitton.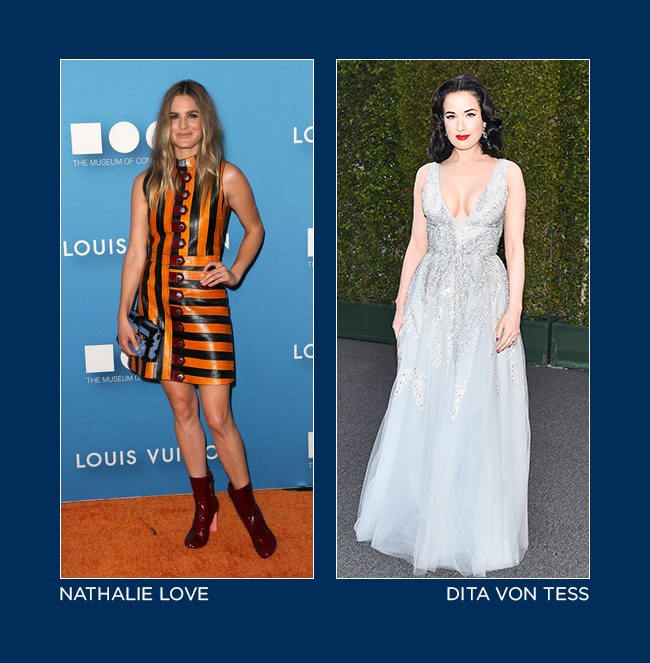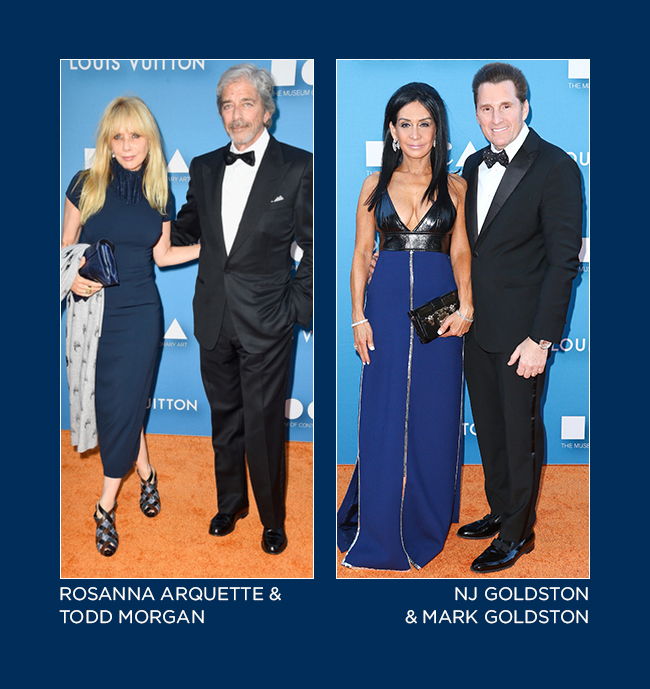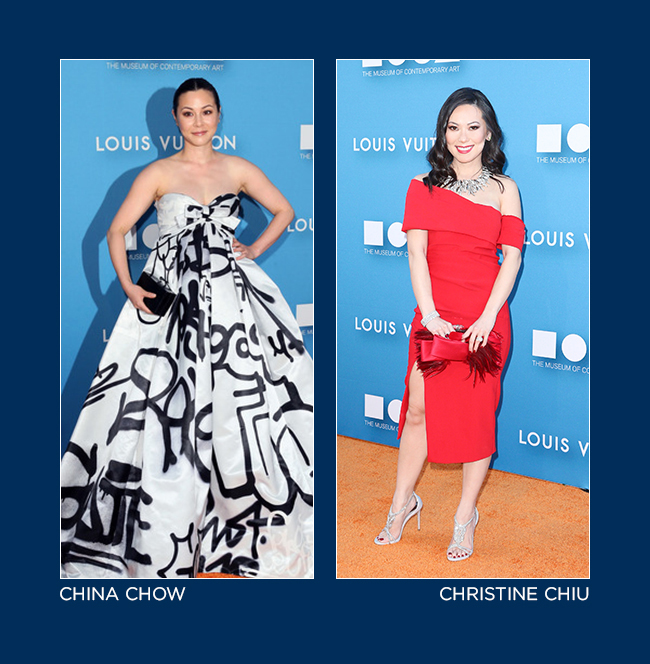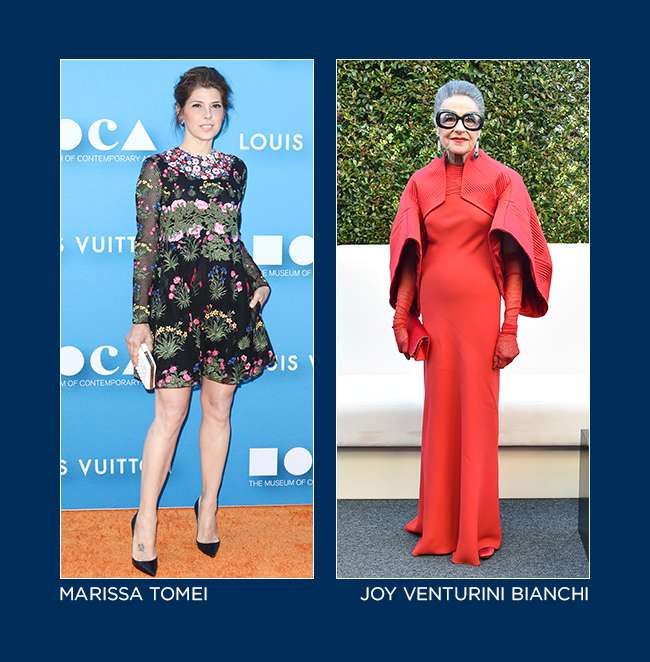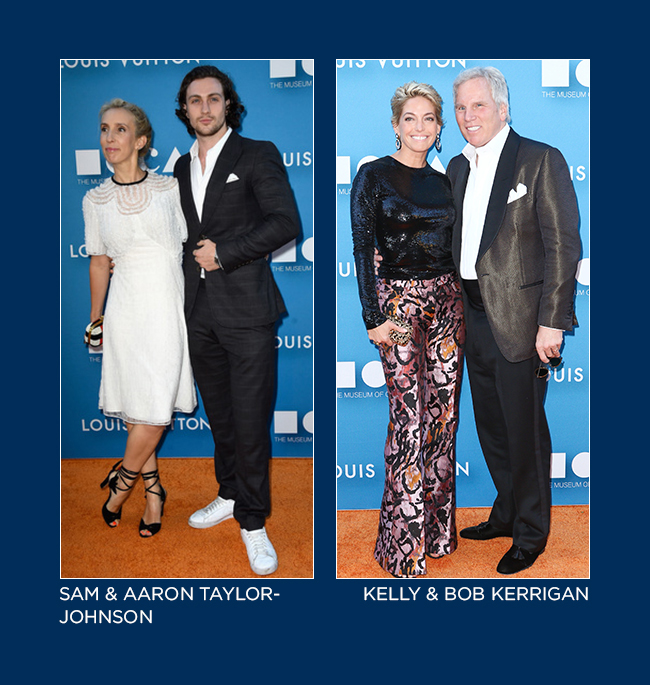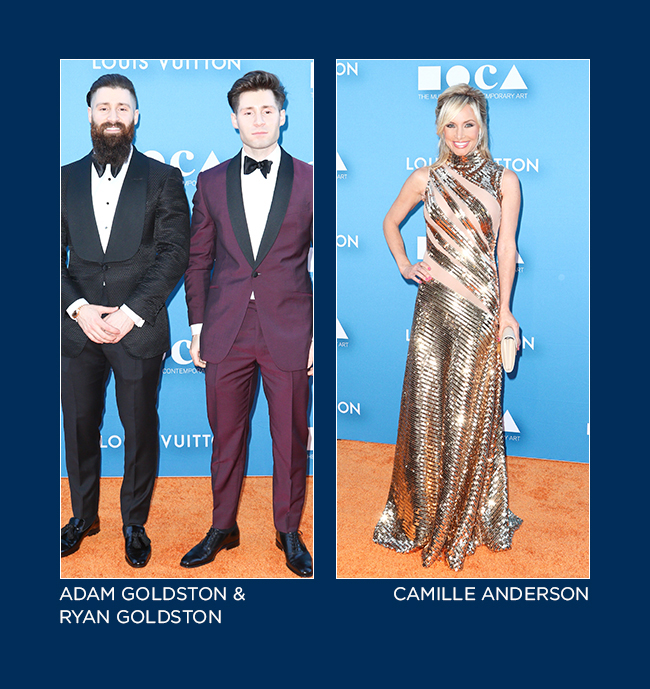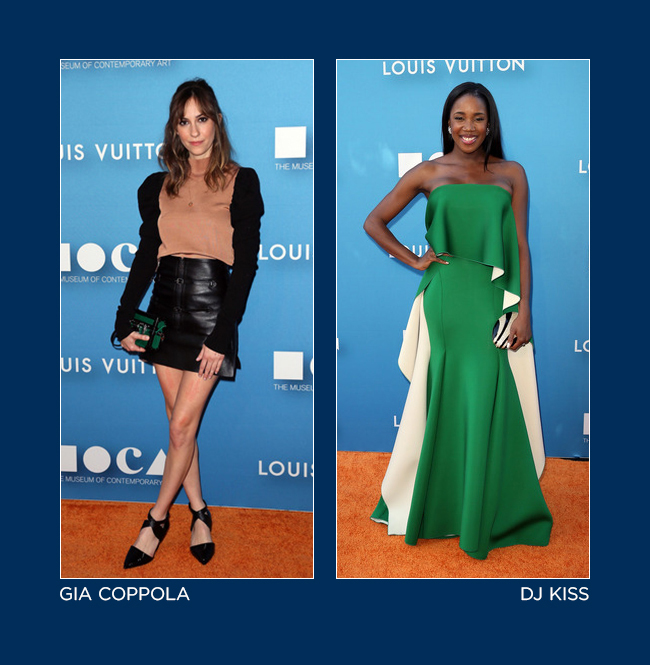 Some of the Orange Carpet fashion details worth noting are the slew of Louis Vuitton "petite malles" (which means small trunks) in bold colors along with fringe still going strong, embellishment in micro-sequins, and quite a bit of bling with bold diamond earrings leading the way. We even spotted quite a few guests in stunning Vhernier jewels.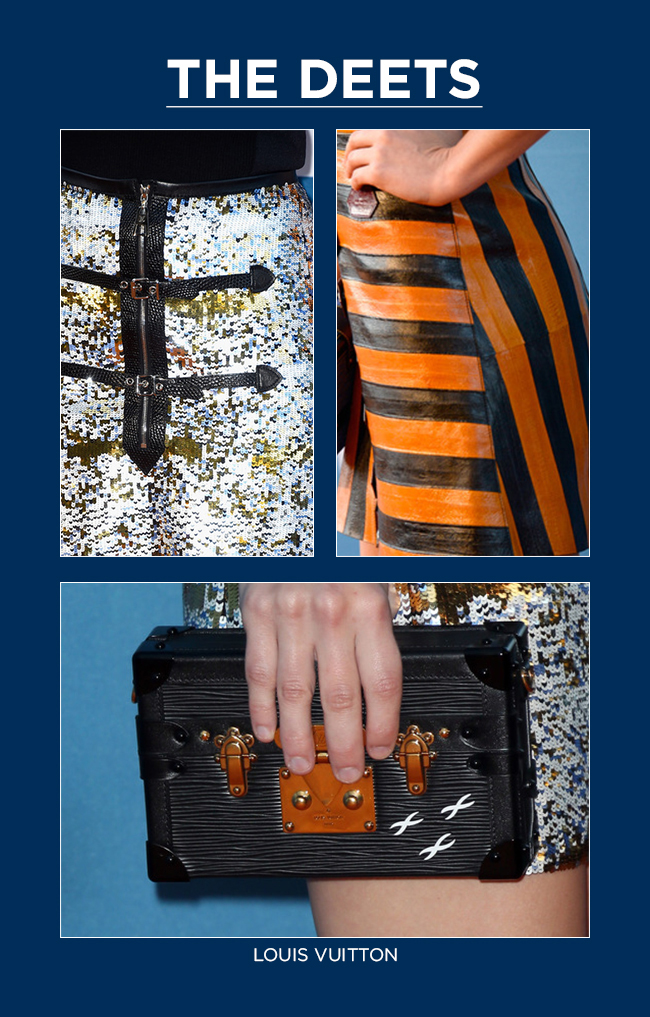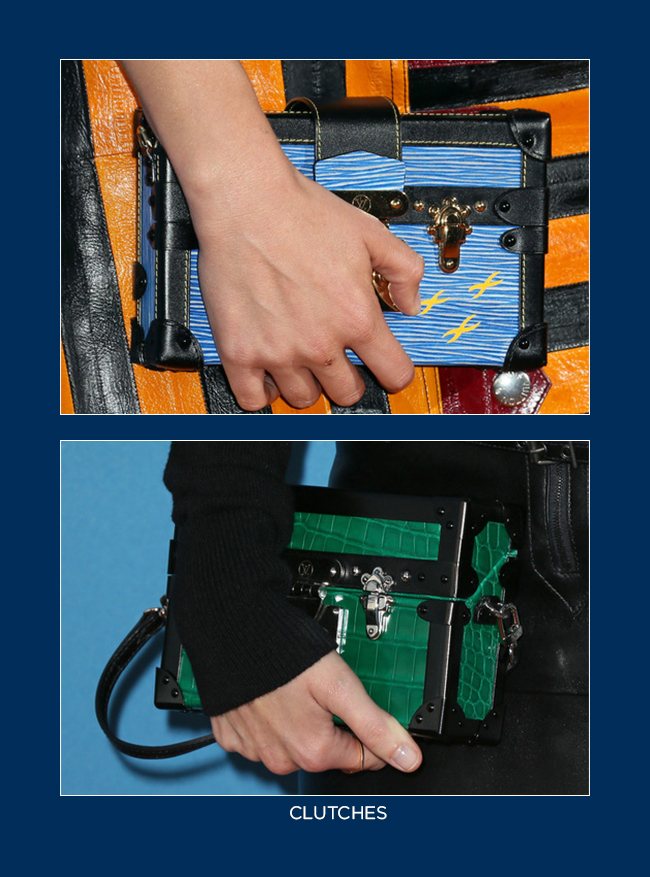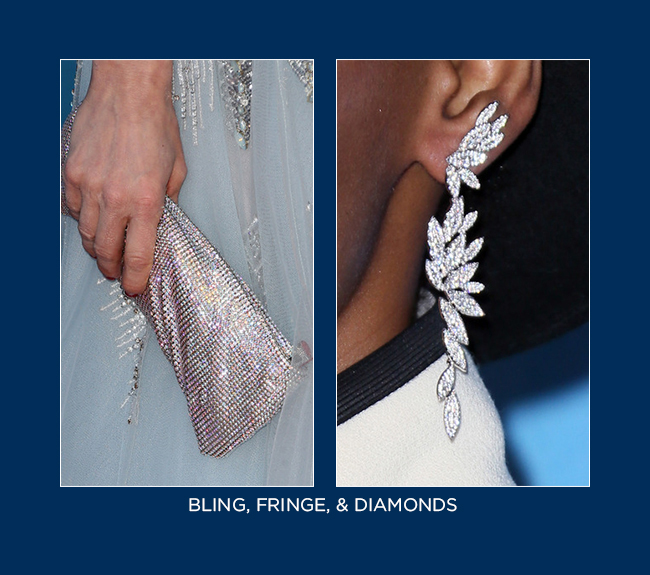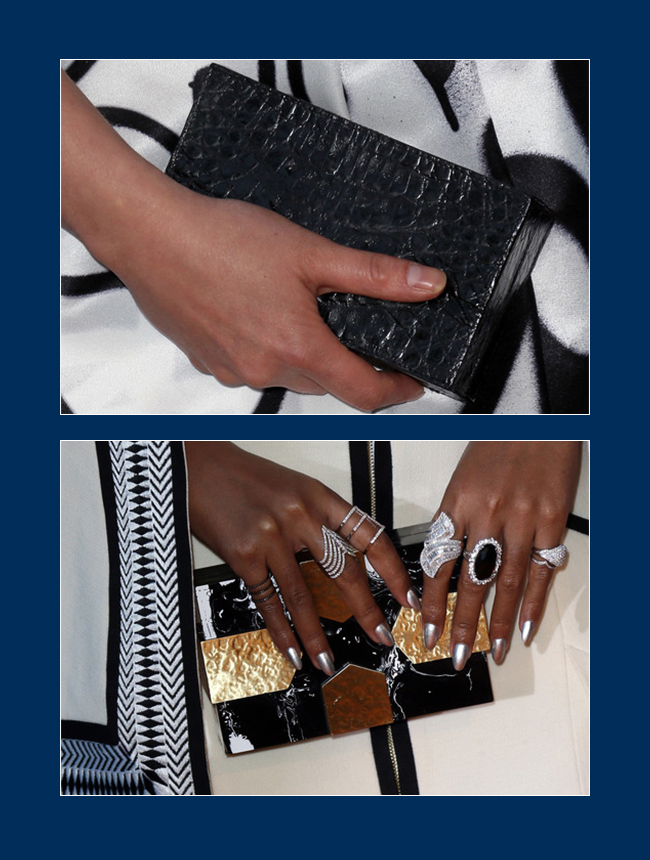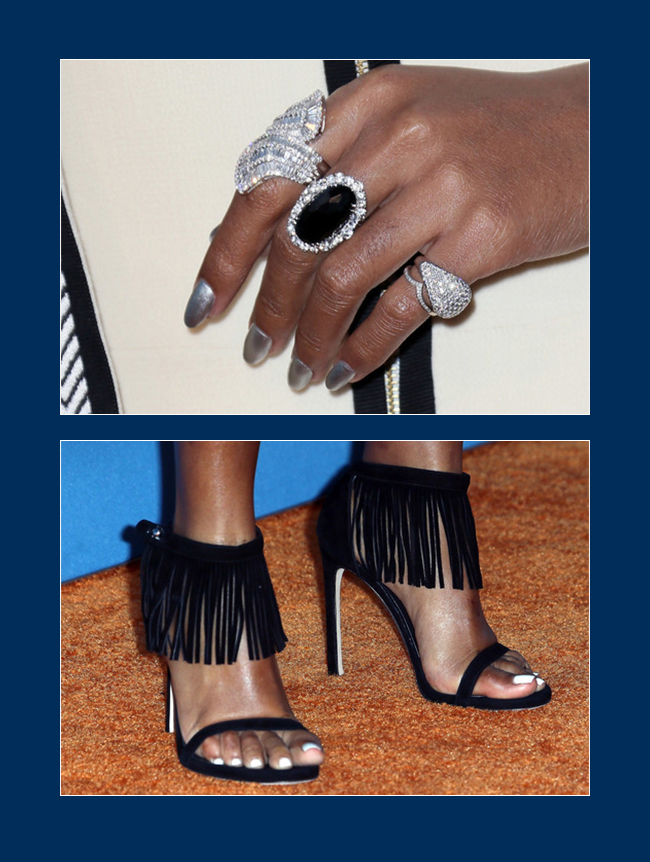 The theme of the evening naturally centered on the work of John Baldessari and the invite and the sides of the tent (more on that in a moment) and my gown, were inspired from his precisely scrawled writing in black ink that repeated over and over "I will not make any more boring art." Well, there was no boring art as guests took in the "William Pope.L: Trinket" exhibition by the artist that included a 55-by-16-foot fraying American flag in the next room at the Geffen and certainly not a boring party.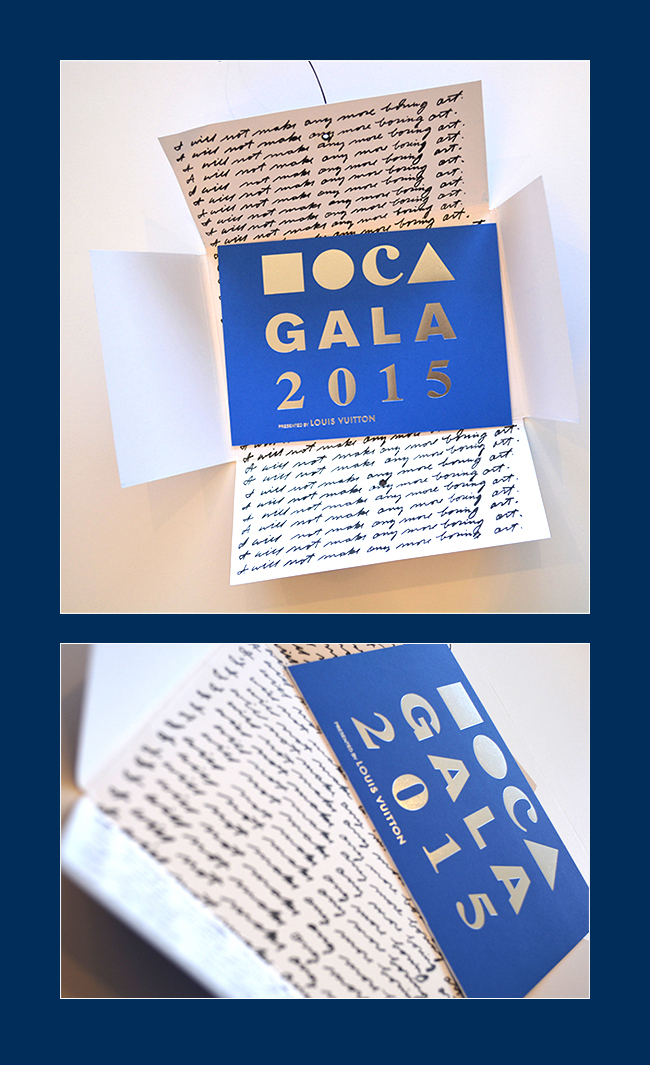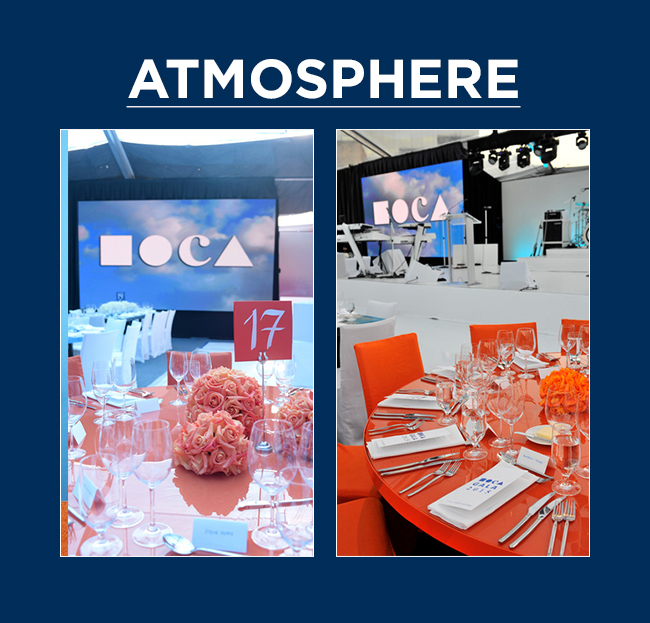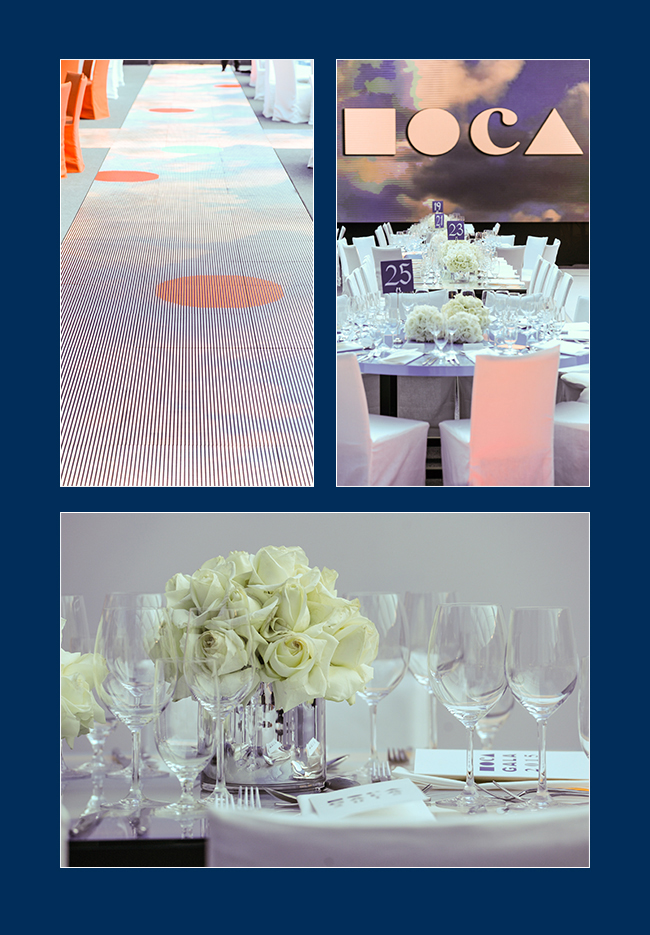 So how did the night unfold? Perfectly. The evening began at The Geffen Contemporary at MOCA in Downtown Los Angeles' Little Tokyo. Guests viewed (and I had seen it before) the William Pope.L: Trinket exhibition and I was excited to see if it had indeed begun to shred. Not much but it's still so moving. Everyone then gathered at an outdoor cocktail reception under a Frank Gehry-designed canopy, set to music by DJ Kiss (and she did an amazing job of getting the evening started). Wolfgang Puck was once again the caterer and lots of hor d'oeuvres were passed and the famous Caesarstone Bar was back commanding the room. As dinner got under way, guests proceeded through a modern, bronze-floored entrance to a white-draped gala tent filling in a neon-lit pathways combined, with you guessed it, lit glass tables-paying homage to John Baldessari with an orange and blue polka-dot theme and white and orange tables.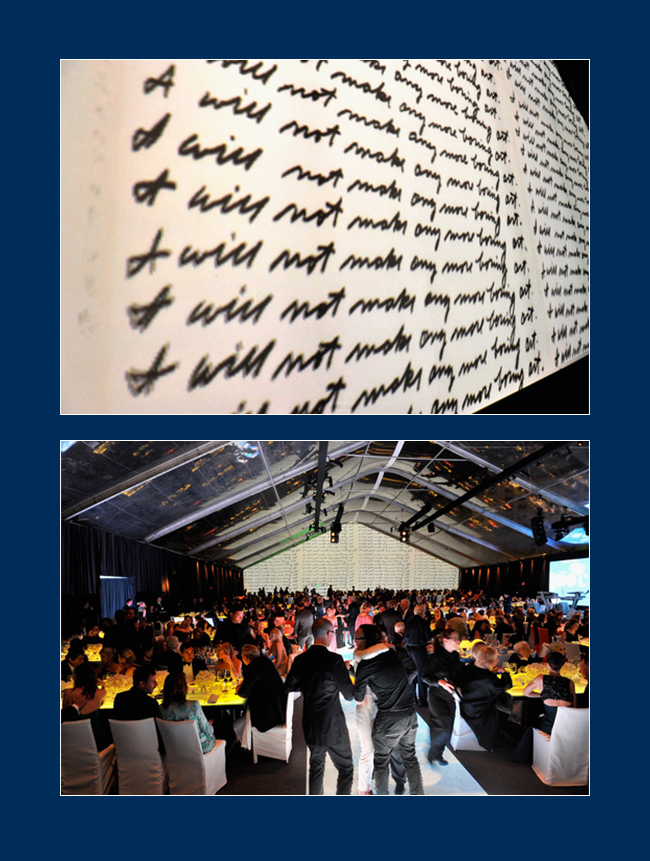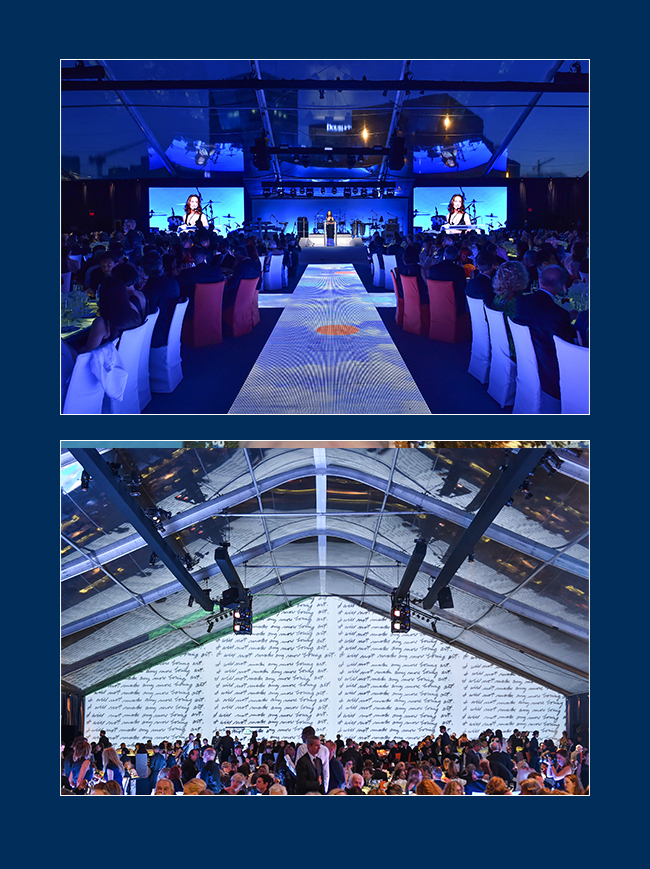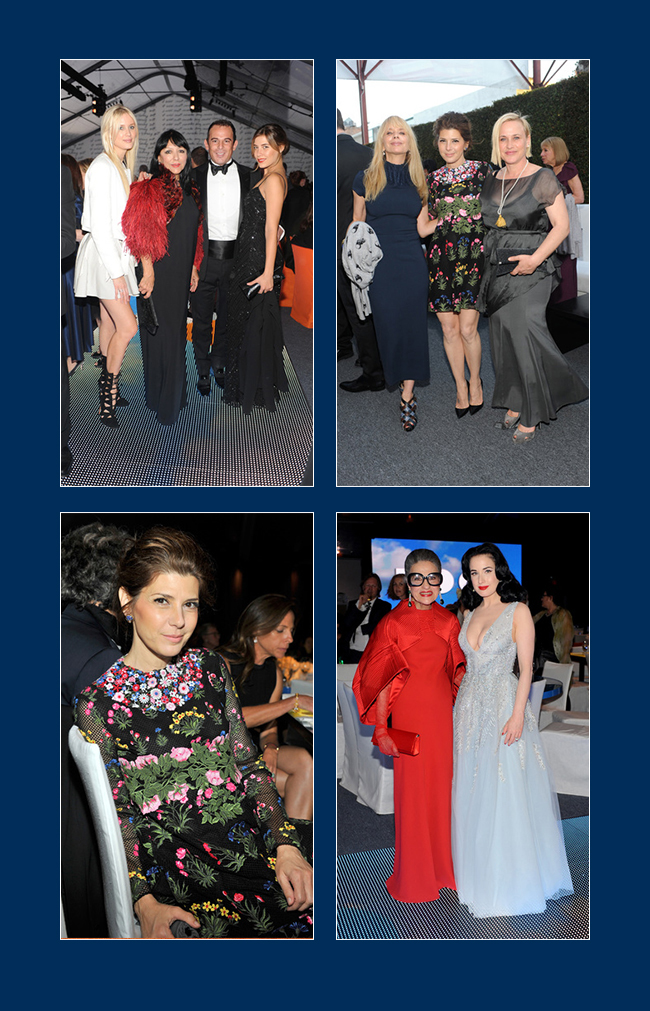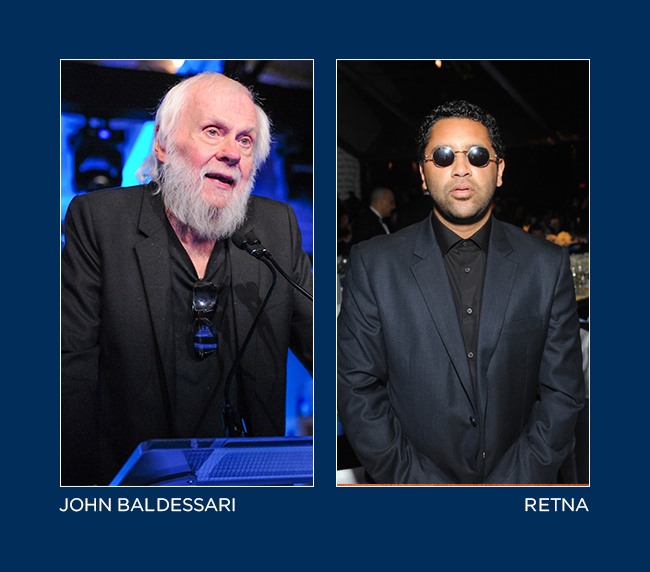 After a Wolfgang Puck catered dinner, MOCA Director Philippe Vergne took to the stage to address the crowd thanking the artists, the Board, the museum staf,f and paying tribute to the late artist Chris Burden which brought major applause. Vergne expressed what many were thinking, saying "Last year one artist was in the room and is not in the room tonight. So I want to raise my glass to Chris Burden. He brought love to Los Angeles and to MOCA." Then it was on to acknowledged John Baldessari which produced a standing ovation in recognition of his amazing contributions to the art world. Once dessert was served, special guest performer Janelle Monáe took to the stage bringing the house down with her unique psychedelic-soul and R&B sound. Everyone congregated around the stage and danced to her hits Tightrope, Primetime,and Dance Apocalytic including the hubby and me. We honestly didn't want it to end.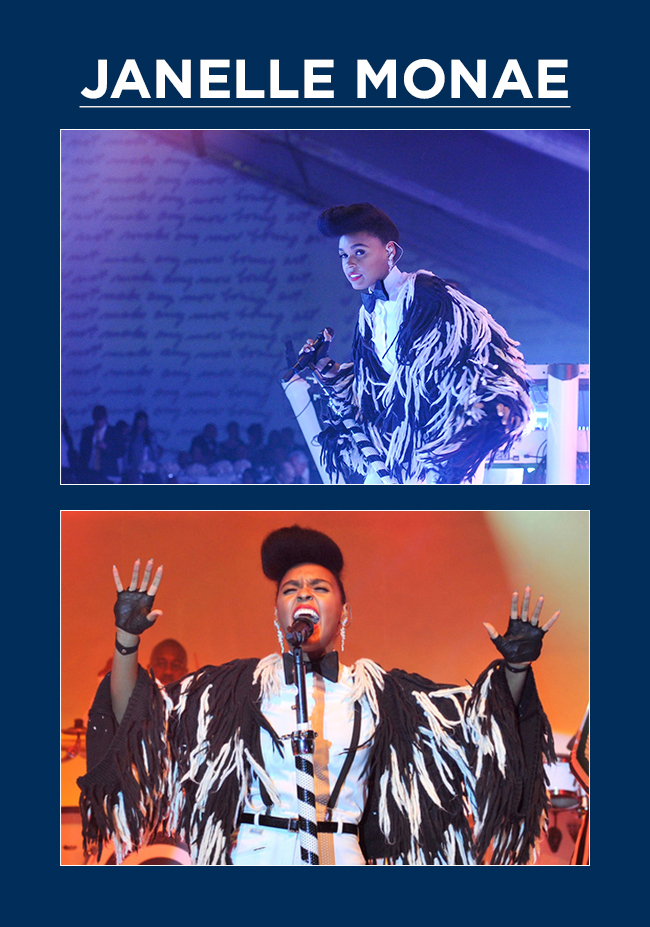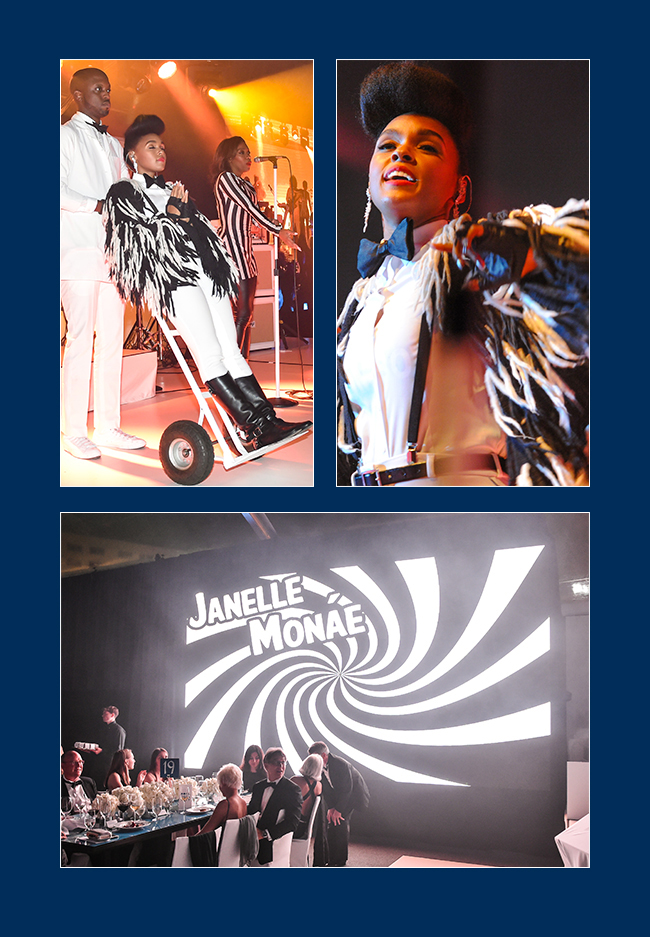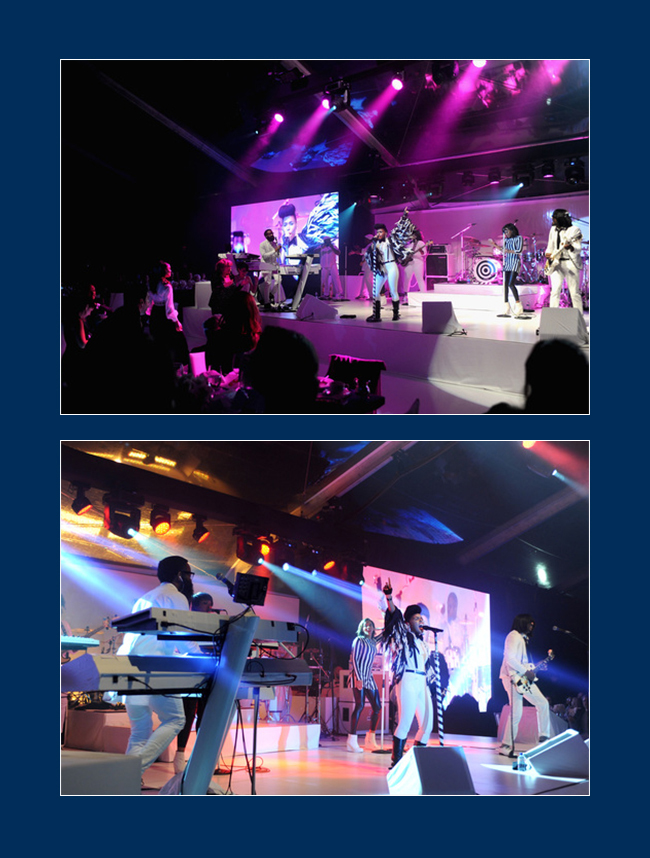 The good news. The evening didn't end there. The crowd stuck around for even more dancing and after dinner cocktails into the early hours as the musical trio DJ Philippe Paris, saxophonist Florencio Cruz and violinist Julio Cuba took closed out the evening. I even had one more treat in store as Janelle and I secretly met alone at the end of the evening to talk about the night, and what else, music and fashion. We'd met at the Met Galaand had an instant connection. I can't think of a more perfect way to end the night. Thank you, Janelle. You, rock!
With Love From the MOCA Gala,
NJ Goldston, the Brunette
photo credits: Billy Farrell/BFAnyc.com/ Getty Images courtesy MOCA