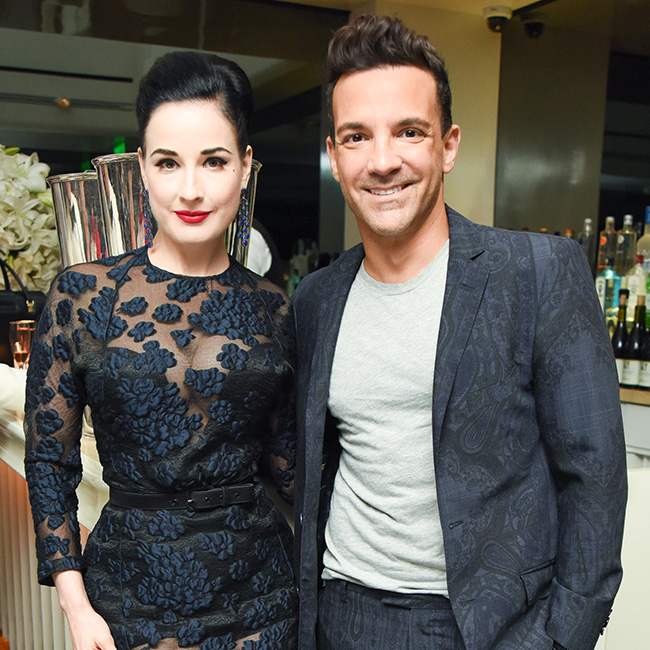 It's always one of my favorite dinners and this year was no exception as Susan Casden & The Friends of the Costume Institute of The Metropolitan Museum of Art (of which I am one), hosted an intimate dinner at Mr. Chow's in Beverly Hills in honor of Andrew Bolton, Curator, of The Costume Institute. Andrew winged his way from New York to join us as we toasted him on the occasion of The Costume Institutes Spring 2015 Exhibit China: Through The Looking Glass. Beautifully curated by Bolton, the exhibit is already drawing record crowds (in excess of the McQueen Exhibit) and is being extended into late August. Naturally Mr. Chow's seemed the perfect choice for this year's gathering and Cartier helped make it all possible.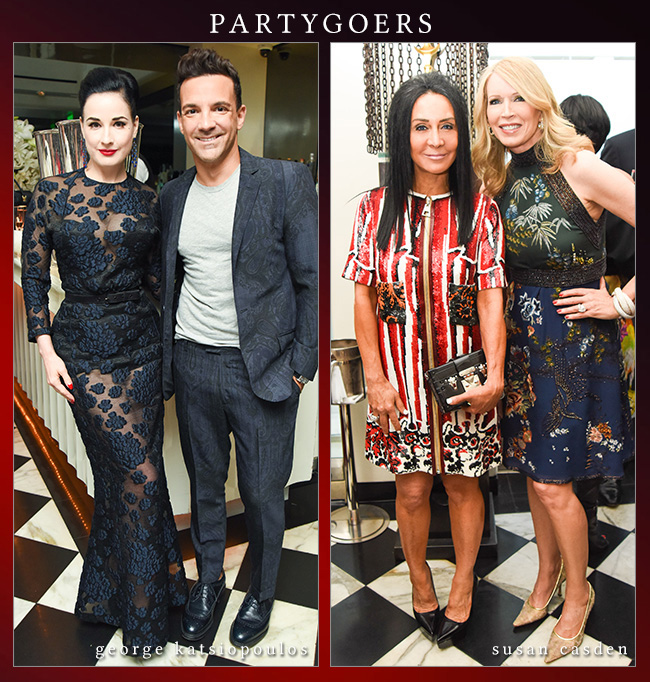 Guests from Dita Von Tesse, George Katsiopoulos, designer Jenni Kayne, jeweler Sarah Jane Wilde, Larissa Sabidash, and our tight West Coast Friends contingent, that makes its way to The Met Gala each year, were all there including Electric Fashion author Christine Suppes dressed in Rodarte, Christine Chiu, Debra Drucker and hubby Stray Cats musician Lee Drucker, and our hostess Susan Casden dressed in Gucci and a stunning jeweled Trinity de Cartier bracelet. I wore a red sequinned Louis Vuitton, and red may have been the color of the night, along with Chinese-inspired choices by many of the guests. Dita did confess that she was wondering if her gown was a bit too sheer. Not at all! Sheer seems to be the new norm and Dita looked as stunning as ever. My Pucci dragon gown for The Met this year was, what else, a bit sheer.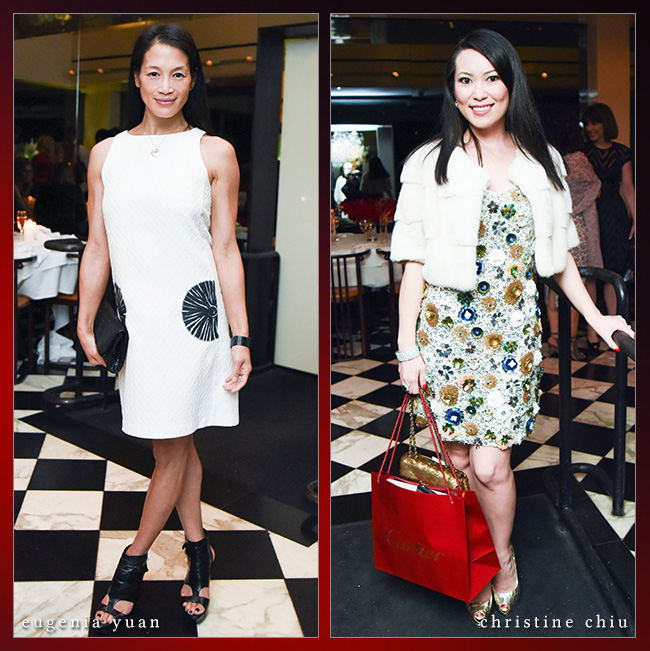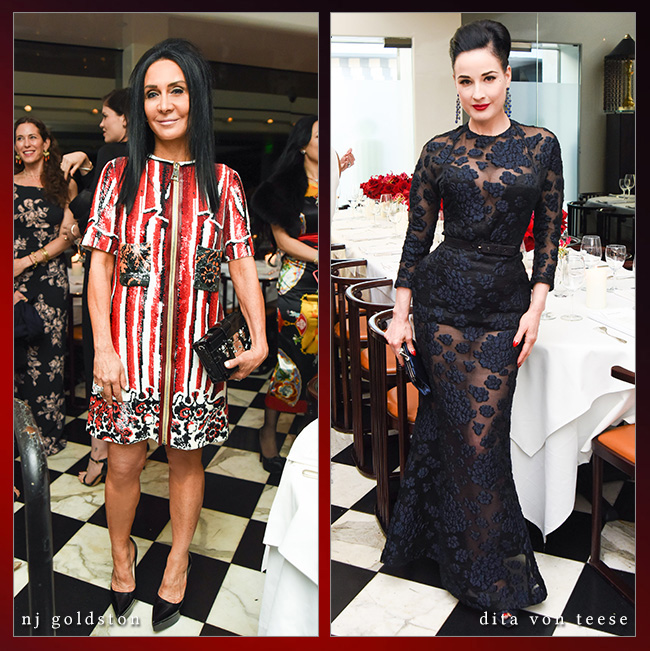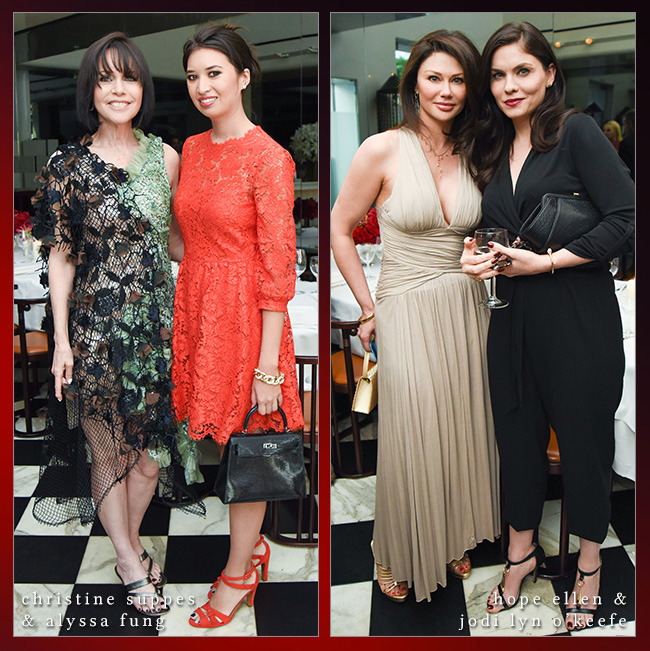 Guests mingled during the cocktail hour as we all juggled for a turn to catch up with Andrew and hear some of the behind the scenes news on mounting the exhibit. Andrew even had to come up with a Plan B at the last moment for one part of the Exhibit but fortunately didn't have to put it into action.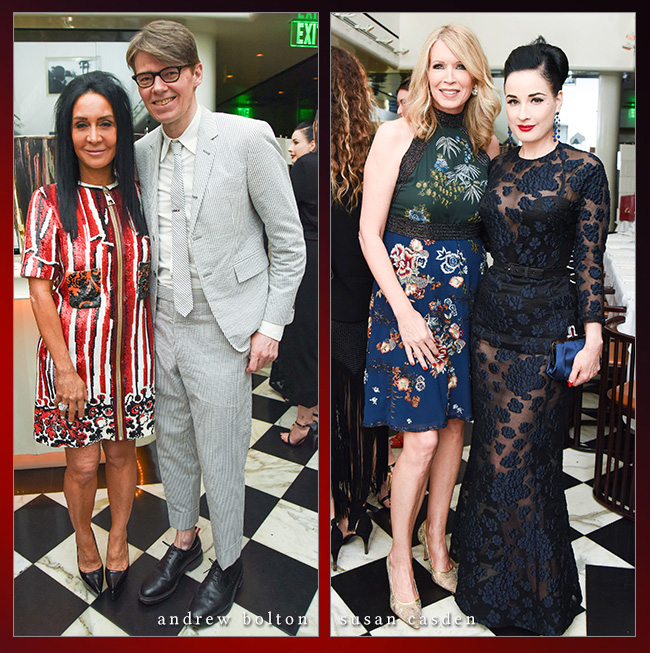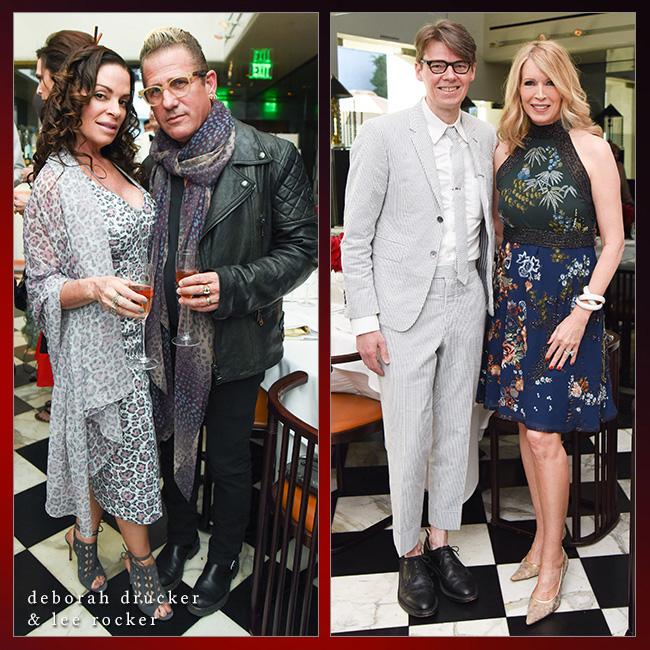 We then sat down to dinner in the private dining room we'd taken over for the night. Tables were adorned with stunning arrangements of brilliant red roses, stand-alone orchids, tea candles, and everyone's favorite dishes from Mr. Chow Noodles, Squab With Lettuce, and Gambei with Goodies along with Ma Mignon, Green Prawns, and much more served family style. There was even the traditional noodle show by the head chef.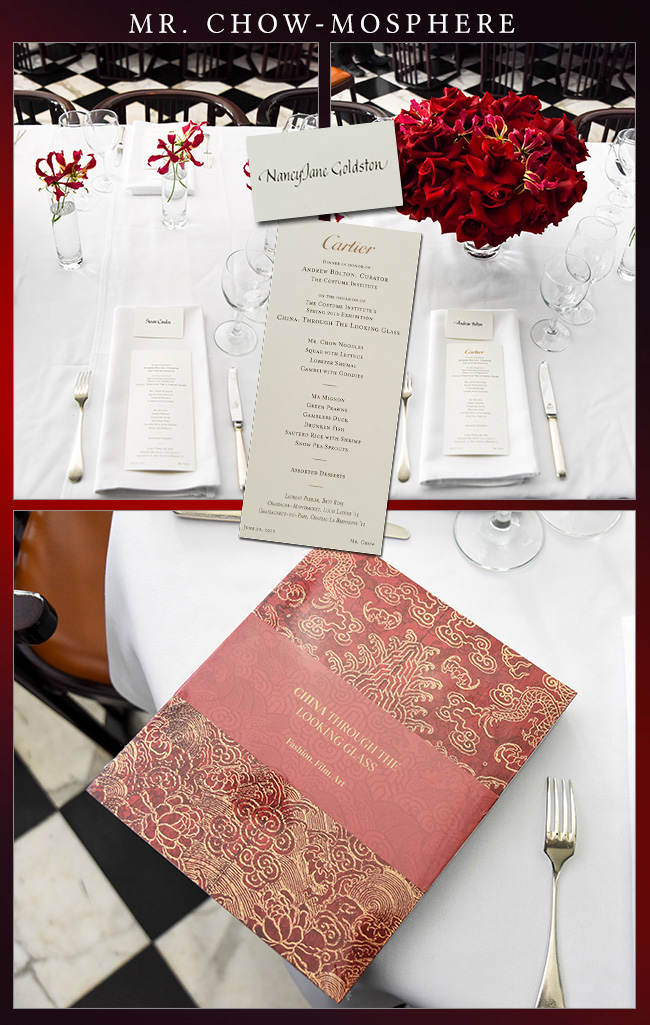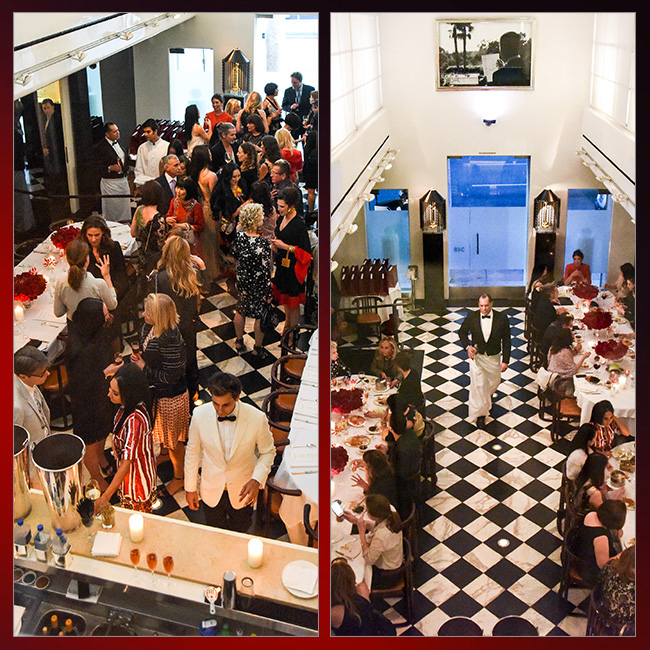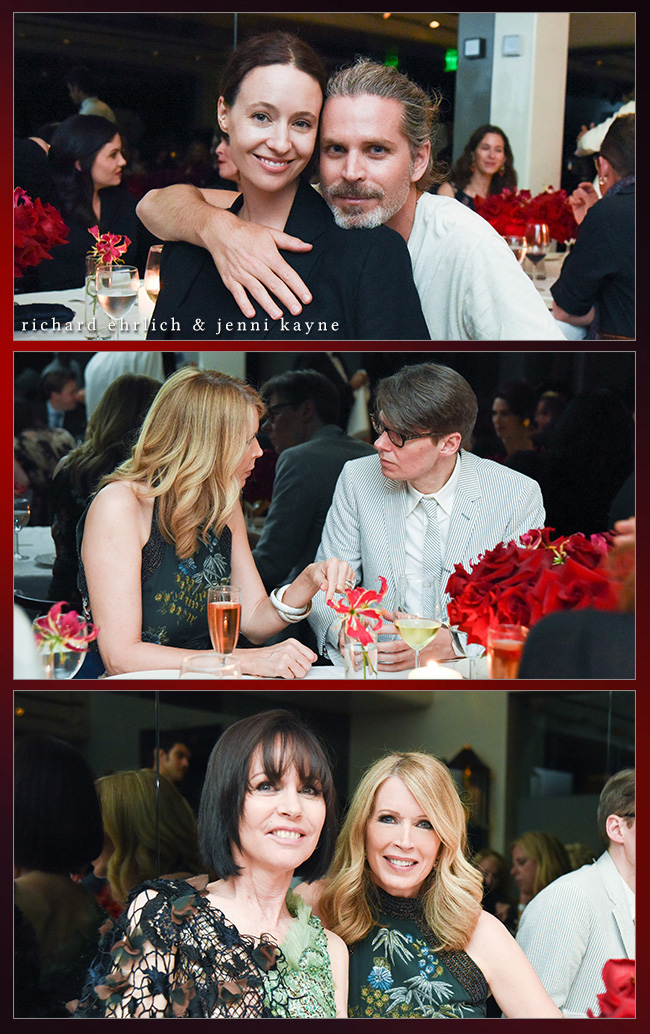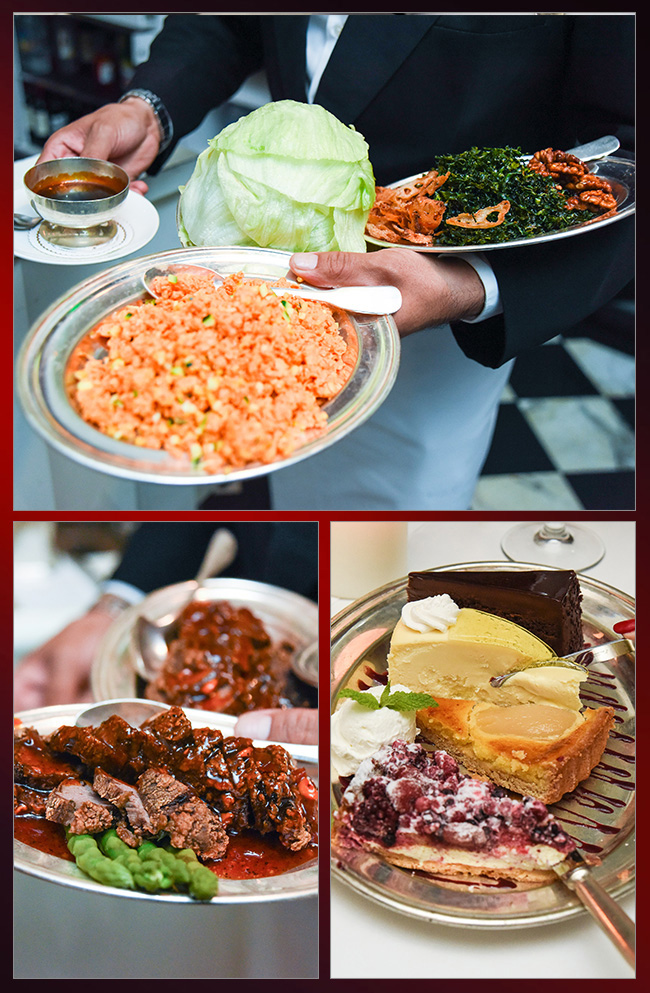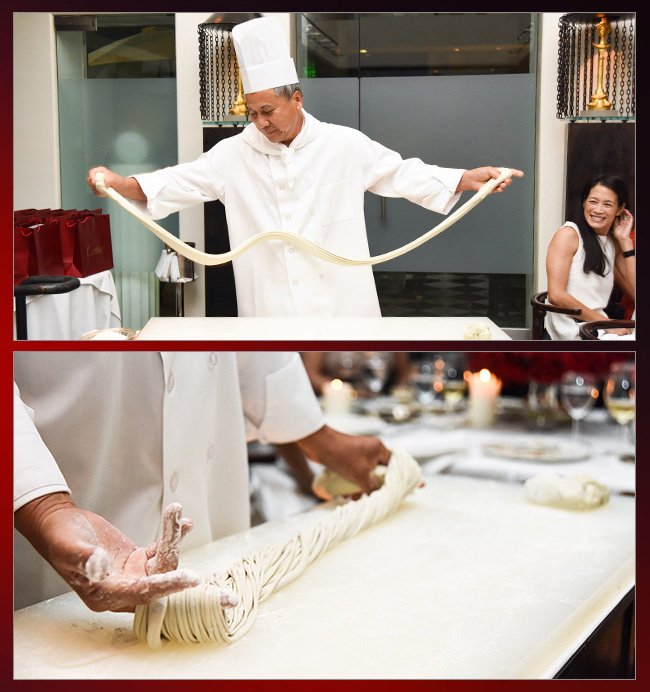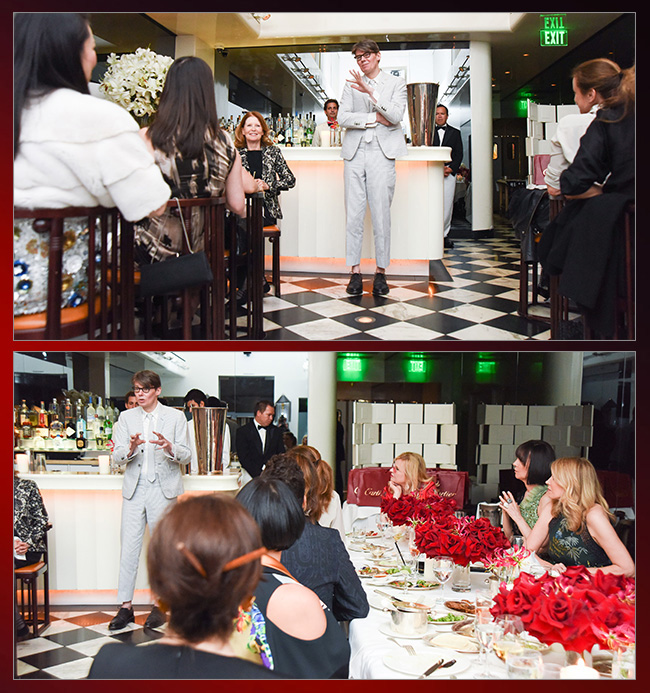 The evening finished with another tradition. Remarks from Andrew Bolton. This year Andrew spoke about the enormous interest and wonderful dialogue the exhibit is generating around the impact of Chinese aesthetics on Western fashion. Questions from the floor followed including details on Rihanna's gown and how "the designer was able to assimilate eastern and western designs into the motif of this particular piece."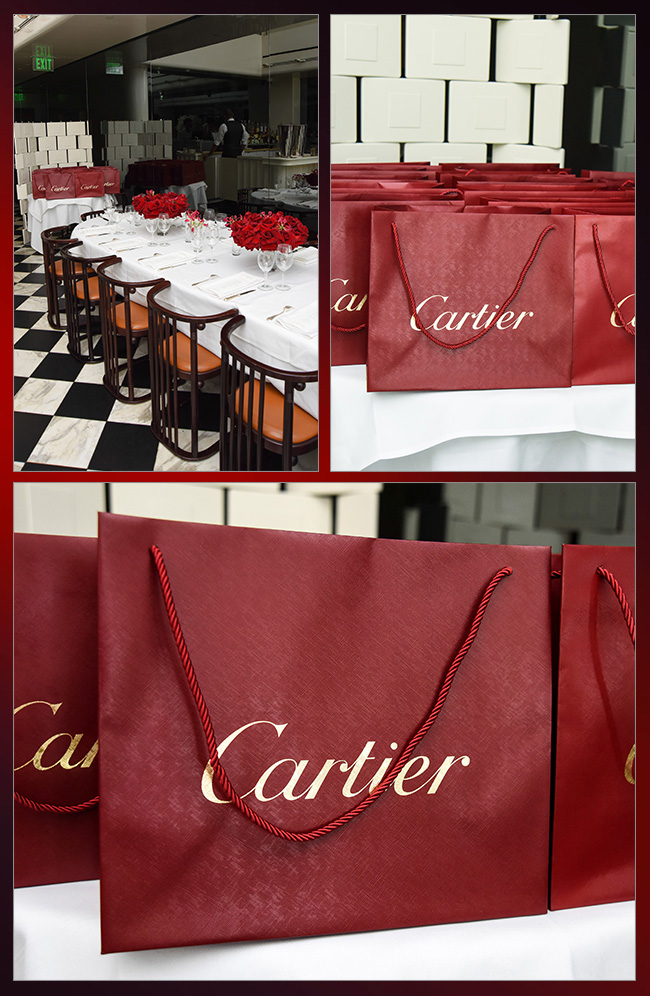 Susan Casden led a final toast to Andrew followed by applause and a shout out encouraging anyone who hasn't seen the exhibit to get to NYC. Crowds are up to almost 12,000 guests per day and it is a do not miss. A special thank you to Cartier for our goodie bags filled with Cartier note cards and the exhibit's stunning coffee table book.
With Love From Mr. Chow's
NJ Goldston, The Brunette
Photo credit: owen kolasinski/BFAnyc.com