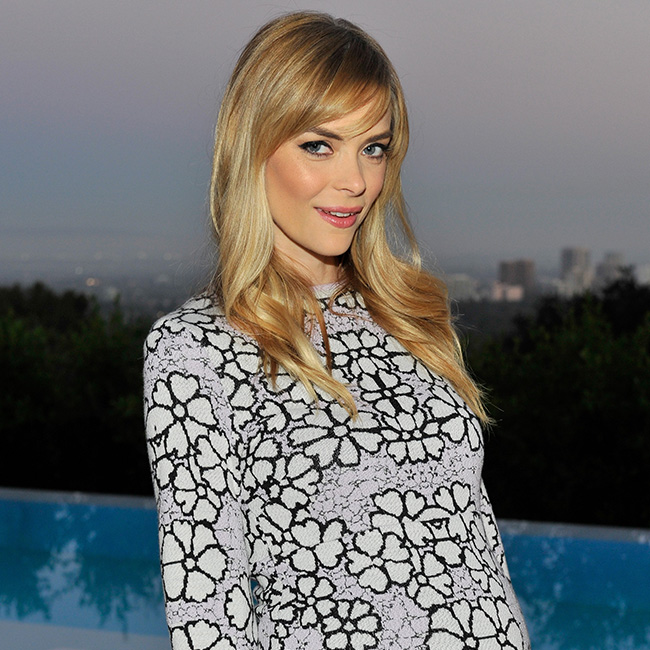 Wednesday evening high atop the Hollywood Hills, Vogue and members of the Vogue 120 fêted LA by inviting guests from the worlds of fashion and entertainment to an intimate dinner party. Held at a spectacular contemporary private home, that may have been the star of the evening, guests from Jaime King, Emmy Rossum, the brow Queen Anastasia Soares, designer Mary Alice Haney, Christine Chiu, Irina Medavoy, Cara Crowley and Brigid Walsh from Vogue, in demand stylist Johny Wujek (to the likes of Kim Khardashian West, Katy Perry and Kate Mara), power agent Marcia Hurwitz, and lucky me, enjoyed cocktails and a seated dinner that seemed just the right way to kick off the summer.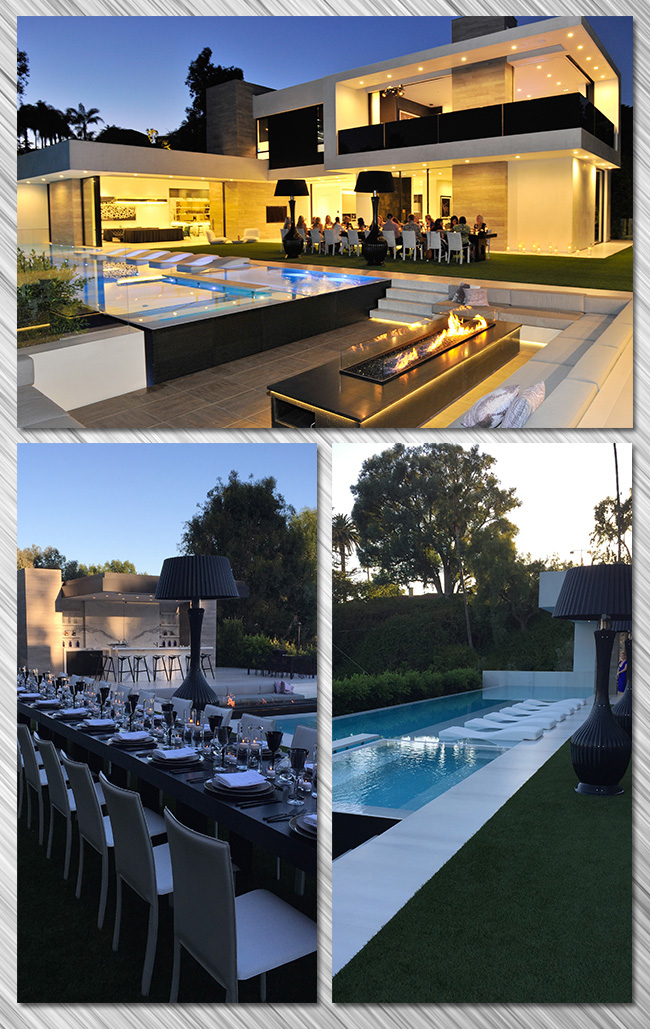 It started as guests gathered for cocktails, tours of the venue (and almost everyone took one), and to watch the sun set over all of LA. Jaime King rocked a maternity chic floral print mini-dress by Giamba with long sleeves and high neckline which perfectly hugged her pregnant belly. Upon arrival, she happily reconnected with Johnny Wujek (who is one of the top 25 power stylists in Hollywood) while Emmy Rossum stunned in a floral Bluemarine dress with a plunging neckline. Later in the evening over dinner, Emmy personally gave me the inside scoop on how to work double-stick tape. Designer Mary Alice Haney ,with an equally alluring neckline, was in one of her signature dresses that are often found on Net-A-Porter while other guests went for fringe and takes on edgy black ensembles. I went for a color in a double pocket silk satin gold twill Marc Jacobs dress that is turning out to be one of my favorite go-to's this summer to wear over and over.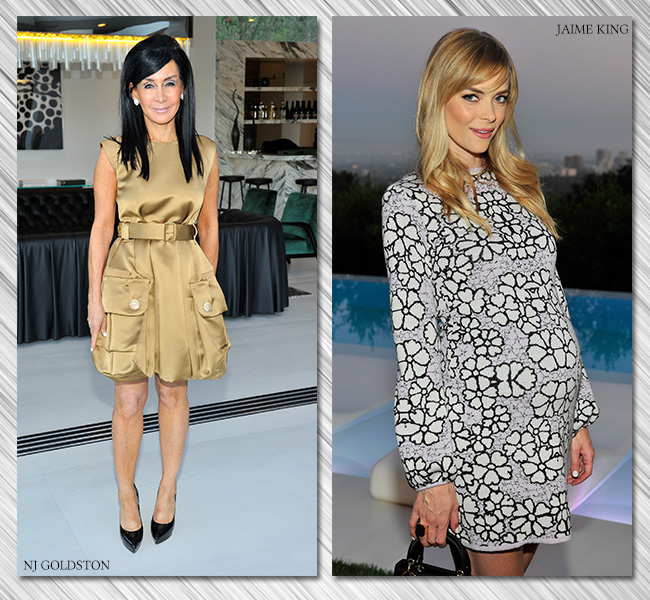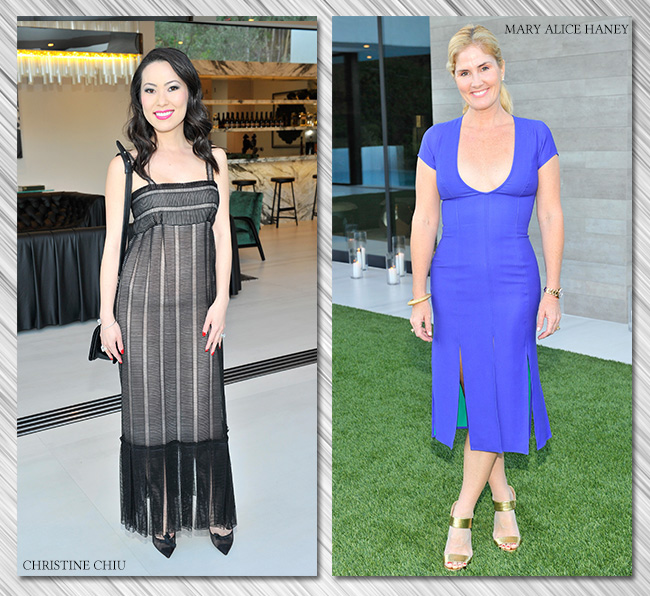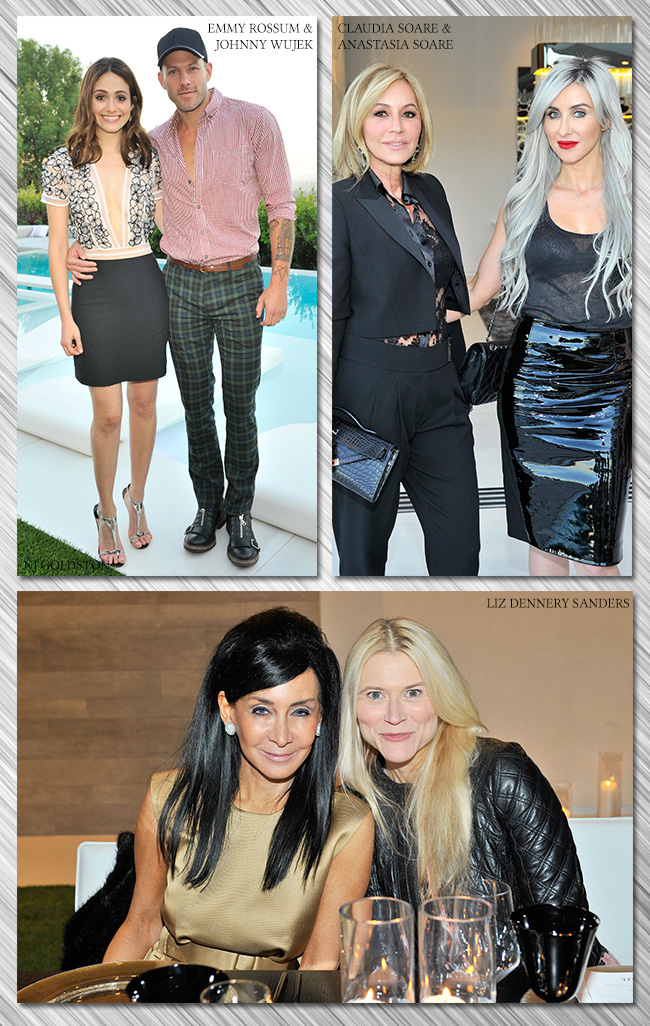 Once we were seated for dinner, no one wanted to leave. The combination of the night sky, the spectacular table, great conversation about everyone's latest projects, and a menu with the most delightful beet salad, salmon entree, and a brownie sliver and fruit tarte kept us all glued to our seats. It was the perfect end to a perfect evening.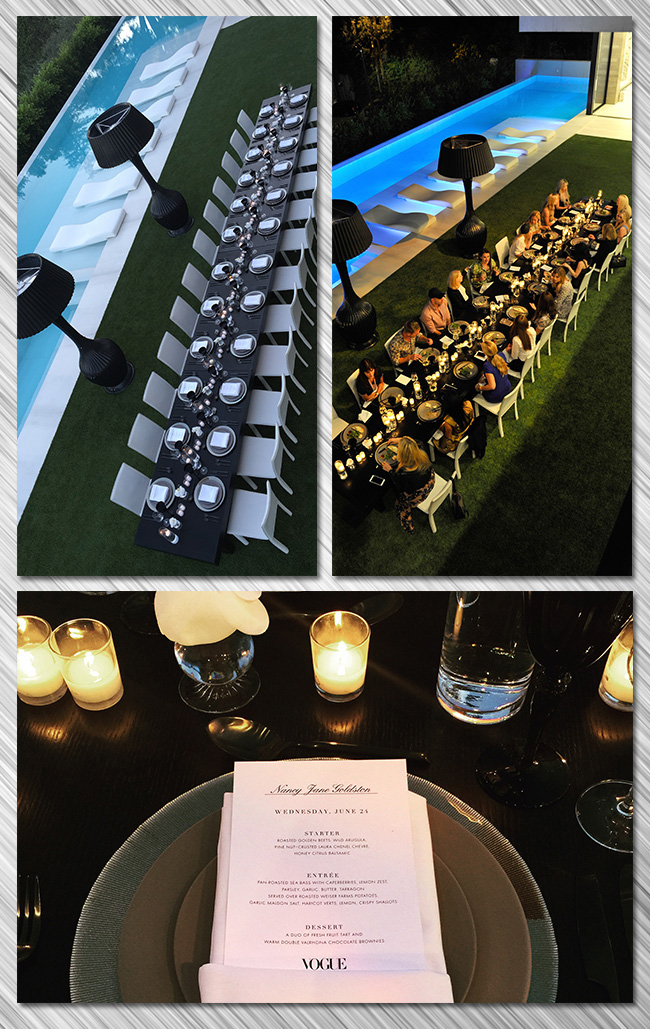 With Love From The Hollywood Hills,
NJ Goldston, The Brunette
photo credits: Donat0 Sardella/Getty Images and NJ Goldston/The Blonde & The Brunette