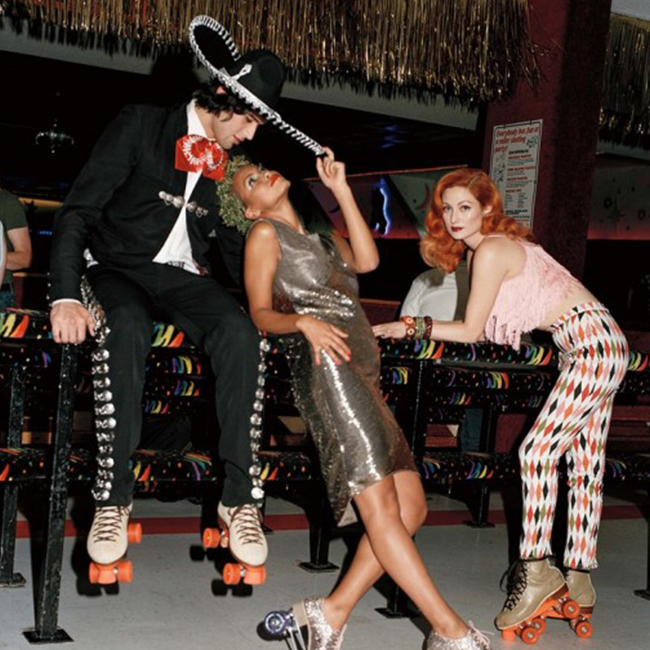 It might have been a scene out of Barneys new L.A. Stories ad campaign. I was there along with the 1,000-strong, hand-picked crowd including many of LA' s fashion and celeb-studded glitterati for the official unveiling of Barneys New York's revamped Beverly Hills digs.
Barneys had been planning the party for months, along with HOLA, the Heart of Love, to literally share the love and support a great cause. It was a big blow out all designed to re-introduce LA and guests (who flew in from everywhere) to the beautifully redone store. In fact, for days in advance, everyone around LA asked each other are you going to the Barneys party as it was the must-attend around town event. So much so that guests planned their looks showing up in the trendiest of trendy attire to be on the scene and be seen.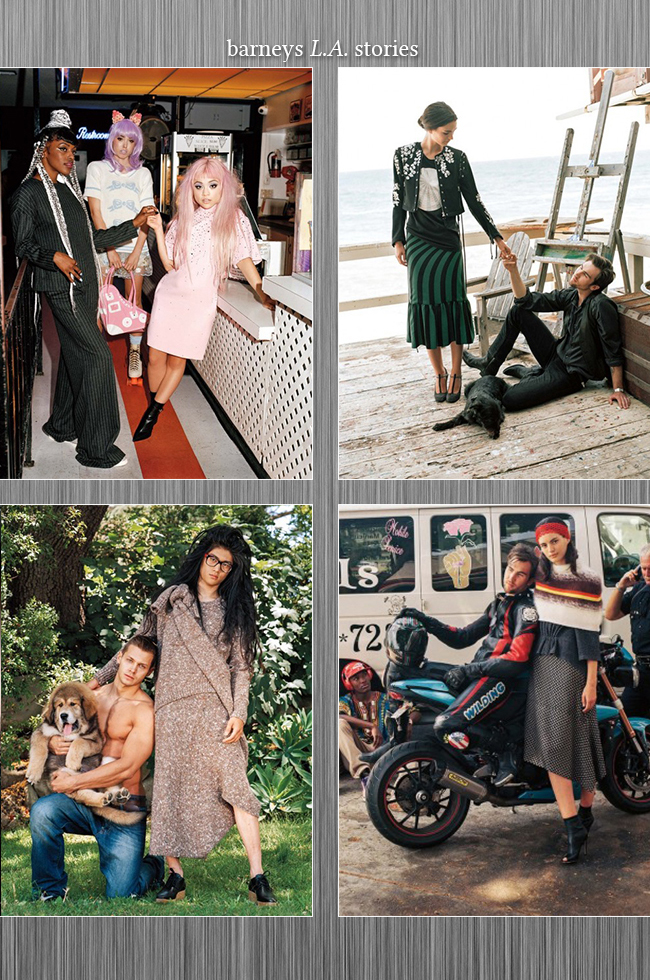 Everyone from a gaggle of top LA-based designers including Jennifer Meyer and hubby Tobey McGuire (who made a rare appearance), Monique Lhuieller, CFDA award-winners Juan Carlos Obando and Irene Neuwirth, Greg Lauren and Elizabeth Berkley, Merle Ginsburg from The Hollywood Reporter, Barneys Creative Ambassador Simon Doonan, The Elder Statemen's Greg Chiat to famed artist Rob Pruitt were all there to greet guests plus showcase their work.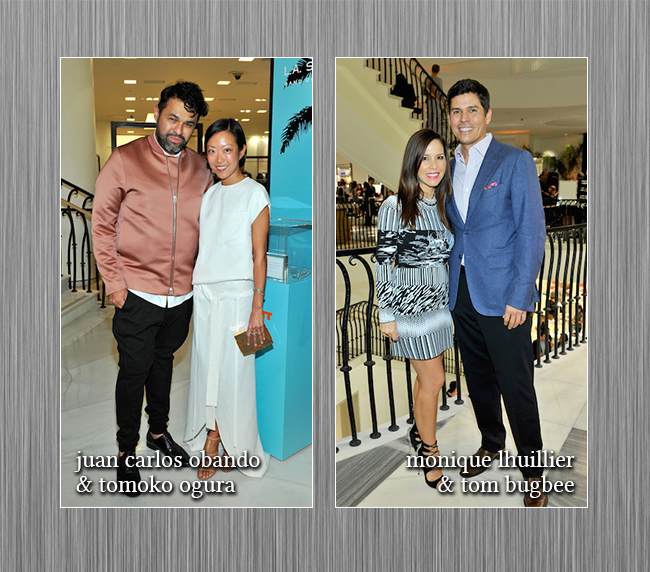 I went for color and drama with a leather patchwork Proenzer Schouler dress. No black for me.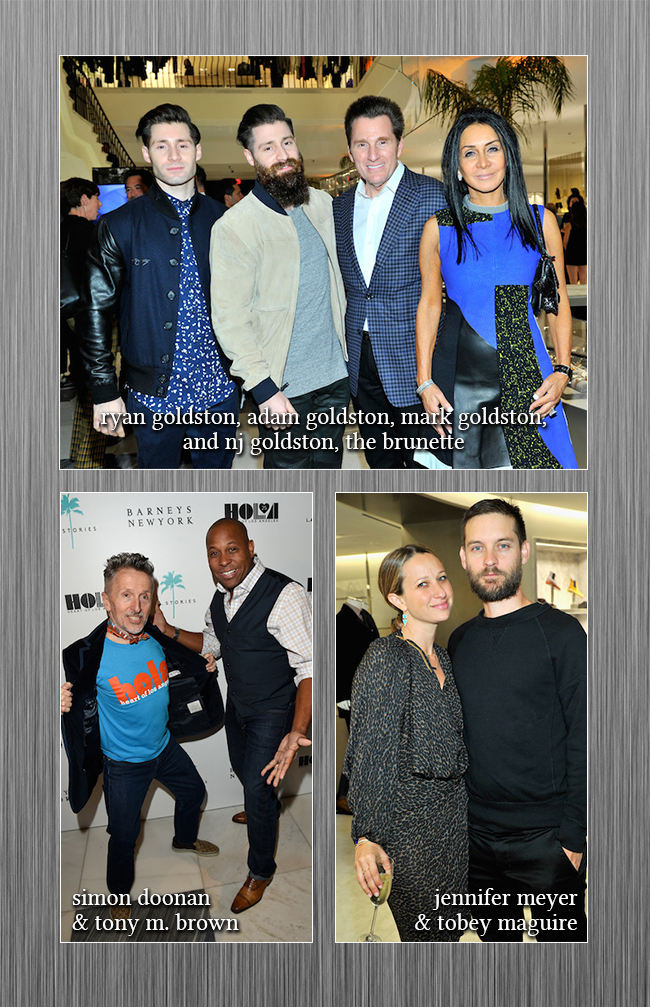 Everyone was in a great mood and hamming it up including Simon Doonan and HOLA's Tony M. Brown. We also spotted lots of cropped midriffs and luxe fabrications.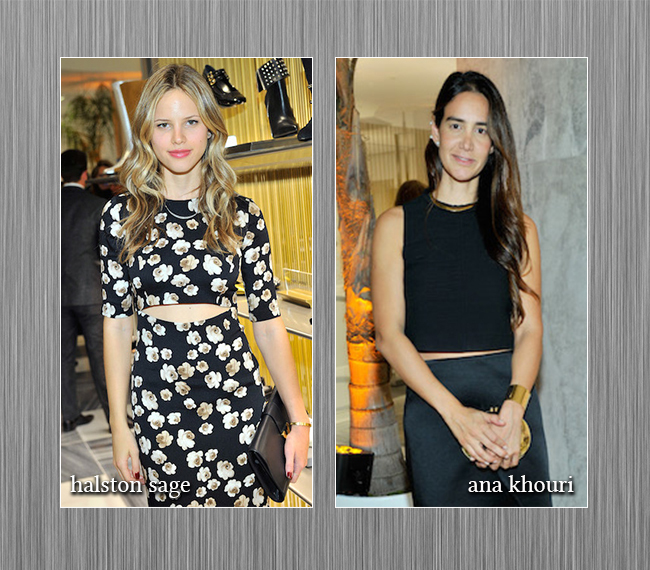 If you're wondering what makes the newly revamped store such a beauty, here goes. The store stayed true to its roots by capitalizing on its massive skylight and open windows letting the ever important California sun shine in on to the newly expanded, always grand Regency-style staircase. Now it seamlessly connects from the beauty department, which had been moved downstairs (in 2013), to the newly reconfigured glistening main floor.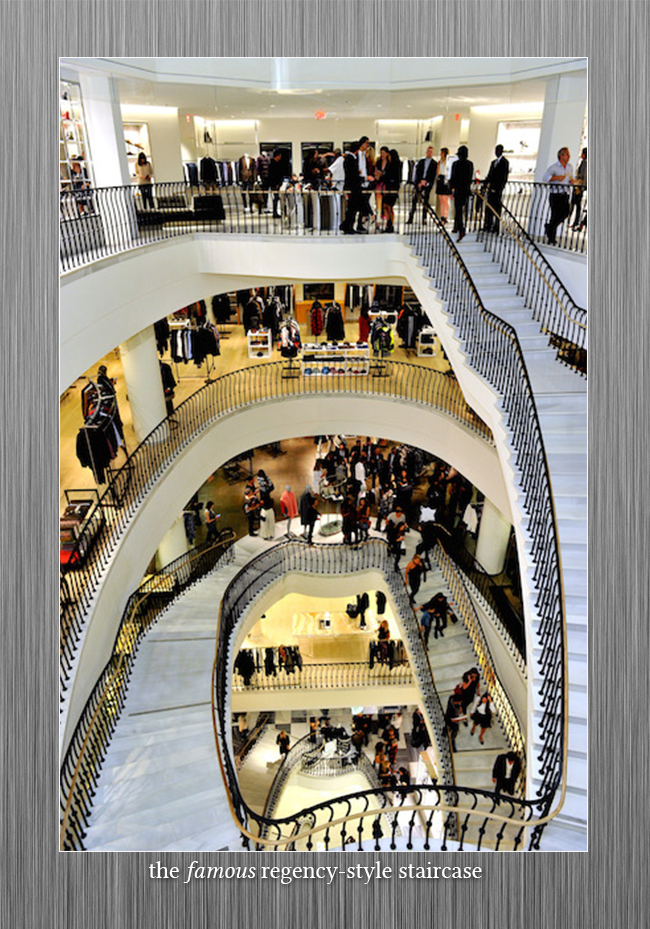 Pretty spectacular, right?!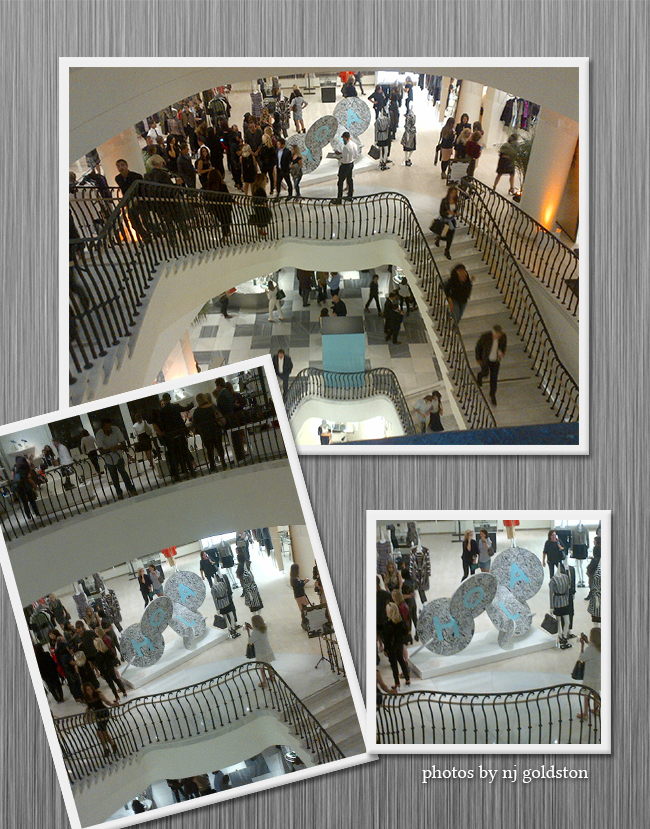 Guests were also wowed by newly redone, gleaming grey-white signature marble floors, architectural dividers, rather than walls, and luxury details on the revamped main floor. The new design cleverly divides theselling floor into key areas to accommodate jewelry, accessories, handbags and shoes including a stunning curved wall to showcase women's footwear.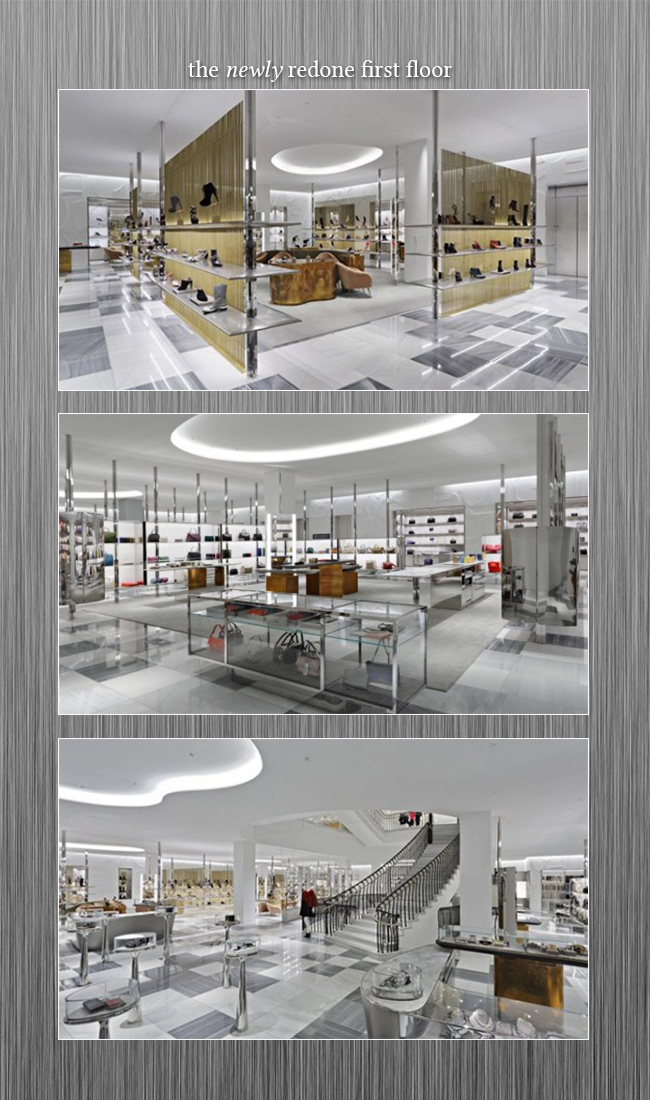 Guests then walked from floor to floor to mingle with designers, shop and witness famed artist Rob Pruitt spray paint jeans in a special booth set up for the evening. You could even buy them on the spot! That's fashion designer Lisa Perry taking it all in.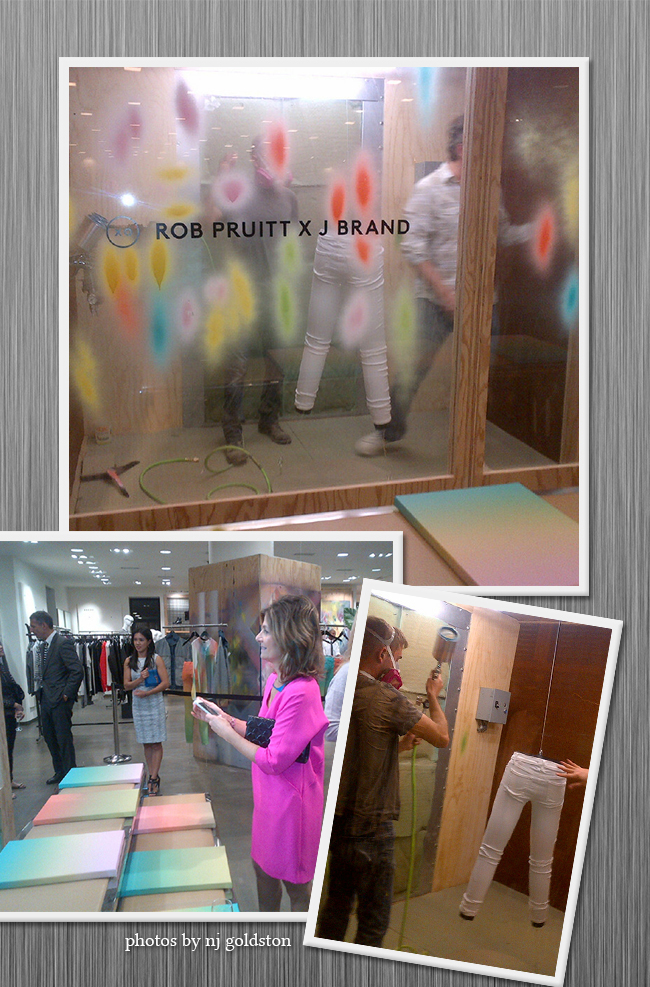 The highlight of the revamp just might might be the installation of the first Freds Restaurant on the West Coast. This is going to be the new power breakfast, lunch and dinner spot in Beverly Hills. Good luck getting a reservation during the holidays. You'll know you have clout if they sit you in one of the four booths under the four-part 27 foot-by-26 and-a-half foot Rob Pruitt gradient mural. The restaurant also boosts a new alcove in a tower with second-story windows which is sure to be a coveted gathering spot. There are also now two outdoor covered terraces overlooking Rodeo Drive and servers are outfitted in specially-designed looks from Band of Outsiders.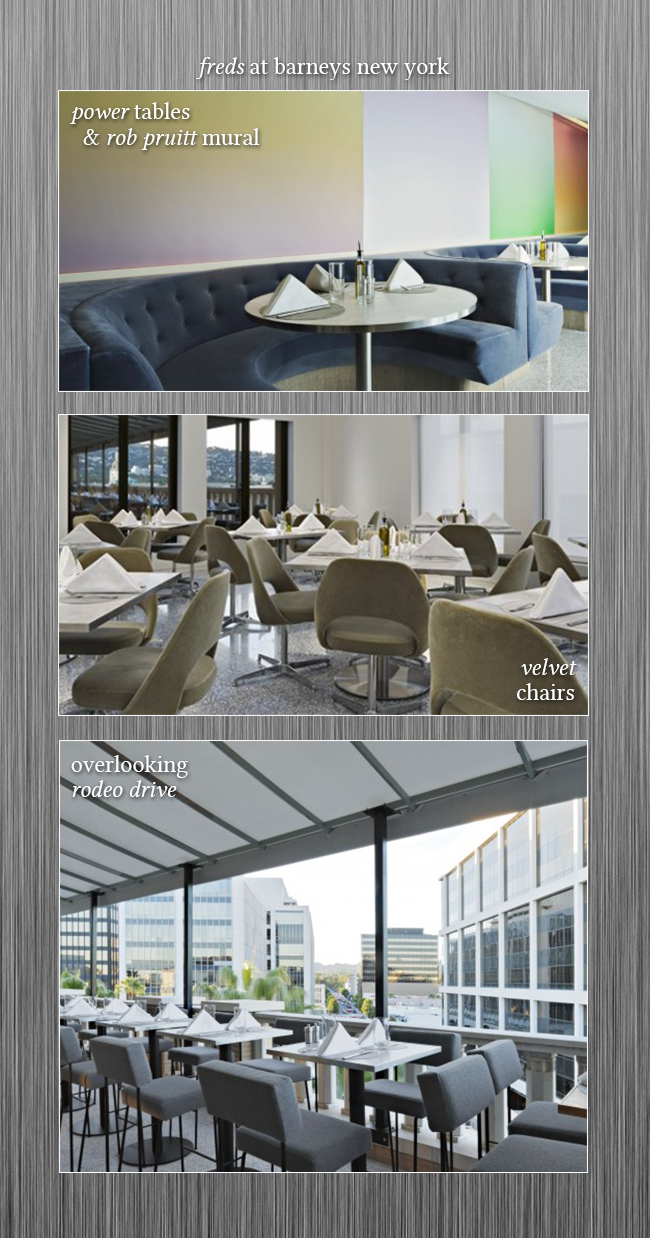 For a few lucky guests, the evening ended with an exclusive dinner party at Freds.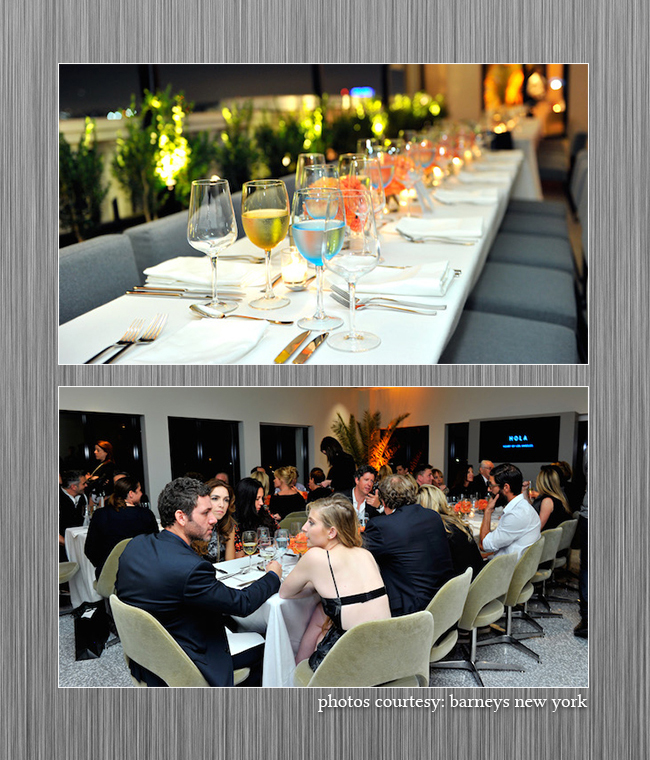 Now that's an L.A. Story.
With Love From LA,
NJ Goldston, The Brunette