Domaine along with photographer Peter Dolkas just made Halloween a lot more iconic.
While carving pumpkins will always be the classic way to celebrate Halloween, Domaine took a different approach to their pumpkins this year! They showed us how to up the creative and fashion ante with do-it-yourself pumpkins. Why didn't we think of this?!
Here's the quick directions to create stylish Halloween décor using our favorite fashion icons to win the award for the chicest front stoop ever! From Anna Wintour to Karl Lagerfeld, Rachel Zoe, The Olsens, Grace Coddington, Andre Leon Talley, and Jenna Lyons, the gangs all here!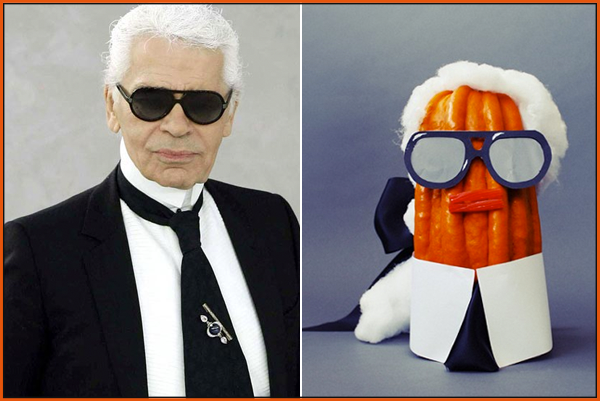 Karl Lagerfeld
The designer's a legend, not only because of his ever-present crisp collar and low ponytail, but because of the classic creations he sends down Chanel's runways season after season.
Create Your Very Own Karlito Materials: Novelty spider webs, black satin ribbon, watermelon licorice, black construction paper, white acrylic paint, cellophane, white printer paper.
Difficulty Level: Easy—just plop those webs on there.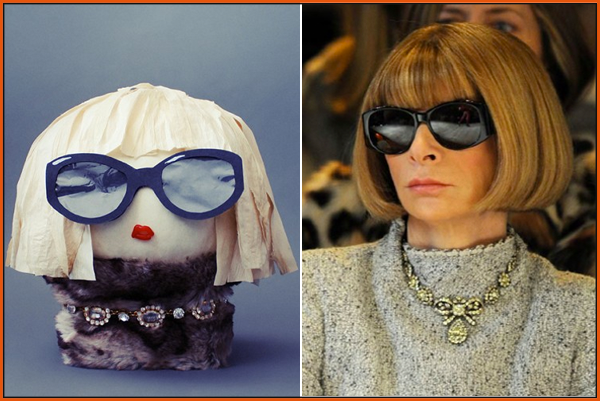 Anna Wintour
Fur is in this season and with her signature shades to minimize the glare of the flashbulbs, Vogue's editor-in-chief is ready for her close-up.
Materials: Corn husks, pull n' peel Twizzlers, black construction paper, white acrylic paint, cellophane, faux fur, necklace.
Difficulty Level: Medium—nailing that signature bob using cornhusks takes some patience.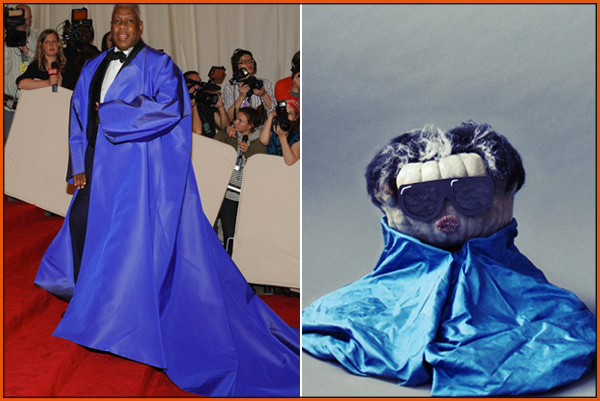 André Leon Talley
NJ actually chatted with André at The Met when he was sporting this signature floor-length cape in a cerulean hue, the former editor-at-large of Vogue is ready for his trick-or-treating appearance. White streaks are added into his felting-wool hairdo to show just how distinguished this front-row fixture really is.
Materials: Black and white felting wool, purple gummy slices, black construction paper, white acrylic paint, cellophane, a few yards of your favorite dramatic fabric.
Difficulty Level: Hard—the man's got a thick head of hair that requires careful styling.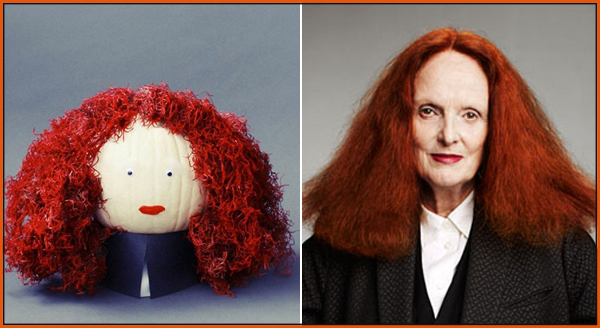 Grace Coddington
Domaine turned the camera back on the former model and Vogue's creative director to showcase her porcelain skin and iconic red mane.
Materials: Spanish moss, red spray paint, novelty googly eyes, white wool, pull n' peel Twizzlers.
Difficulty Level: Medium—be careful with the spray paint and wear gloves so you can turn the moss while spraying to ensure an even coat.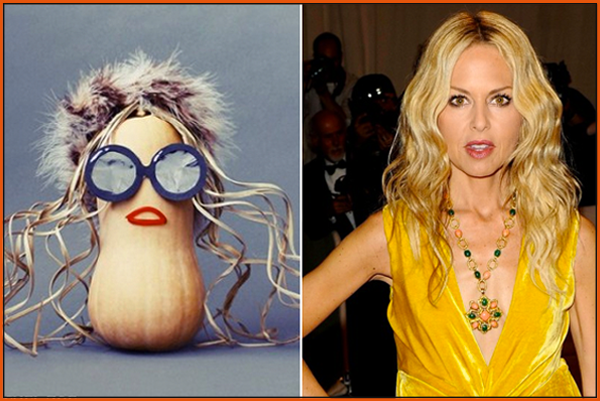 Rachel Zoe
NJ recently enjoyed a stylish dinner party with fashion stylist to the stars Rachel Zoe. They chatted all about about her upcoming Halloween plans for trick-or-treating in the flats of Beverly Hills with her two boys. Besides her signature sunglasses, a marabou beanie seems like the right choice to place atop her perfectly wavy, California-blonde locks.
Materials: Decorative twisted sticks, pull n' peel Twizzlers, black construction paper, white acrylic paint, cellophane, marabou boa.
Difficulty Level: Easy—luckily her chic fur hat disguises the unsightly ends of the twisted sticks.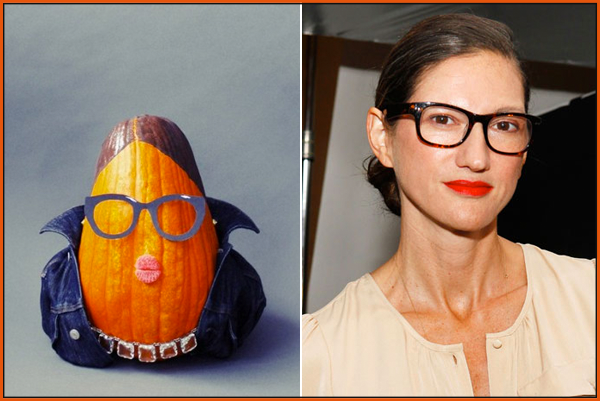 Jenna Lyons
Her statuesque frame and signature specs make it easy to spot J.Crew's creative director from across the room, but it's her sleek center part and pouty red lips that always get her noticed. If you're in New York City, J.Crew has launched an amazing concept store on Madison. It's a do not miss.
Materials: Brown and white acrylic paint, black construction paper, brass studs with prongs, J.Crew necklace, denim jacket, red gummy slices.
Difficulty Level: Easy—painting on Lyons' signature slicked-back 'do makes this project a breeze.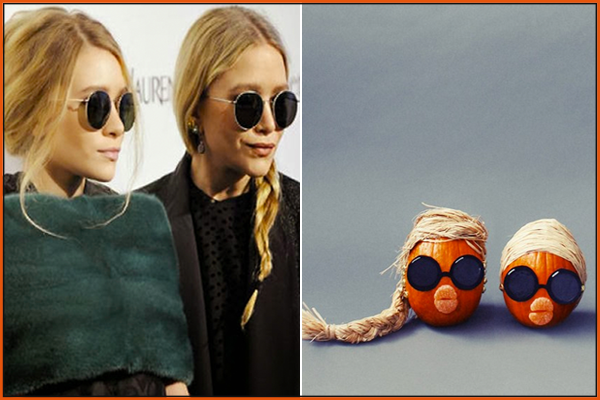 Mary-Kate & Ashley Olsen
NJ was just visiting with The Row team at their new Melrose Place flagship store in West Hollywood. The Row designers pumpkins share their petite proportions and nude lips, but their different takes on styling their locks help us tell them apart.
Materials: Raffia, orange gummy slices, brass studs with prongs, black construction paper, white acrylic paint, cellophane.
Difficulty Level: Hard—styling and braiding the raffia for their hair is a labor of love.
Which icon would you like to see channeling their inner pumpkin next year? Don't forget to share your creative Halloween décor with us by tagging #BnBStyle on Instagram and we may feature it on the site!
Xx. Jadan Huter