It's not often a new bag line comes out and really grabs our attention. Well, now there really is a new bag in town. Dee Ocleppo, the striking former model, who is also Mrs. Hilfiger, touched down in Beverly Hills last week, with her charming hubby, to debut her transformative namesake bag line at Saks Beverly Hills . To mark the occasion, the jet-setting couple, along with Saks, hosted an exclusive luncheon introducing some of the most stylish women in LA to her collection. The guest list included everyone from my buddies Kris Jenner and Erica Pelosini of The Covetuer to PYT's Georgia May Jagger and Ally Hilfiger (Tommy's daughter).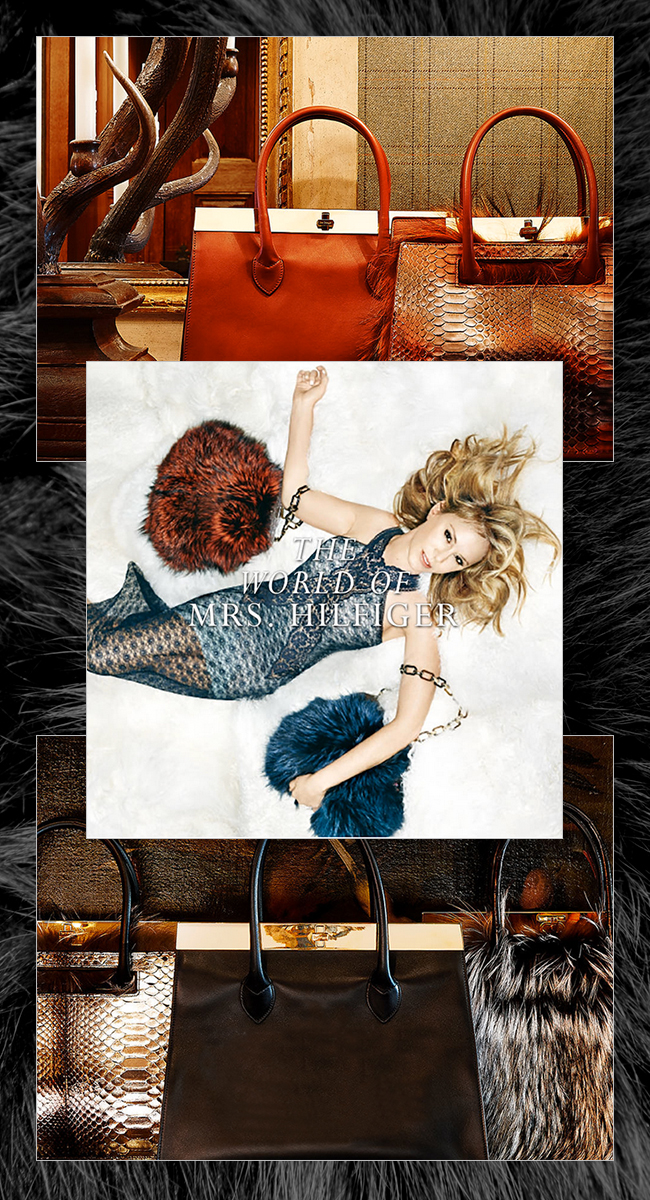 Why all the excitement? With the launch of her namesake line, designer Dee Ocleppo is literally turning the luxury handbag world inside out. Each of her five grown-up editions come with covers crafted in fur and exotic skins (think crocodile and ostrich) can be flipped inside out or removed altogether — resulting in a game-changing three-bags-for-one effect.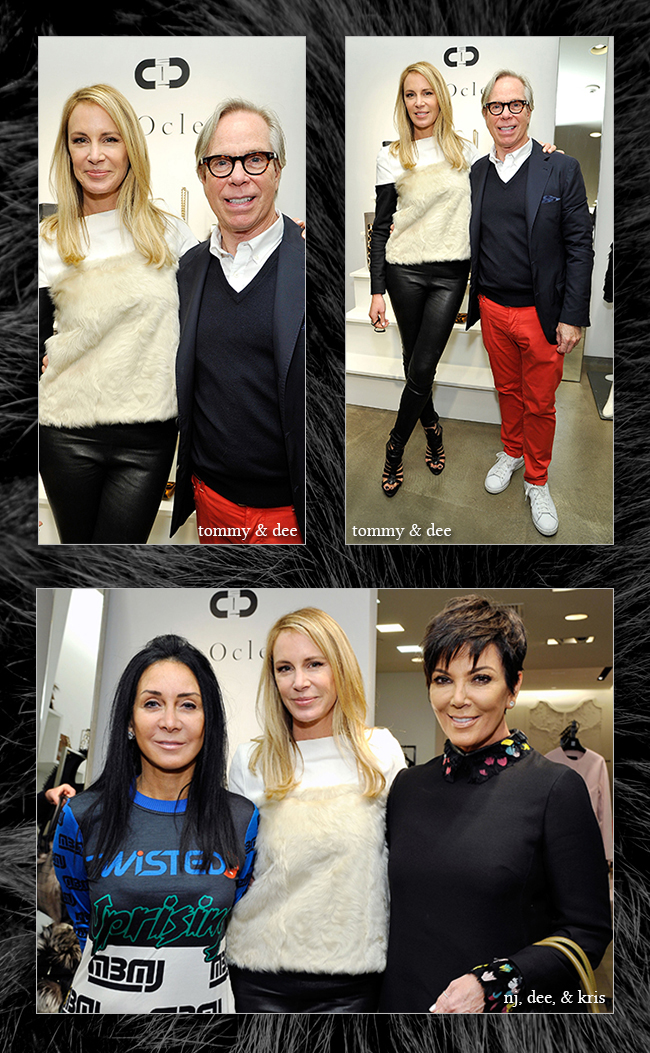 The timing couldn't have been better as many of us had heard about Dee's new line but had yet to experience it first-hand. Guests arrived to be greeted by Tommy and Dee, mingle with other LA friends, make new ones, and take in the full line. Dee spoke about the inspiration for her line, telling Kris and me "Everything I design comes from me being a woman and a mother, a traveler and a woman with an active social life. My handbags have a lot of functionality and they are crafted to be worn in several unique ways. Even from the pink lining on the inside, its because at night I can't find anything when its dark." I can totally relate to that! How many times have I rummaged through a bag in the dark.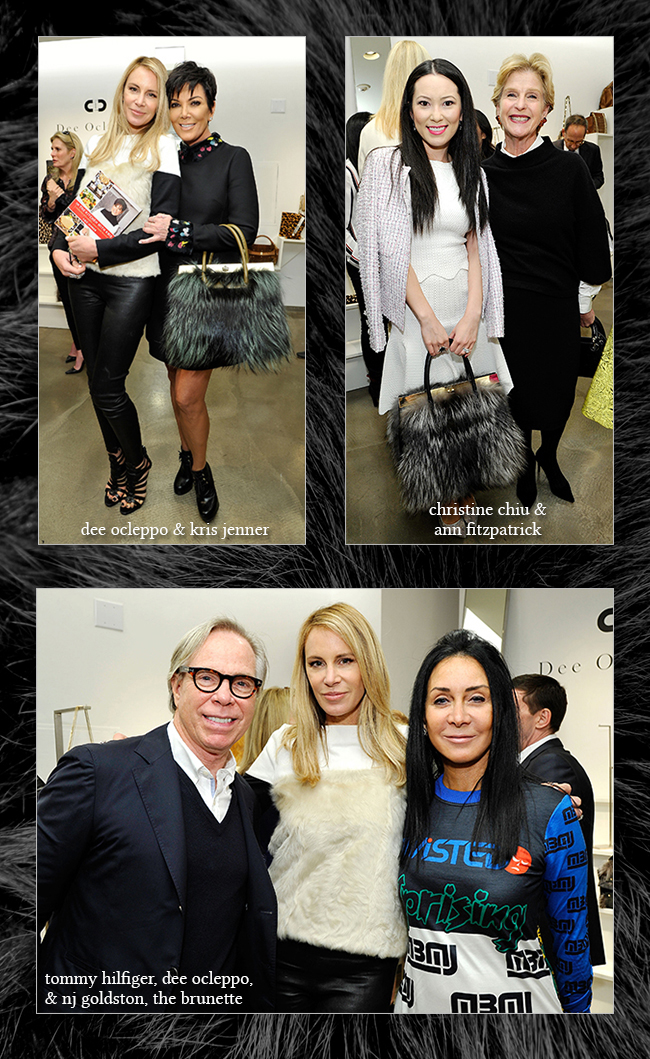 I noticed the bags were being quickly scooped up and we spotted them on Kris Jenner along with Christine Chiu. They had each selected the three-in-one Roma Tote because it literally works so perfectly with their busy lifestyles. We even caught a shared moment between Dee and Kris. Dee holding a just released copy of Kris Jenner's new cookbook In the Kitchen With Kris while Kris was toting her brand new Dee Occlepo Roma Tote in Olive.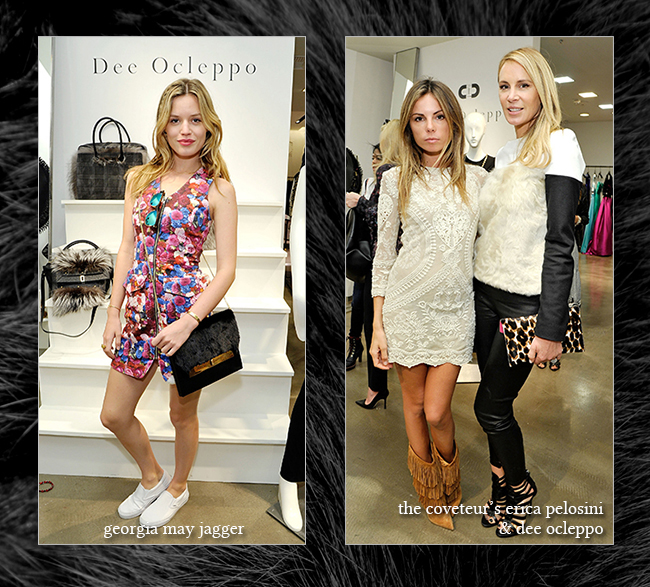 There were lots of other choices and Georgia May Jaggar fell for one of Dee's cross-body bags while Erica Pelosini zeroed in on one of the leopard print clutches.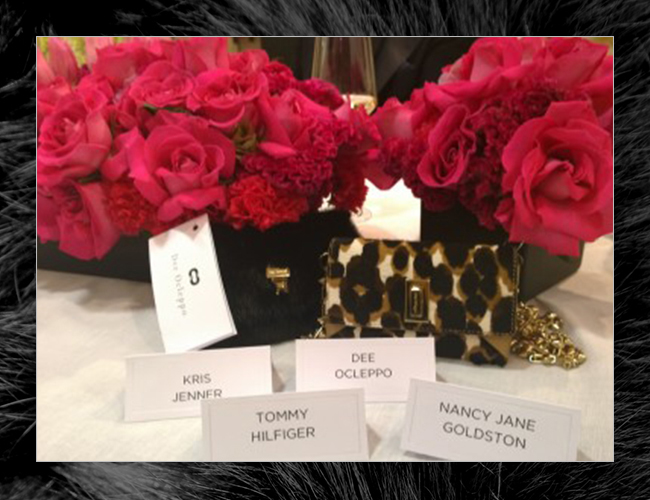 When we moved on to lunch, I happily found myself seated with Kris, Tommy and Dee. As we chatted, Dee described the design process admitting it was "very scary but exhilarating," however, "she's thrilled with the end result." Things came to a close with a few quick tributes to Dee including Tommy talking about how proud he is of Dee's new line. When it was Dee's turn, she told the crowd, "He pushed me and encouraged me. He's my best friend and I couldn't have done it without his support." We all swooned. They're just such a romantic couple.
Finally, as things wound down, Dee took me through the line for my own in-depth preview. It's a game changer. Enjoy.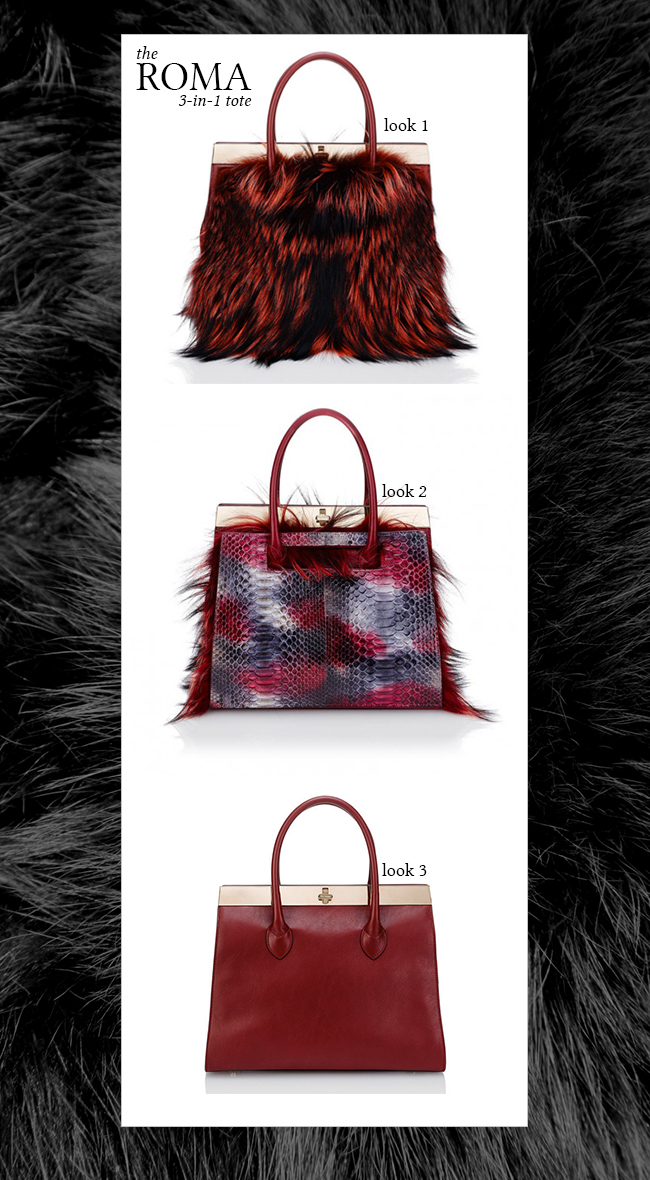 The bag that is truly transformative is her Roma Tote which combines edge with simplicity. Available in black, red, olive and brown, one side of the cover is fox fur and the other a silver metallic python, creating a bag that can seamlessly transition from day to night and season-to-season. Simply flip to either side for the look you want or go without the cover. The Roma was a big hit at the luncheon because it's the perfect size to keep at your side all day while fitting all your belongings.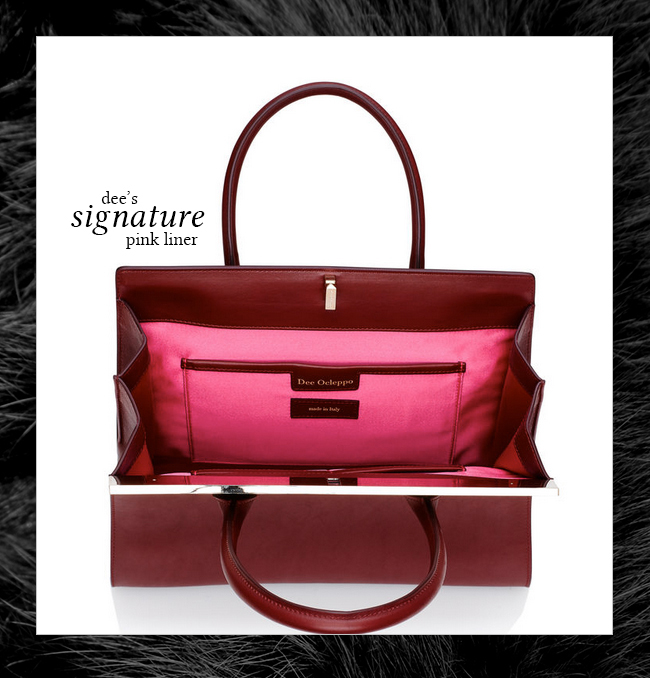 The signature pink liner is one of the nicest touches. No more rummaging in the dark.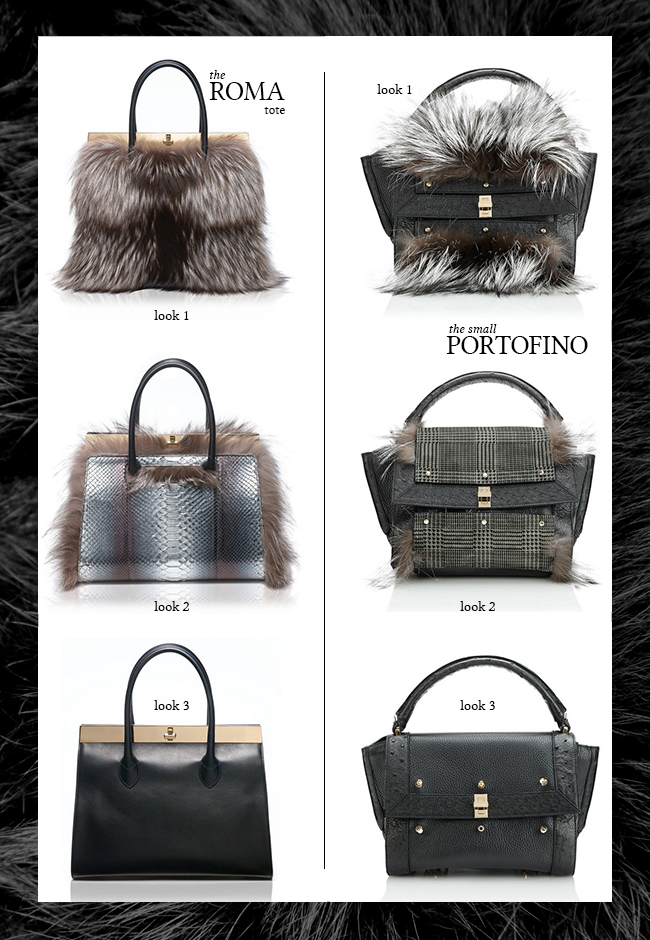 We couldn't resist also showing the Roma tote in black and the perfectly sized Portofino in a wonderful plaid. It even has a zip-up pocket in the center of the bag serving as an organizing divider. I'll take all the help I can get.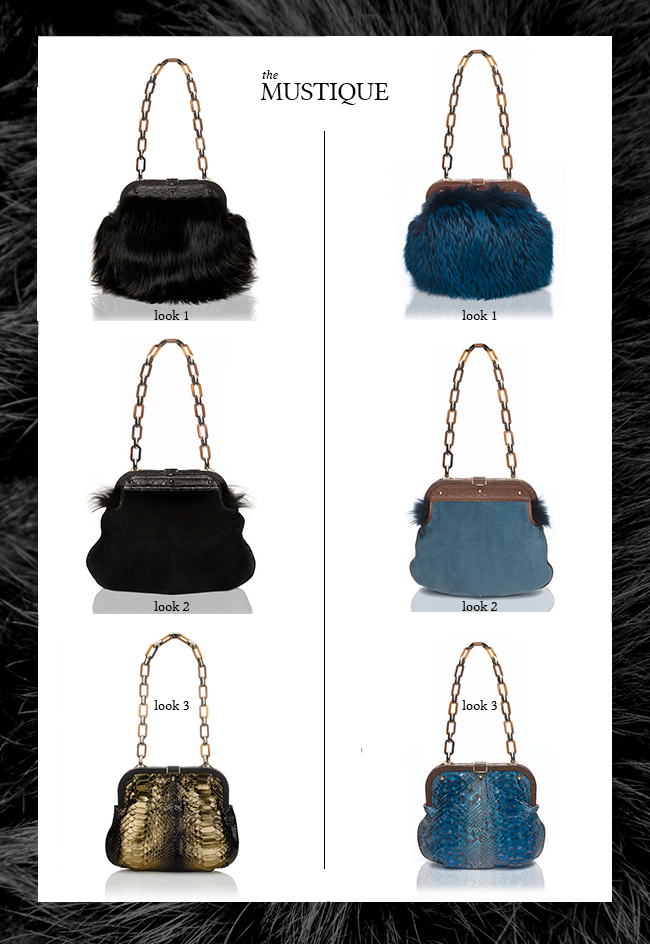 Cross-body bags are very big right now and Dee's Mustique caught everyone's eye for it's chic compact design for day or evening events. Dee told me she includes "a chain on this bag because with her busy social and work calendar she always seemed to find herself at a gathering with a cocktail bag holding a drink or trying to shake hands." Problem solved.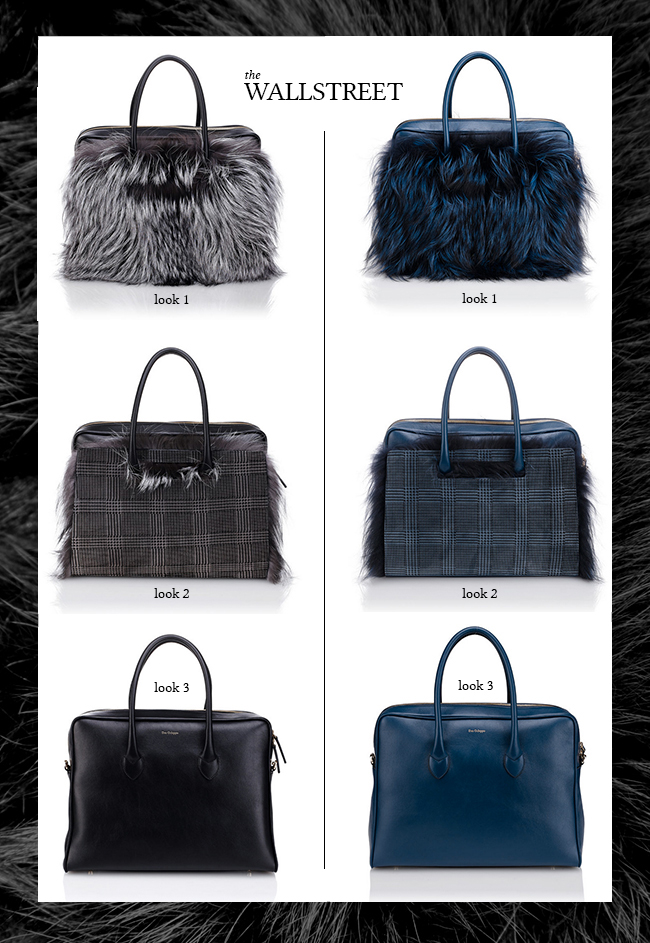 I actually worked on Wall Street for years and know this bag is a winner. Also reversible, Dee's Wall Street in black or blue leather provides practicality and luxury for women who are constantly on the move especially for those of us who commute or travel extensively.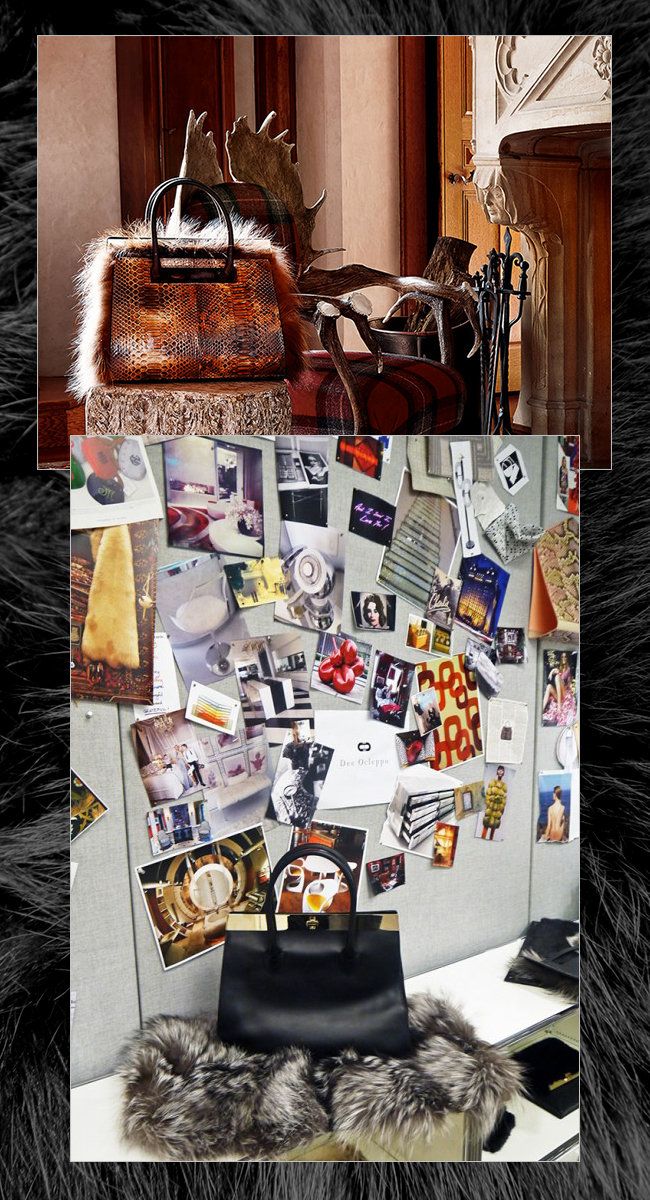 Maybe it's time for your own transformation. The Dee Ocleppo line is currently available in-store and online at Saks. The best part is you won't see yourself coming and going in it. As Dee told us, "I wanted to offer something different. A new kind of luxury." Mission accomplished. You go girl!
With Love From LA,
NJ Goldston, The Brunette