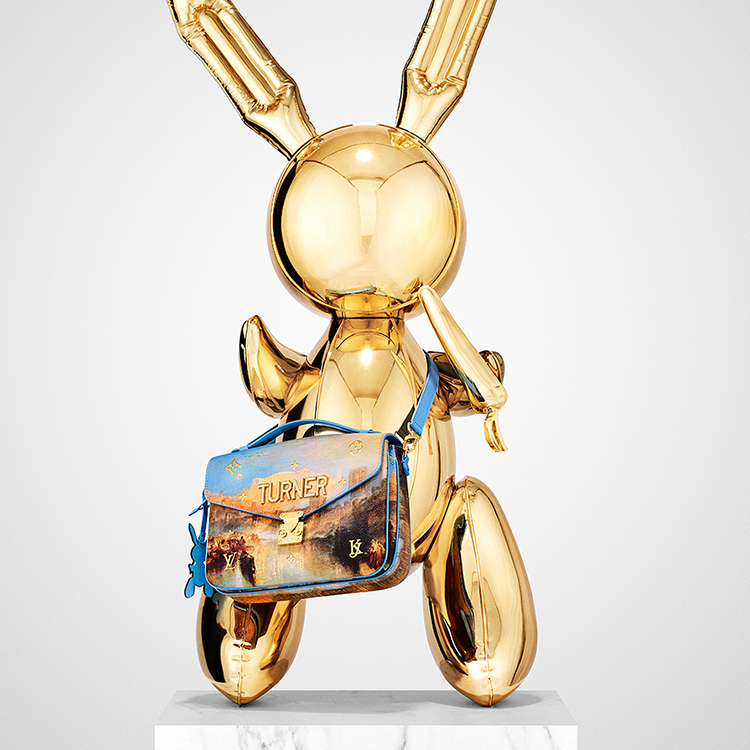 The worlds of fashion and art collided once again. This time I was lucky enough to wing my way to New York to celebrate Part II of the Louis Vuitton X Jeff Koons ground breaking collaboration. Hosted by beloved Louis Vuitton CEO, Michael Burke, Jeff Koons and Garage Magazine Founder Dasha Zhukova, celebs, artists, fashion glitterati, and dealers gathered at the artist's studio for an intimate dinner. It was a carefully curated, eclectic grouping of mostly LV clad guests including Jessica Chastain, Michelle Williams, Alexa Chung, Charlie Rose, my old friend Jeffrey Deitch, Tavi Gevinson, art world expert Princess Beatrice of York, John Currin, Derek Blasburg, and lucky me. The brainchild of Louis Vuitton EVP, Delphine Arnault, the project began over two years ago. Working together, Arnault and Koons envisioned the original six Masters piece collection out of "re-purposed" or "re-appropriated" works from the Koon's "Gazing Ball" series serving as the theme. This time round the artist's name is once again in gold lettering and Koons's initials paired with the iconic "LV" monogram. Debuting in stores on October 27, the latest grouping includes paintings by François Boucher, Paul Gauguin, Edouard Manet, Claude Monet, Nicolas Poussin and J.M.W. Turner. Let's break it all down. Louis Vuitton, once again, set the stage perfectly for another mega launch by also simultaneously lauding the debut of Zhukova's digital version of artsy, cult favorite Garage Magazine.
LOUIS VUITTON MASTERS II – A COLLABORATION WITH JEFF KOONS
GUESTS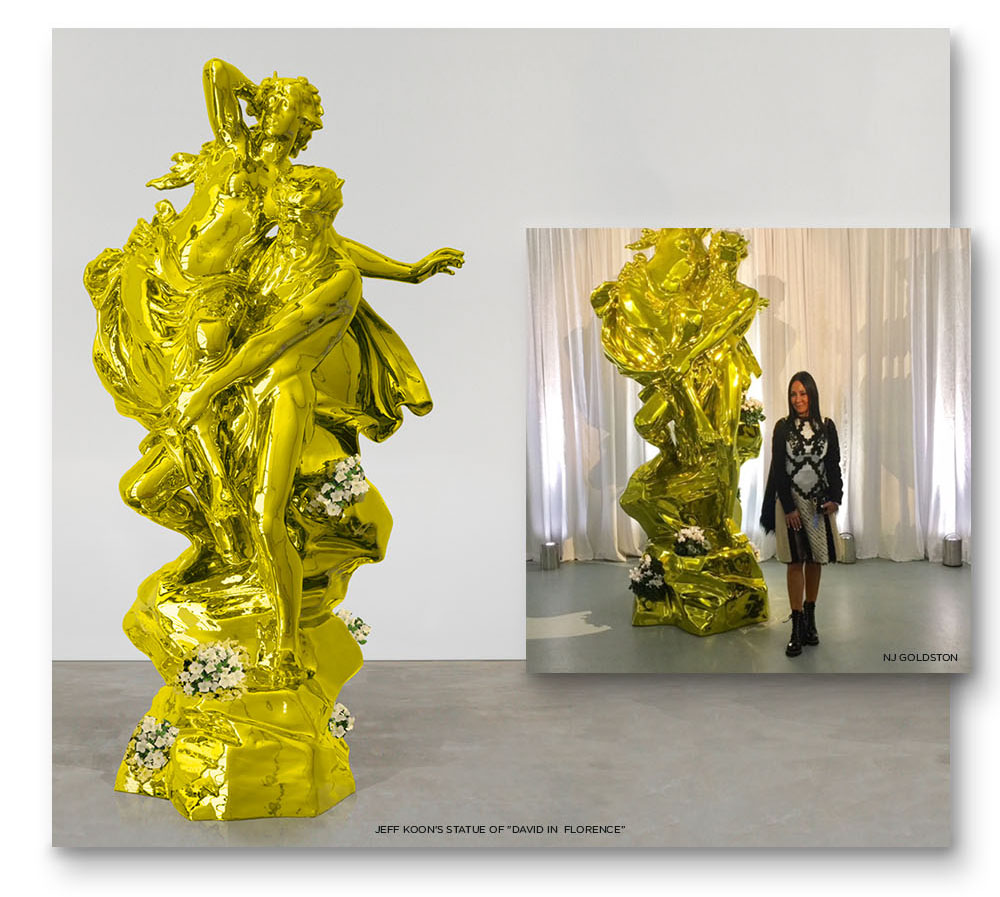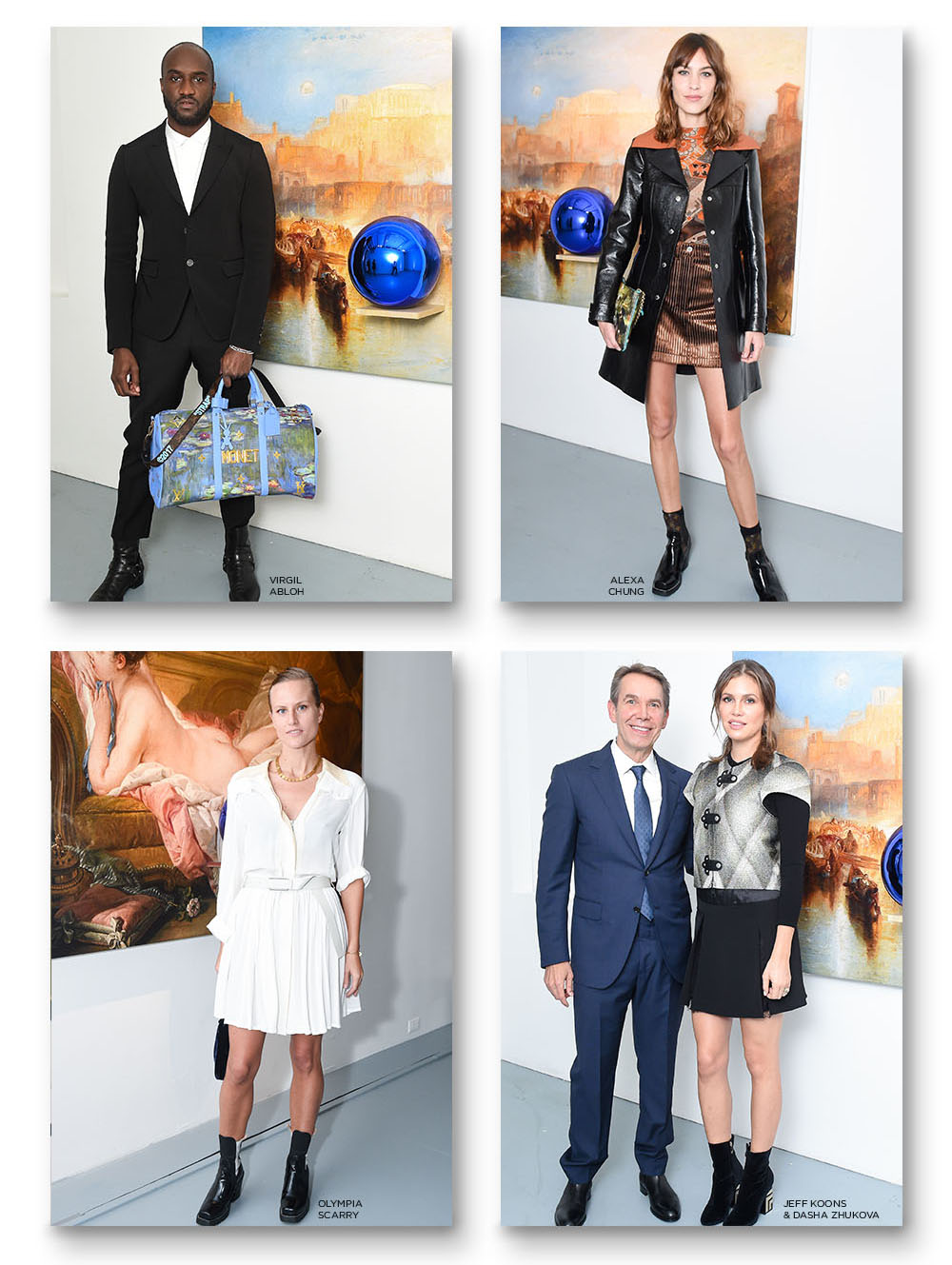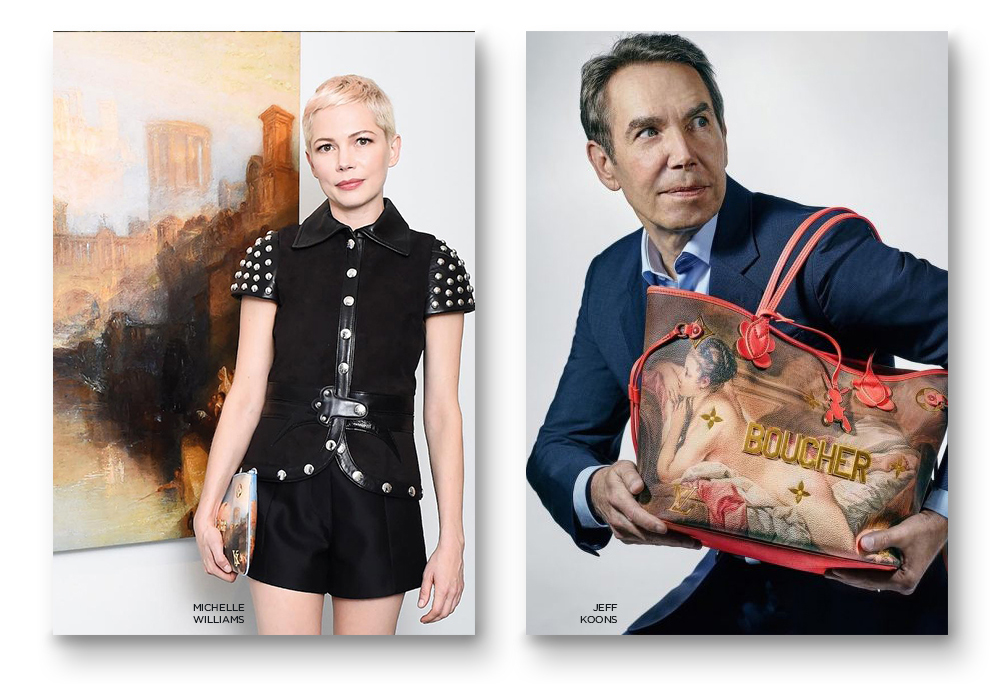 The evening unfolded with cocktails held in the ante-room of the studio with some of us posing with Koon's latest "Statue of David in Florence". However, the big reveal was made as we all wound our way into the studio for dinner. Koon's latest "Gazing Ball" Masters Series served as the perfect photo op backdrop for the evening. Some of the new Master Series bags, especially the pouchettes, also made their debut on key celebrities as their evening arm candy. They posed were in tandem with the Masters portrait they represented.
THE MASTERS II COLLECTION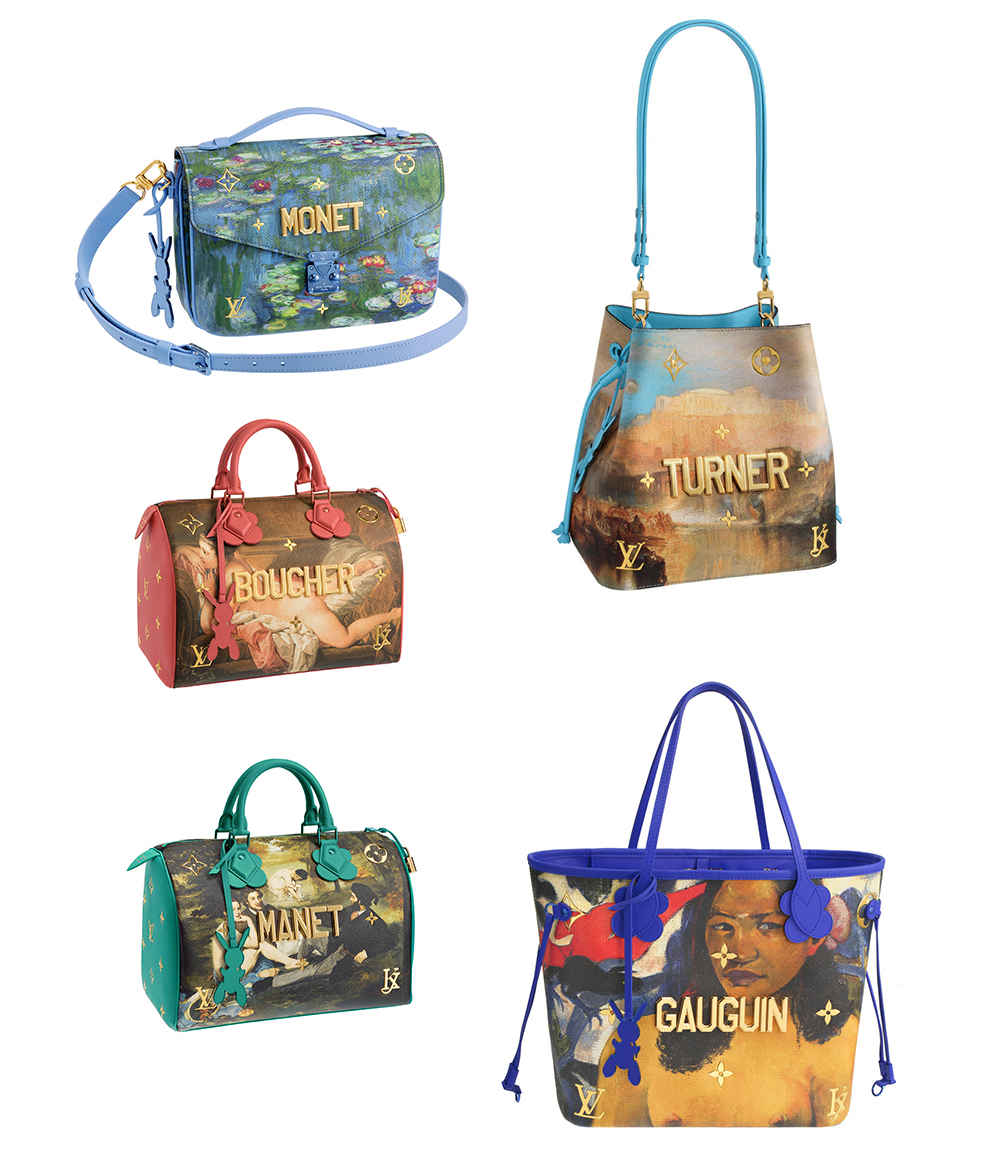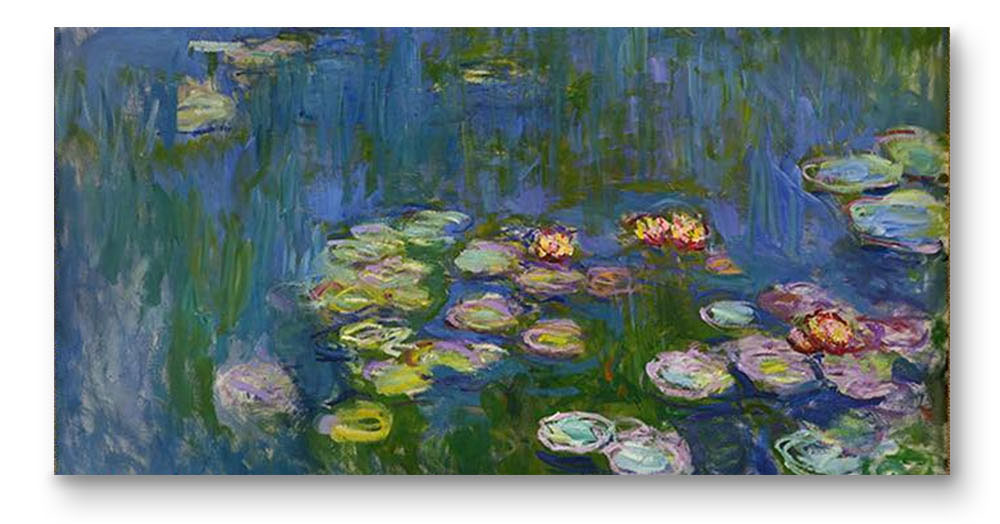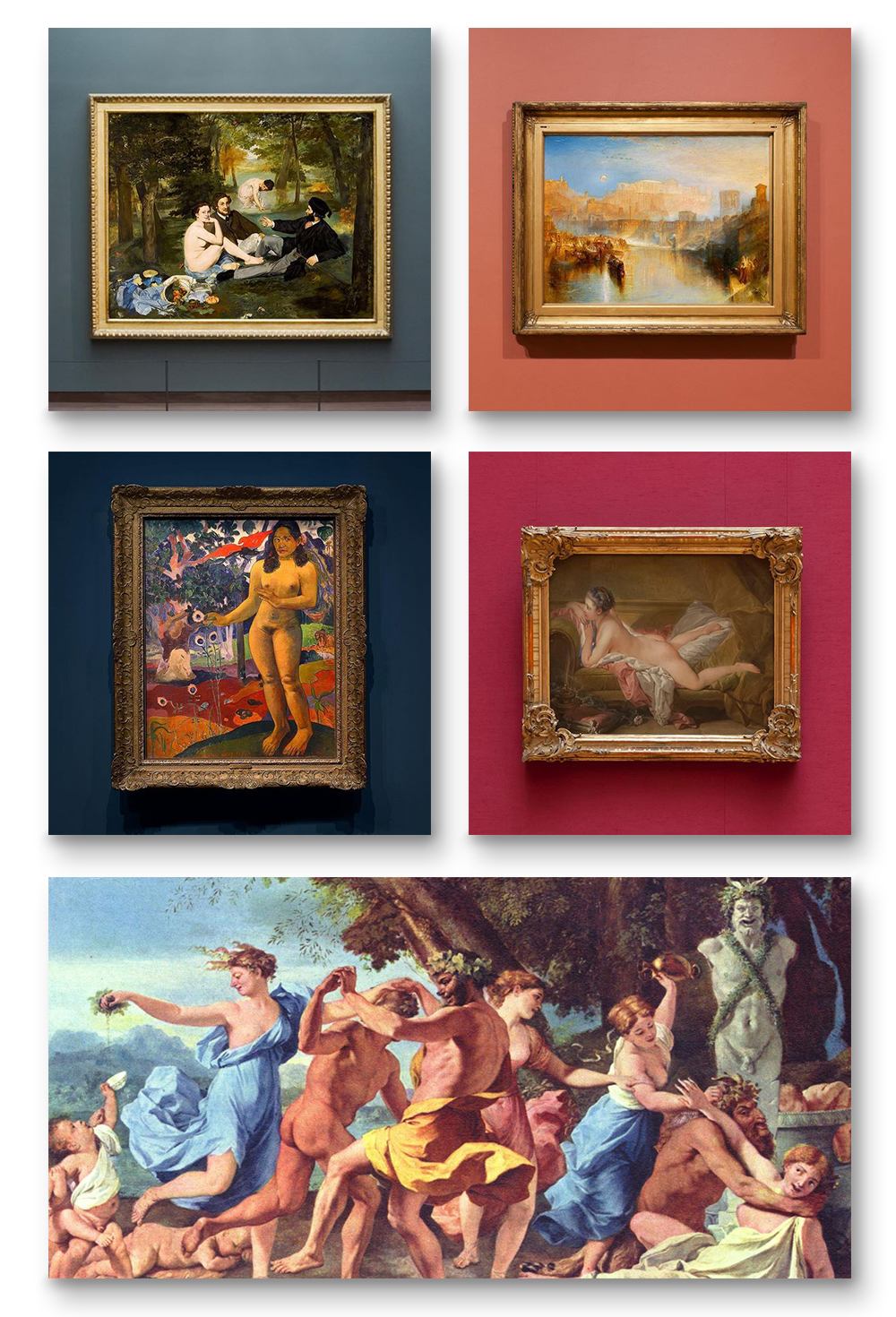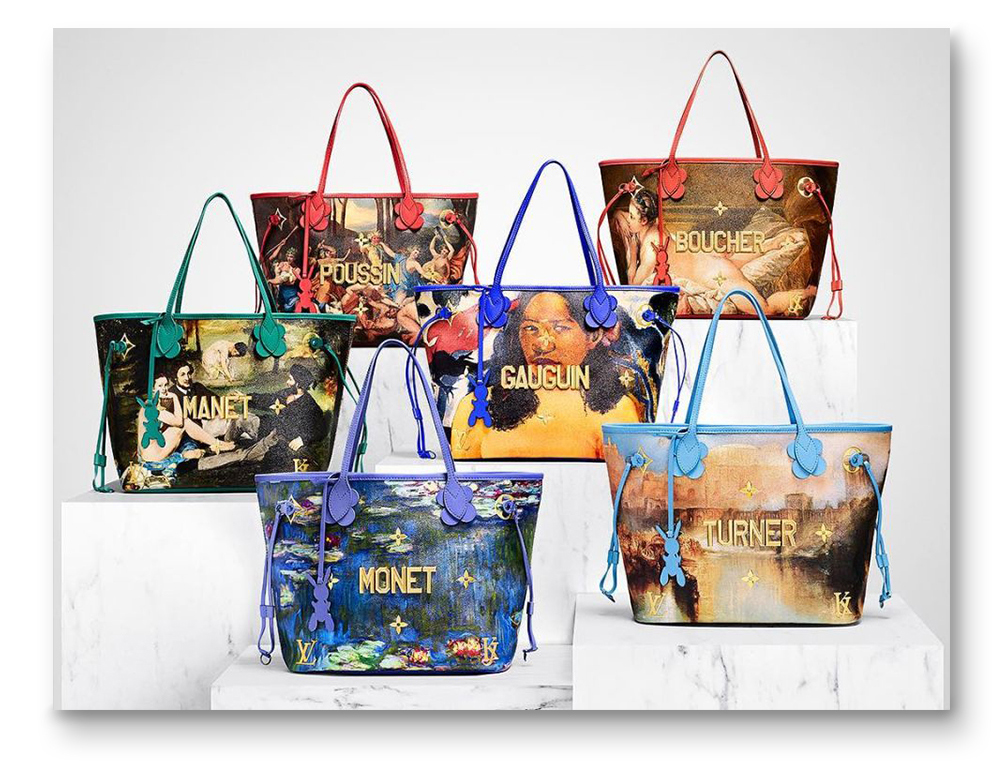 The new collection is equally engaging. If you missed the first, very sold-out collection, you suddenly have a lucky strike second chance. Now, the genius part of it all. Over the last 12 months, many recent Louis Vuitton ready-to-wear shows occurred at the Louvre. Something that has never happened before. Heavily involved in the art world with a major philanthropic focus, Louis Vuitton made the impossible happen. Are you beginning to see the collaboration thread? LV shows at the Louvre opened doors to Louvre Masters being re-purposed via a Jeff Koons collab. With Speedy's, Neverfull Totes, and lots of styles for each Master bag, they all feature a version of the Louis Vuitton Monogram reconfigured to bear Jeff Koons's initials. A radical shift for the luxury house — which has never previously allowed its iconic logo and pattern to be reshaped. I'm so jealous. Who wouldn't want their initials glorified the LV way? The bags will also carry a tag in the shape of Koons's iconic inflatable rabbit (which was on my bag for the evening), with a biography and portrait of the Master. The work is also referenced, featured inside of the bag. The Pouissin-themed bags are the rarest of them all (and you'll have to look closely to find it within the Louis Vuitton Neverfull's above). They are available exclusively at the Maison Louis Vuitton Vendôme in Paris. Finally, and I could be way off base, there seems be an underlying theme of bacchanalian (i.e. drunken) revelry for some of the "Master"choices. This is pure conjecture on my part, and regardless, if you acquire one of these beauties, feel free to artistically re-purpose your bag. That's the whole point. My favorite go-to for that is #DTLA Custom, the luxury leather arthouse.
ATMOSPHERE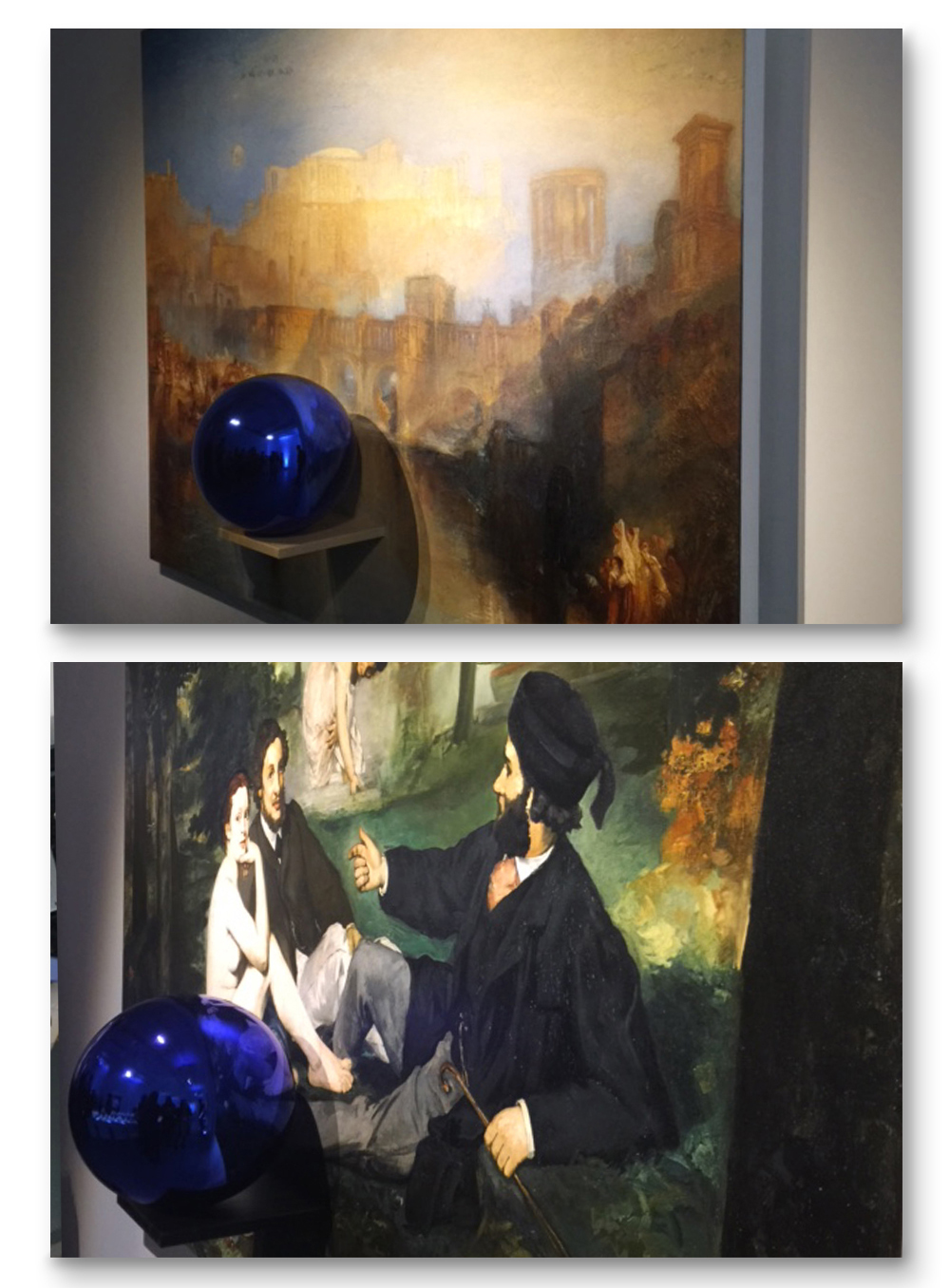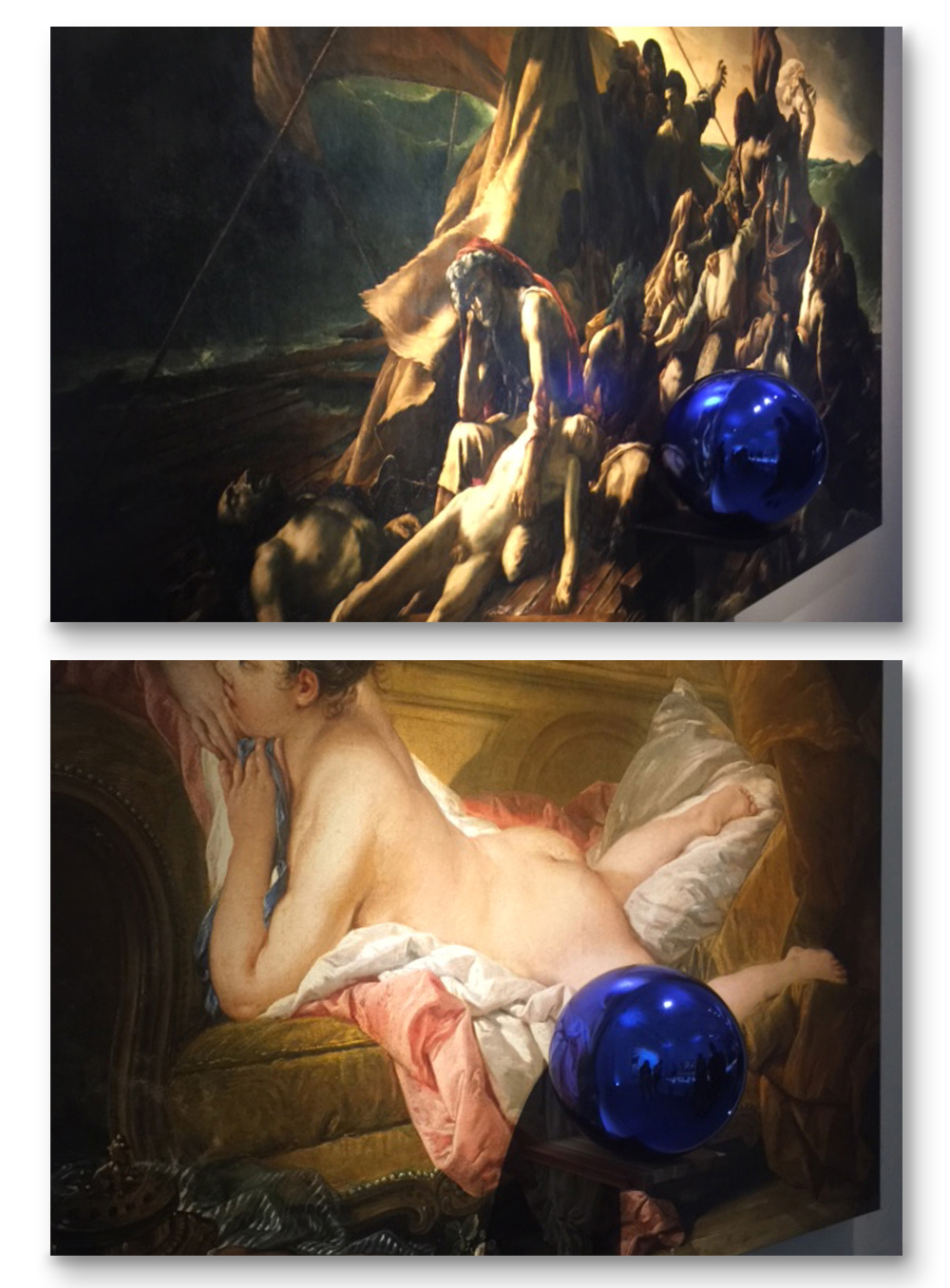 As for the dinner itself, we were surrounded by most of the series paintings, a collage of ceiling Masters projections, a magnificent tablescape inclusive of custom made, limited LV X JK charger plates. Did we each get to keep our plate (and everyone wondered the second they saw the table)? Yes, each guest was surprised during dinner to learn they were going home with their treasured place setting. Mine was the Boucher. It was a Japanese themed dinner as Nobu catered the evening accompanied by, a magnificent sake slection from the LVMH portfolio. Michael Burke welcomed us all and spoke about how Delphine initiated the partnership. Then Jeff Koons gave us the true backstory. Telling the crowd that when Delphine first called, "He'd have to think about it and get back to her next week." He did. He would love the opportunity to work with Louis Vuitton because we really have a "shared interest in materialism." Adding, "I always love saying that line. When you think of materialism you think of money, but really, it's material. It's the rejoice of leather. The best and richest colors of leather, the saturation of color, and to be able to imprint canvas and get the details. It's really about communicating feelings. When people have feelings it turns into ideals. I hope whoever sees the collection can feel the presence of the ideals." We all did.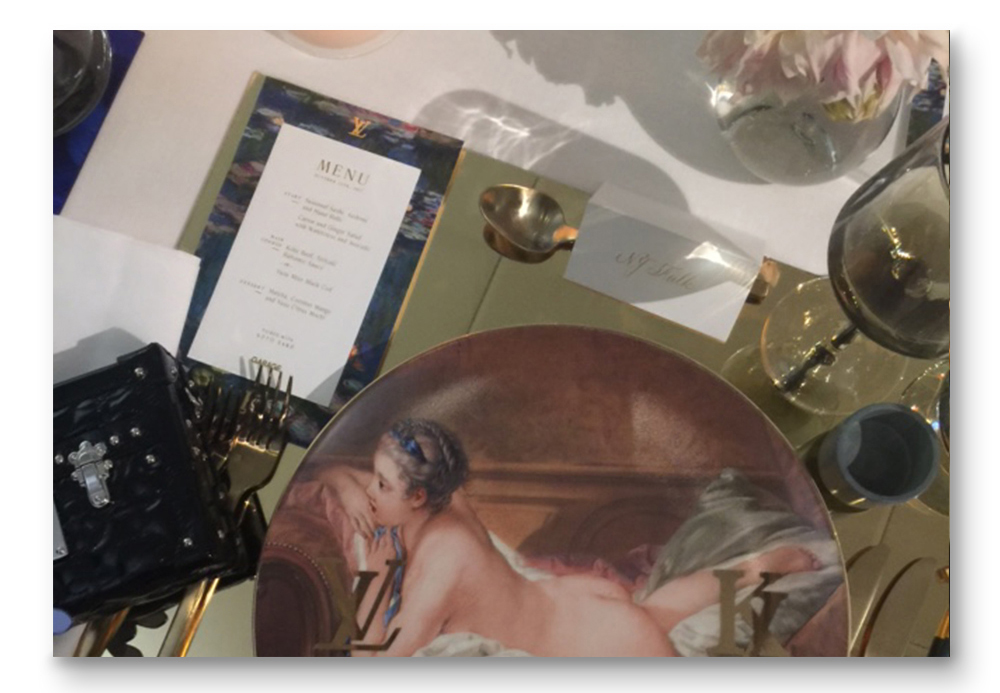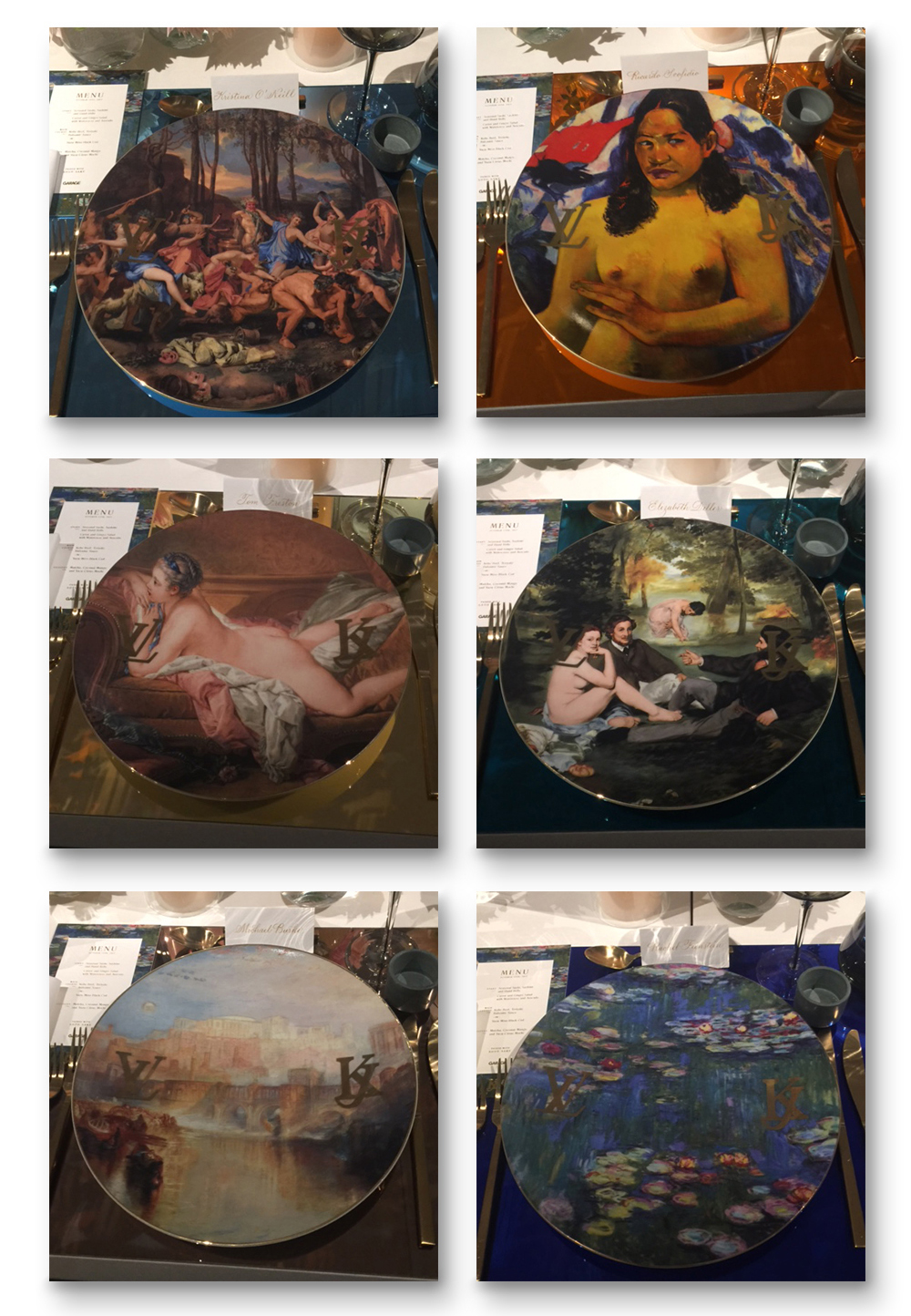 Finally, if that isn't enough, the Louis Vuitton Volez Voguez Voyagez Exhibit is opening in New York the day after the collection launches. Admission is free. I saw the exhibit when it debuted in Paris and promise you it's worth winging your way to New York. Visit the American Stock Exchange Building in New York City. October 27, 2017 through January 7, 2018. Book your tickets first online as there are sure to be long lines and sold out crowds. Now that's a Master Plan.
With Love From Jeff Koons Studio in Chelsea,
NJ Goldston, The Brunette
Photo Credits: Joe Schildhorn/BFA.com and NJ Goldston