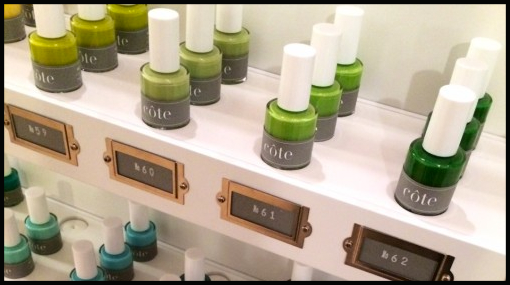 We're beauty nuts. Naturally, we just had to get the scoop and quickly said "yes" to attending last week's exclusive launch party for côte. It turns out the new home & body goods flagship nail care salon in Brentwood, California is much more than a nail salon, or your typical mani/pedi stop; it's also a shop, offering a 109-piece collection of beautifully colored "five-free" vegan polishes (aka free of formaldehyde, dibutyl phthalate, toluene, camphor and formaldehyde resin). Translation. Each one is vegan, and does not contain any of the harsh chemicals contained in normal polishes. The best news. If you don't live in LA, all the colors are also available online!
It was a fun evening as Founders Mary Lennon and Leah Yari welcomed us while explaining that the shop's vibe is a mix of "California beach lifestyle with a hint of Southern France." We soon discovered, after a macaroon sampling, and a glass of rosè (naturally), the five indoor stations and six outdoor stations, all LA-made and all offering four safe treatments: Luxe ($35 manicure/$45 pedicure), Classic ($20 manicure/$26 pedicure), Petit for kids ($12 manicure/$16 pedicure) and a Hot Stone Foot Massage ($45 for 30 minutes). Bonus: each station includes an iPad for "a smudge-free entertainment experience."
Then is it was time to get started. We settled in for our turns and had the most luxurious manicure and the hardest time selecting a polish. We then headed down the hall, past the manicure stations, and ended up in an outside patio oasis! It was the perfect place to hang out whilst letting our polish dry!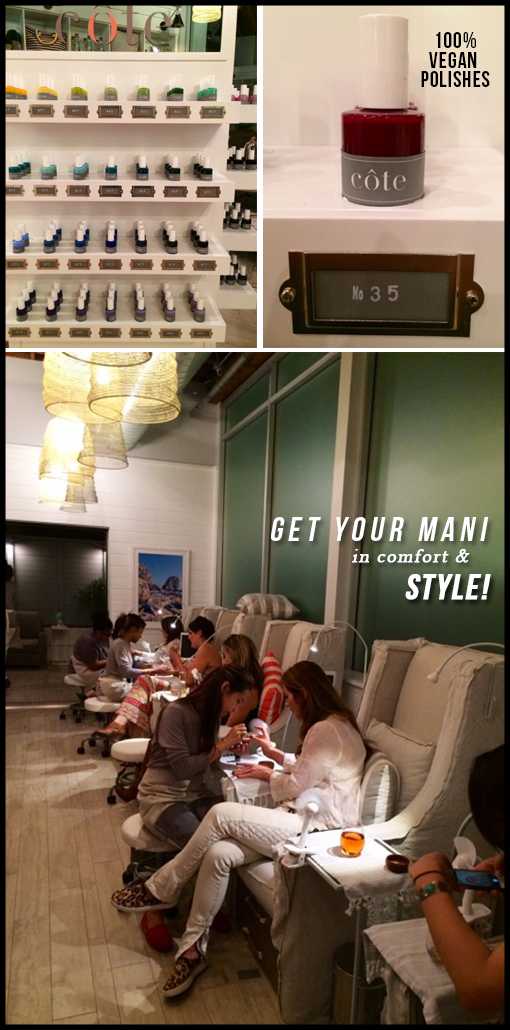 Once dry, we were ready to explore the shop! In addition to the incredible variety of côte nail color options, their store is brimming with must-have buys! From adorable little succulent teasers, to delicate jewelry, there was something in here for everyone!
Alas, it was time to go, but not before they gifted us with a trio of polishes including côte's signature coral, "No.1," a chic grey "No. 102" and côte strengthening base and top coat, as well as côte's exclusive travel vial for a quick, convenient touch ups on the go to extend the life of future manicures. What a brilliant idea. Why didn't someone think of it sooner.

If you're in the area, stop on in for a visit! côte salon/11714 San Vicente Blvd./Los Angeles, CA 90049/ (310) 820-0906
Côte gives a new meaning to your au' natural beauty regime!
Xx. Jadan Huter & NJ Goldston, The Brunette