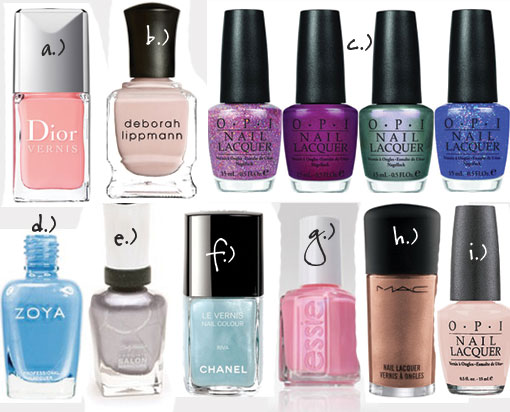 Nude — The best part about nude colors are the fact that they pair with everything in your wardrobe, and won't show the nicks and chips as I have noticed our current winter favorites do.
Tiffany Blue —
Pale Pinks — Want something that will make that pre-summer tan pop? This is it!
Metallics —

While you're shopping for your best Spring colors, we must not forget the most exciting polish collaboration this Spring between Katy Perry and O.P.I (pictured c.). The nail color collection will include Teenage Dream (a plummy pink sparkle), Not Like the Movies (metallic silver), Last Friday Night (a Crayola blue glitter), and The One That Got Away (a deepest dark berry purple.) Each polish will retail for $9, and is set to launch ANY DAY NOW!
Xx. Jadan