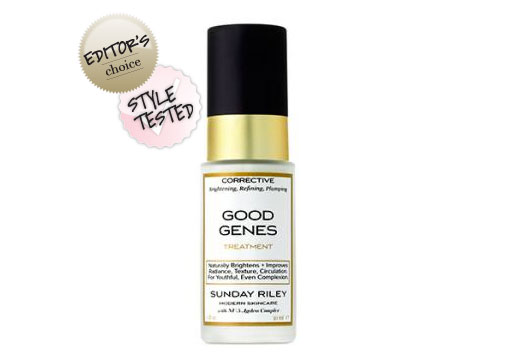 This Sunday Riley product, "Good Genes" is my new skin obsession! I heard that this product "changes your skin overnight"! And it is really true! I've been using it the past five days, and the texture and tone of my skin is so much better. I have also noticed it has cleared up my redness and breakouts. I have to give credit to my fashion and beauty guru stylist and blogger, Kimmy Erin who rec'd this product to me! It can be used as a short-term five-day treatment or daily.
This product promises to plump fine lines, improve circulation, reduce hyperpigmentation and acne scars, even out skin tone, and give skin a firm feeling.

Active Ingredients Include:
Unneutralized Lactic Acid for line plumping, increased epidermal firmness and thickness and skin renewal
Licorice for skin brightening, decreasing dark circles and anti-inflammatory
Native American Botanical Base of Blue Agave, Prickly Pear, Orchid, Cactus, Aloe to rejuvenates damaged skin, anti-pollution and detoxify
Squalene to help repair skin barrier
Lemongrass, an anti-oxidant that improves circulation
Yeast Extract to induce collagen and elastin production and accelerate healthy skin growth
Good Genes, $105
The complete Sunday Riley Skincare line is carried exclusively through Barney's and available online.
Enjoy your radiant skin!
– Kathryn, The Blonde