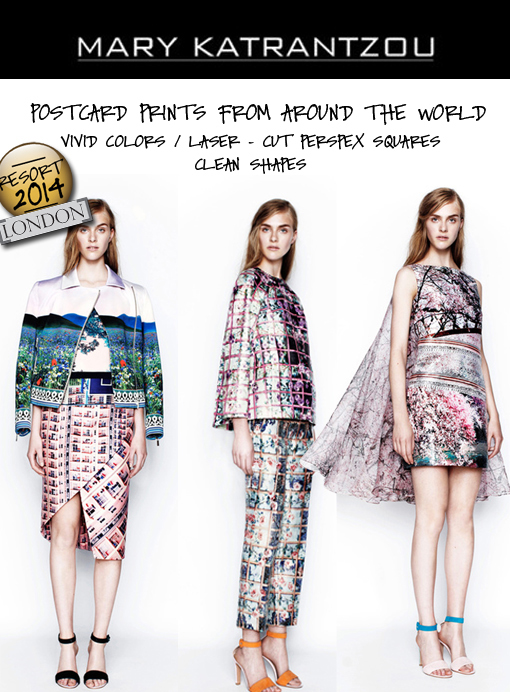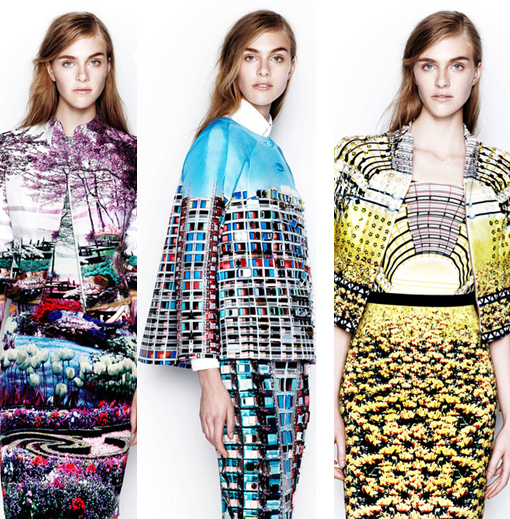 She's quickly becoming an international design powerhouse as her signature, often digital prints, are spotted on "it" girls everywhere. Mary Katrantzou. We're big fans too. We recently met the almost always clad in black designer in Beverly Hills as she gave us insights into her her love of textiles and schooling at RISD. We monopolized her time so much we ended up giving her a lift to her next meeting. Then we ran into her at the MET Gala and she was dazzling in one of her own designs. Now she's introduced her first resort collection to much acclaim.
It's based on postcards from around the world along with images she photographed. Snow-capped Swiss Alps. French Flower fields. A Japanese bridge. An Italian vineyard and my personal favorite, laser-cut Perspex squares, placed in the windows of an apartment print. All of these vistas, accompanied by stunning floral sequin embellishments, make this sure to be gracing even more "it" girls.
Another London favorite of mine is Markus Lupfer. I am actually a devoted follower and client of his fun approach to design, wearing his go-to statement knitwear, sequined sweaters (currently the sequined bunny ears sweater and matching pin) and slogan tees. His latest collection continues this tradition with a sixties vibe along with a nod to grudge. If you're going to go-go, then it makes sense he also heaped in lots of canary yellow and clean lines. Disco for day. That works for me.
Jonathan Saunders also usually grabs my attention and this time is no exception (even though Fall 2014 was a bit of step back). How did he reignite his creativity? Saunders says, doing a collection about "things I love" starting with a Candyland theme. Here's that theme again. Not sure how so many designers have tapped into that in one season.
A "Bubble Wrap" print black dress is a standout beautifully juxtaposed against the bold tulip print used over and over. Refreshing colors like pistachio and chartreuse plus delicious blends of lurex fabrics and raw-edged hems are the subtle details that polish everything off.
xo
NJ, Goldston, The Brunette