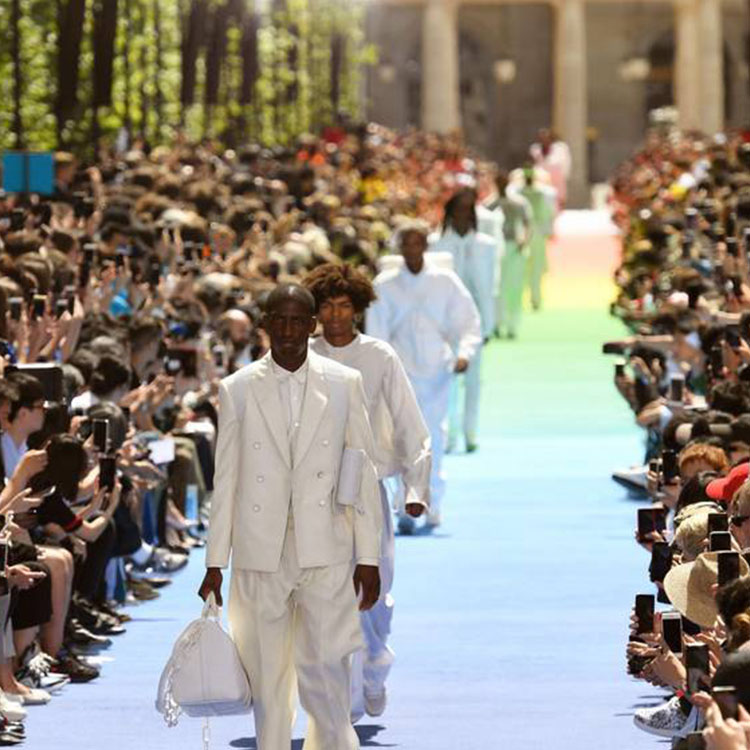 The first thing that popped into my mind as the Virgil Abdoh Louis Vuitton Men's SS19 Show unfurled at the Palais Royal in Paris yesterday were these famous Beatles lyrics. "You say you want a revolution. Well, you know. We all want to change the world. You tell me that it's evolution. Well, you know. We all want to change the world." Well that's just what happened. I am only sorry I was not there in person to witness it instead of via my laptop. That doesn't mitigate the power of this rainbow runway spectacular that was a transformation eerily reminiscent of the 60's social revolution re-imagined and reignited as part of the cacophony of today's global dialogue.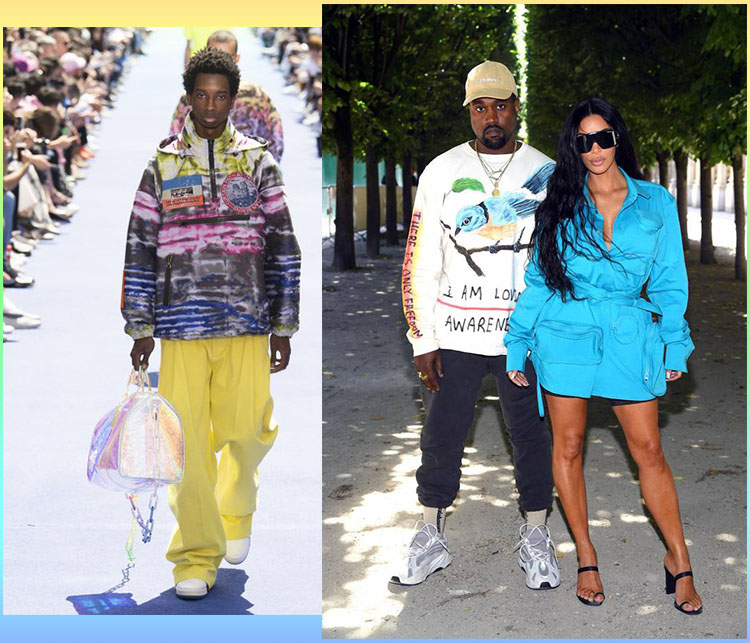 Kanye West and Kim Kardashian West (Dressed By Louis Vuitton)
I hope you were paying attention because the stakes and the expectations have been palpable for weeks—instead of brides coming down the running, it was almost virgin grooms in all-white that led a diverse parade. A global vision of who we are are and what real inclusion looks like. The crux of this worldly dialogue was combined with Virgil Abdoh's fashion roots and the heart of the Louis Vuitton brand: travel and origins. The origins of where you are from and your heritage to the traits that will take your journey forward. In case this tidbit wasn't in something else you read about the show, guests found programs on their seats with details identifying the models, what they do, where they live and who their parents are. This was not lost on attendees so think on it for a minute. The runway and the arc of the brand were suddenly combined between the millennial travel spirit and the need for individualism —all combined and spit out anew like a complicated calculus formula to unveil a new (via a social media storm) vision of a globally revered and coveted brand with a touch of Kanye.
The Off-White Brigade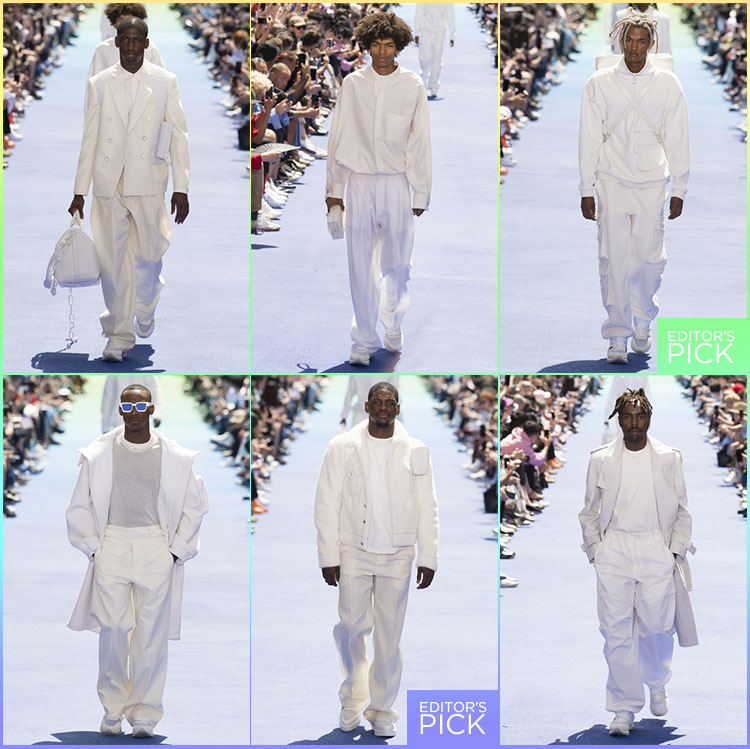 Abdoh uses his signature "off-white" as a brilliant design epiphany and a visual stroke of genius to recenter the brand on his two-tiered message of inclusion and travel. Subliminally it also reiterates that we are embarking on a new era in Louis Vuitton menswear as individualism takes center stage.
Utility & Travel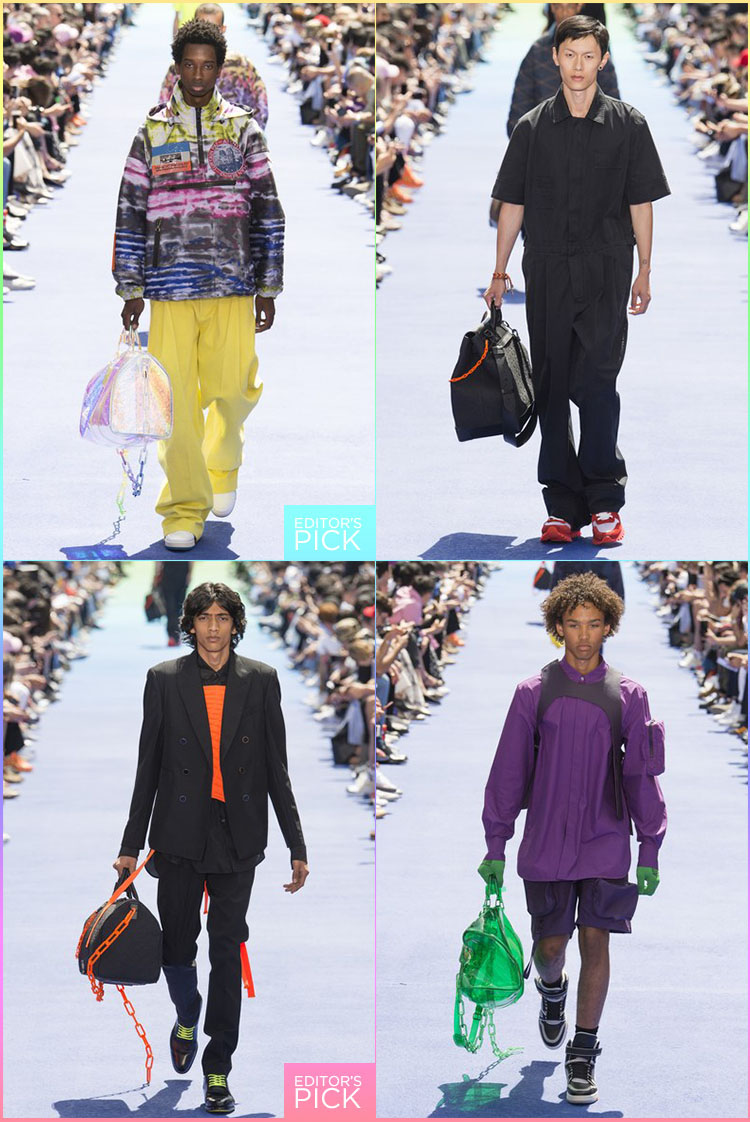 Why do women get all the best accessories? They shouldn't. It was time to reinvent them for the world traveler and not be shy about it. From utility belts and vests to carryalls and backpacks, bold options for the digital male peacock (who is often more fashion conscious than his female counterpart these days) include an arsenal of choices. Order now. Your man will thank you at holiday time.
Statement Outerwear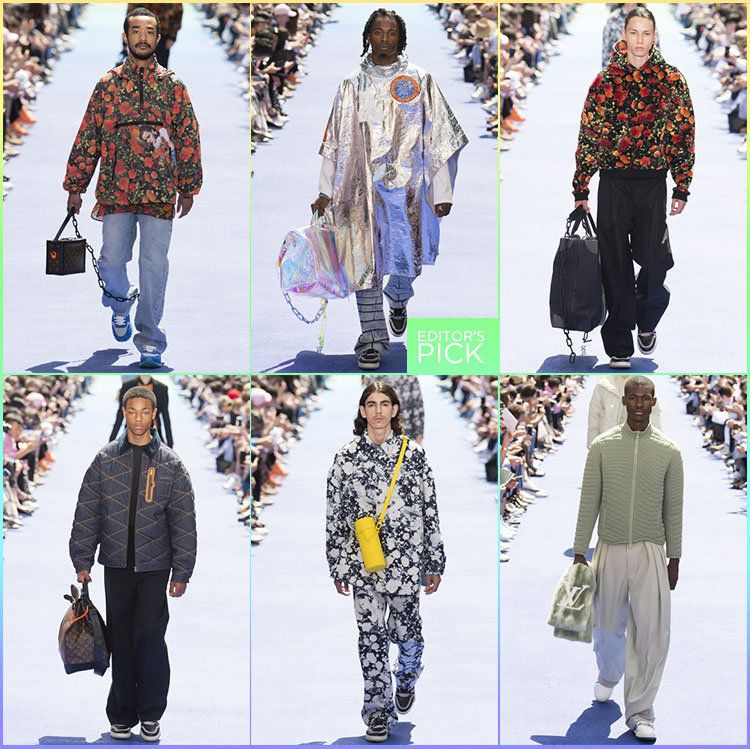 If you're a man on the move you need the outerwear to make an entrance wherever you go. It couldn't hurt to pair it with everything from holographic luggage to a mink scarf. Abdoh gets that and knows his followers appreciate these bold touches.
The New Suit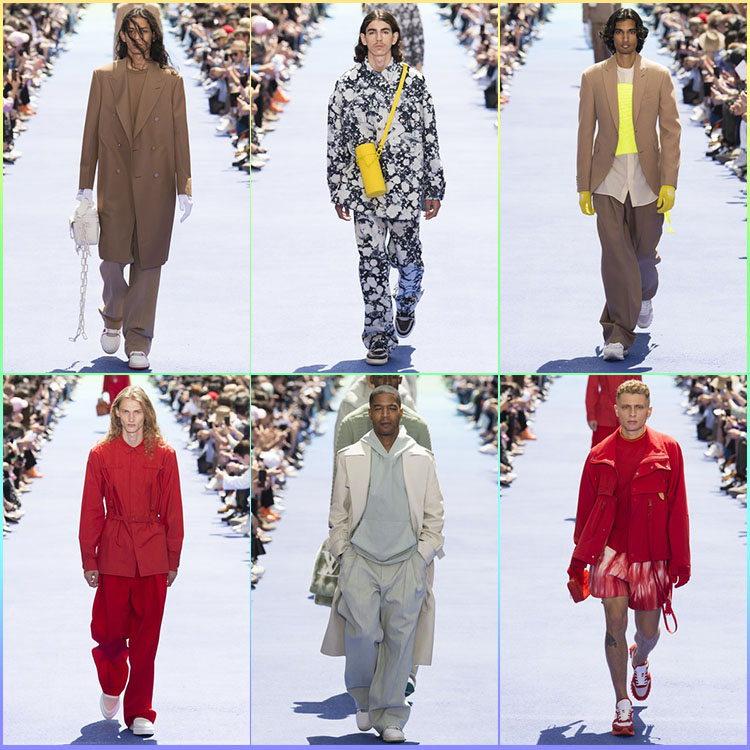 If you think suiting is dead. It's not. This is what is looks like. Relaxed. Comfortable and decidedly not cookie-cutter.
Borrowed From The Boys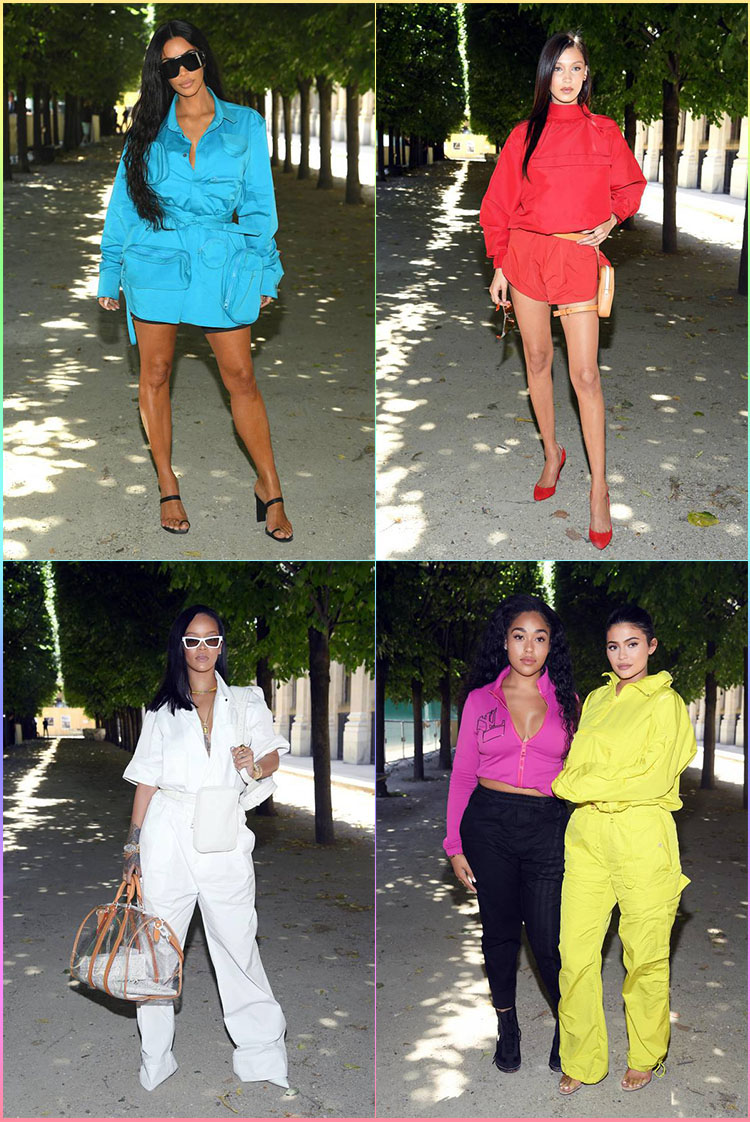 Clever. Clever. We all know the girls borrow from the boys. So why not include them from the start. Abdoh showed us how via Kim Kardashian West, Bella Hadid, Rihanna, Jordyn Woodand and Kylie Jenner. So…"You say you want a revolution. You say you got a real solution. Well, you know. We'd all love to see the plan." We just did and well…it's going to be alright. Actually, more than alright.
Congratulations
NJ Goldston