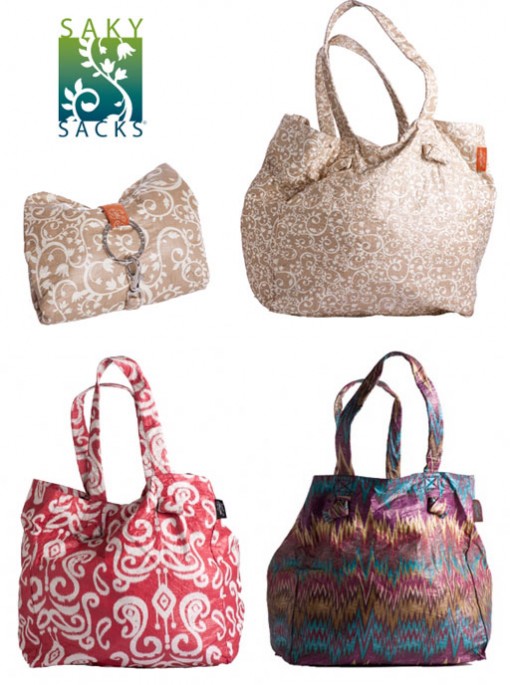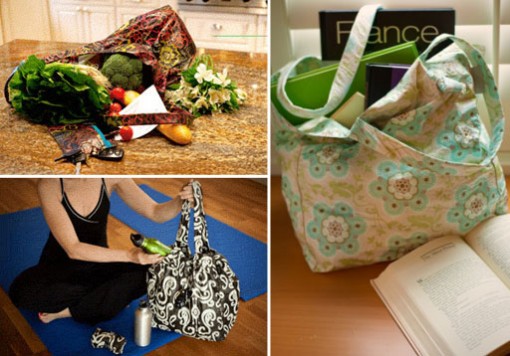 A few months ago when The Blonde and the Brunette made the Oscar® Suite rounds we discovered Saky Saks® at the Kathy Duliakas event. We waited until Spring to tell you about these very, completely green, polished, sophisticated and affordable all-purpose totes because they seem especially perfect for the warm weather. We each selected one and have been testing them for their looks and durability. I chose the red Ikat print,City Saky, pictured above and Kathryn and Ashlee went for the Saky Weekend in the tribal Zig Zag print. No surprise there.
We all compared experiences. The "Sacks" turned out to be perfect for errands and trips to our favorite shops and markets, the gym, pool, beach, kid stuff, as a reusable grocery bag or best of all as a beautiful large tote. They are ultra-light weight, "squishable, scrunchable, squashable," and portable! They are also great as a plane carry-on or to pack in your suitcase for a tote while traveling.

There are three versions each with interior clasp or pockets, depending on the size you need, City Sack, Saky Weekend and Spotty Saky. Each is machine washable, tear, stain and water resistant and holds up to 25 lbs. The best part may be the price. The City Saky is $20 and the Saky Weekend is $25. The accessories grouping is perfect at $15. The special Spotty Saky for $20 donates 10% of the proceeds to to support Oceans Futures Society, an organization whose mission is to explore global oceans and inspire and educate people on acting responsibly for its protection. Saky Sacks: Green Style On The Go.


One lucky reader will receive the City Saky in the Signature print (first photo above). To Win:
Just like the post and leave comment about how you will use this bag if you win it.
Subscribe to The Blonde and The Brunette via one of our RSS feeds and if you already subscribe, let us know which feed you subscribe when you leave your comment.

Entries will be accepted until Thursday April 12th at 5pm PST. We will announce the winner on Friday, April 13th at Noon PST. This is a fun one! Good luck.
NJ, The Brunette