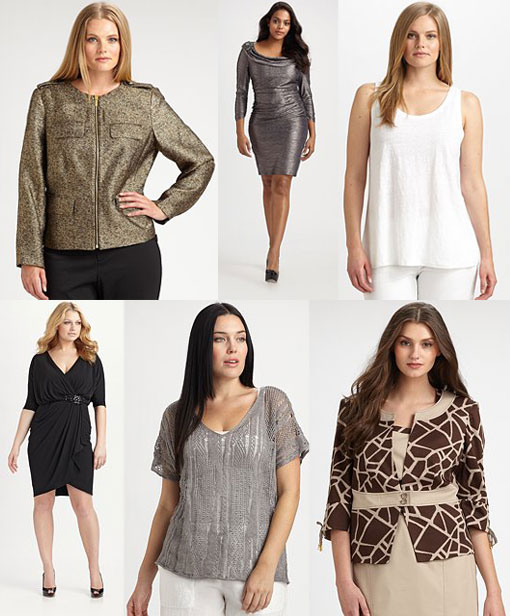 Here at The Blonde & The Brunette, we get lots of emails about women not feeling confident about their body type. Yes, we want to encourage women to enjoy their closet because you can have the right clothes to flatter your body type. Yes, you can! Long and lean, curvy or rounded: women come in all different shapes and sizes and the key to style success is dressing for your body type. No woman is made alike and trust us, there are many different body shapes. So before you start crucifying yourself for your wide hips or "fat" arms, being too tall or too short, check out these tips to help you look fabulous!
We know that some of us will never be a size zero or even a size 8, but that doesn't mean you can't look fabulous. As soon as you accept yourself for who you are you will be able to find the perfect jeans, dress and more outfits for you.
"This is a call to arms. A call to be gentle, to be forgiving, to be generous with yourself. The next time you look into the mirror, try to let go of the story line that says you're too fat or too sallow, too ashy or too old, your eyes are too small or your nose too big; just look into the mirror and see your face. When the criticism drops away, what you will see then is just you, without judgment, and that is the first step toward transforming your experience of the world."
― Oprah Winfrey
Body Types:
1. If you are a pear shape, it basically means you carry your weight on the bottom part of your body. Because you're slimmer on top, you probably want to keep the attention focused on your upper body.
DOS
Pear shaped people look good in A-line skirts, as they skim over hips. Another tip is to wear heels, which lengthen and slim the legs.
Wedge heels also balance out thicker calves. It's also a good idea to invest in waisted belts, because they draw attention to your already slim waist, and create more of an hourglass shape.
Wear eye-catching earrings and necklaces, to draw the attention up.
DON'TS
Pear-shaped girls should avoid wide-leg jeans, because these make your legs appear wider than they are. Your perfect jeans are boot-cut jeans, which you can wear with boots underneath, making your legs appear longer and slimmer.
Pear-shaped girls should not overload on short skirts, especially if you have chunkier calves. Wear mid calf or maxi length dresses or skirts.
Avoid loose, baggy dresses. They completely hide your top half, and usually show off your legs, which may not be your most flattering. If you want to wear a floaty smock dress, wear with black leggings to make your legs appear a little slimmer.
2. If you're an apple shape, you're the most rounded of all the body shapes. Your hot points are your legs. You have a full chest and you usually gain weight around your tummy, and you don't have much of a waist.
DOS
Create a waist with tailored blazers and bomber jackets that go in at the waist.
Wear thick belts around the waist, as they clinch it in, giving the illusion of a tiny waist.
Show off those legs with skinny or straight jeans or leggings.
Invest in shape wear which helps tame the tummy.
Wear V-Necks or wraparound tops as they break up your torso.
We love tunics and tighter pants to hide that tummy and how off those legs!
DON'TS
Avoid wide-leg jeans, as these make your legs look bigger, making you appear top AND bottom heavy.
To avoid the dreaded "muffin top", wear mid-rise or even high-rise jeans to give the illusion of a slimmer silhouette.
Avoid tight spandex tops.
Also avoid polo necks. They make you look top heavy.
3. Hourglass figures have a full chest, small waist, rounded hips, and tend to carry weight on the legs.
DOS
If you have an hourglass figure, opt for sweetheart necklines, as they flatter your bust. Wear cropped jackets which nip in at the waist and emphasize your already small waist.
Your perfect jeans are, as with most figures, boot cut. The darker the color, the slimmer the effect, so try black jeans with heels. That is our favorite combo!
Heels are your best friend, and will make legs appear slimmer and longer.
DON'TS
Don't be tempted to hide your curves under baggy clothes. You have the figure, so flaunt it!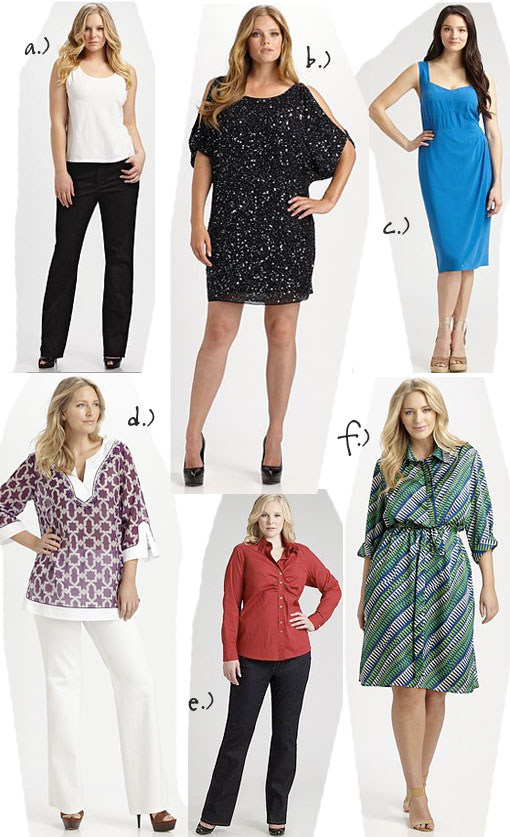 We worked with the style team at Saks Fifth Avenue's Salon Z to find flattering looks no matter your shape, which are at the top of the post and above, to select great basics and special pieces that make a welcome addition to your wardrobe and work all year long.
P.S. Don't forget that a great pump or platform adds so much to any look along with a bit of fabulous hair drama.
-The Blonde & The Brunette Team