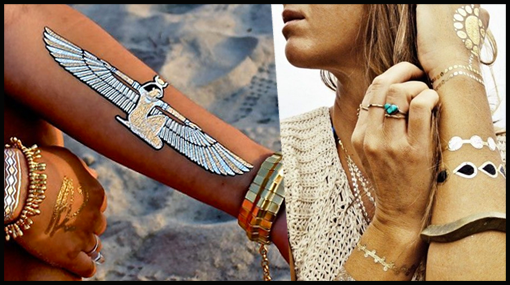 This morning, I saw a photo of a beautiful girl covered in gold-leaf body art, and it lead me to my newest obsession: Flash Tattoos! Remember when Chanel debuted their temporary tattoo collection back in 2010? It seems that people are still running with that inspiration, but this time, just a bit more bohemian.
Flash Tattoos are sold in packs of four for $22 and they've got all sorts of different styles and collaborations. It might not be an everyday look, but they're the perfect little addition to a long weekend, a fun festival, or even just a whimsical night out.
A few tips from the Flash Tattoo Website :
HOW LONG DO THEY LAST?
They will last 4-6 days depending on where they are placed and how well you take care of them.
ARE FLASH TATTOOS SAFE FOR THE SKIN?
Absolutely! Flash Tattoos are non-toxic and safe for anyone to wear.
HOW DO I APPLY MY FLASH TATTOO?
You want to make sure your skin is clean, dry and free of any oils or the tattoo will not adhere. Place the tattoo face down on your skin and hold a wet cloth against it for about 30 seconds. Peel the paper aside then pat gently with the wet cloth. Flash Tattoos look best after they have had an hour or two to set into the skin. Just like the tattoos we used to get from the ice cream truck when we were little, but a whole lot cooler!
See you in a FLASH!
Xx. Jadan Huter