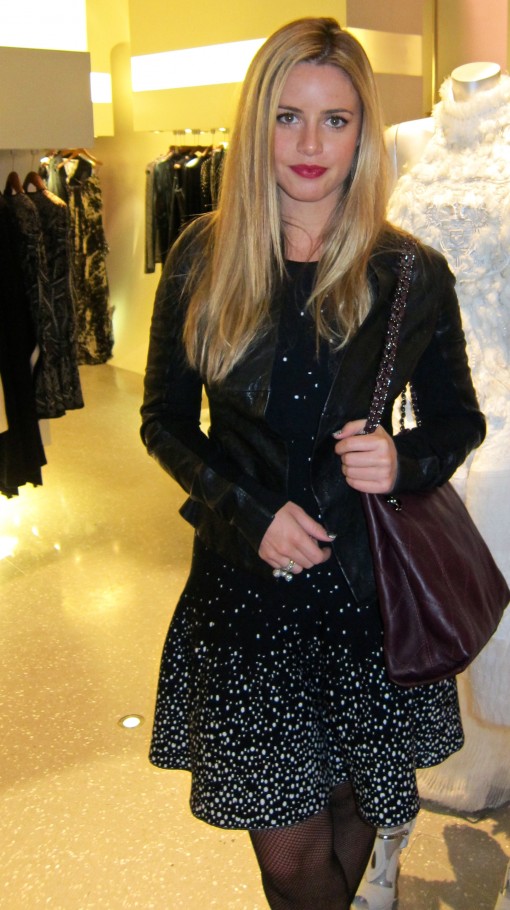 It's not even the New Year and The Blonde and The Brunette is trying to keep its promise about revealing our day to night style tips and looks. I recently wore this outfit to an exclusive event hosted by Christine Chiu, at the Dior Boutique event on Rodeo Drive. It was early evening and I wanted to dress my look up a bit, but not too much, so I did one of my favorite things, a retro look. I went with a flared skirt (about 3 inches above my knee) to enhance my silhouette, fishnet tights (to add a little style drama) and red lips. Of course, in LA, we throw on a great fitted leather jacket with everything to stay warm but really it also adds much needed shape to accentuate your waist, especially if you have great curves.
To get this look, just click on the links below.
Issa Dress
Commando fishnet stockings (these are so comfortable in the waist!)
Old leather jacket (if you don't have one, this is a critical investment item for your wardrobe, but take your time to find the right one)
Structured bag
YSL Tribute Pump
Le Metier de Beaute red lipstick
Hope you are inspired to bring out your retro flare!
– Kathryn, The Blonde