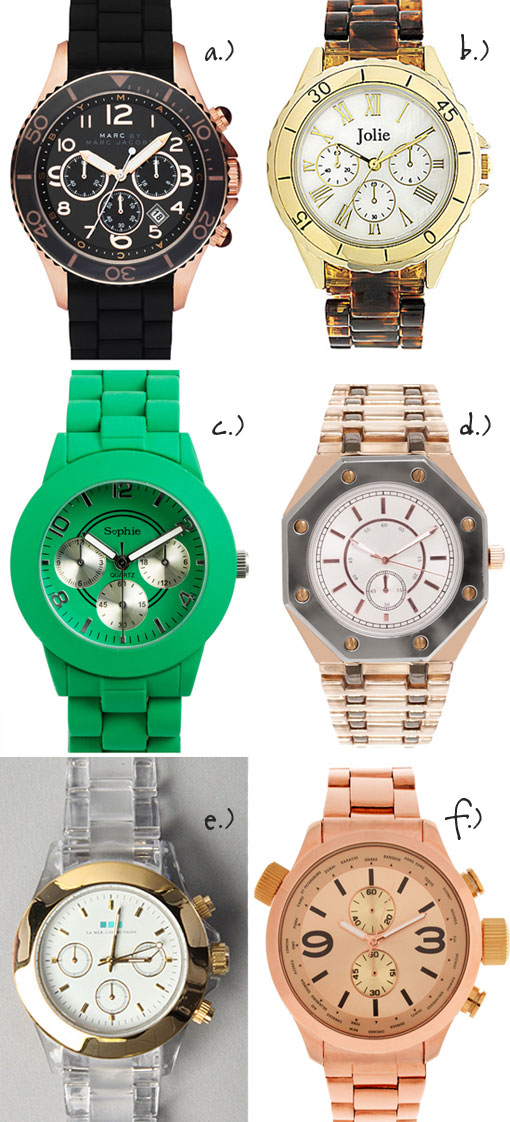 First there were boyfriend jeans, then came the boyfriend blazer, and now comes the boyfriend watch! I have always been a big fan of big faced "masculine" style watches, so seeing such a large selection recently is very exciting to me!
Ladies, now you no longer have to envy your men. Let them envy you! Here are 6 of my favorite time pieces:
a.) MARC BY MARC JACOBS 'Rock' Large Chronograph Silicone Watch, $225, available at Nordstrom.
b.) Jolie Ladies' Tortoise Shell Plastic Chronograph Watch, $45.50, available at Lord & Taylor.
c.) Sophie Titanium Soft Touch Watch, $18, available at Nordstrom.
d.) ASOS Boyfriend Style Watch With Octagonal Case Detail, $44.93, available at ASOS.
e.) La Mer Carpe Diem Watch with Gold Bezel and White Dial, $110, available at Karmaloop.
f.) ASOS Mixed Metal Boyfriend Style Watch with Contrast Pushers and Crown Detail, $71.88, available at ASOS.
Xx. Jadan Huter