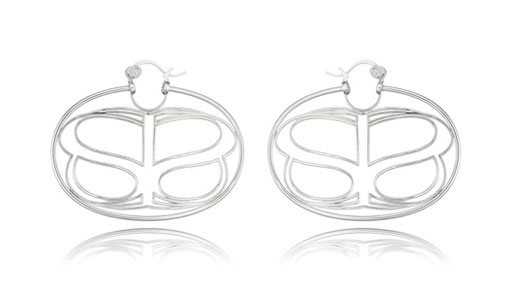 Infinite Love Hoops Platinum Over Sterling Silver Artisan Crafted Logo Hoops Hand Polished Mirror Finish Starting at $175. Also available in white, yellow and rose gold.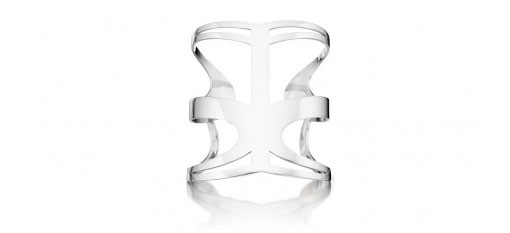 Infinite Love Cuff Platinum Over Sterling Silver Logo Cuff Bangle Hand Polished Mirror Finish. Starting at $825. Also available in yellow and rose gold.

The Blonde & The Brunette met the engaging and inspiring Simone I. Smith at a very special Neiman Marcus event a few months ago. Recently we had the opportunity to speak with Simone, discuss her journey and a Sweet Touch of Love. First a bit of the back story. In 2004, Simone endured a life-altering diagnosis of Stage III Chondorossarcoma (and that's Simone above during and after chemo) which required an invasive surgery followed by extensive rehab and recovery. Throughout it all, Simone held her head high and did it in style with her sparkly ballet flats and color-coordinated crutches. The experience tested and renewed her faith. It also sparked her desire to give back. On Valentine's Day, we wanted to celebrate Simone and find out what inspires her. We asked and read on for our special Giveback Giveaway.
B&B: Simone, we love how your beautiful Lollipop charm represents your own personal journey with cancer as a survivor as well as inspiring other cancer victims through their journey. We can tell you have so much passion for your jewelry line, how has this line affected you and your healing process?
Simone: I always had a passion for designing accessories and producing a product that women love is more than healing. It's rewarding, inspiring & puts a smile on my face to see the ladies wearing my collection & loving it. I'm very grateful!
B&B: Thank you for reminding us that our scars represent survival in a beautiful way. What would you say to fellow cancer survivors to help them find the beauty in their experience?
Simone: Scars don't define who we are. Our strength and will to survive and overcome the battle do. My personal faith and trust in God is very strong and by his grace I am here to share my story and hope it inspires others.
B&B: On a lighter note, your jewelry has a fun yet sexy look, what are your favorite jewelry looks for Valentine's Day?
Simone: The extra large "infinite love" hoops, layering three lollipops from a Sweet Touch of Hope: Garnet, Ruby & Rose along with the "infinite love" cuff with diamond embellishments. Those pieces look fabulous together!
B&B: What are you planning to wear on your Valentines Date with your handsome hubby, LL Cool J?
Simone: My handsome hubby shoots NCIS: LOS ANGELES during the week so I will be planning a romantic candlelight dinner at home. I'm not sure what my outfit is as of yet, but I'll have on some glossy red lipstick for sure!
B&B: We both will wear the Garnet Red Crystal Lollipop necklace for Valentine's Day. What are your favorite fashion looks to compliment the lollipop necklace?
Simone: For a fashionable ladies like yourself I'd say the perfect look to compliment your Garnet (A Sweet Touch of Hope) lollipop would be an amazing off the shoulder Alice + Olivia top, fitted Joe's Jeans, a studded belt, five inch black booties, a red Chanel shoulder bag and red lips of course!
B&B: I love that you design in Birth Stones, what inspired you to use Birth Stones?
Simone: A Sweet Touch of Hope was originally a purple lollipop representing the lollipop tattoo on my leg which was altered during my surgery in 2004. After partnering up with the American Cancer Society and their More Birthdays Campaign, I was inspired to offer A Sweet Touch of Hope in all birthstone colors. We pray for a world with less cancer and More Birthdays.
B&B: What is in the future for the Simone I. Smith collection, do you have plans to design more jewels or expand your line?
Simone: The Simone I. Smith collection includes earrings, cuffs, bangles, & necklaces. I will be launching rings later this year. My vision is to expand my line into a lifestyle brand and continue to bless women with fabulous, hot accessories. We ladies need that in our lives.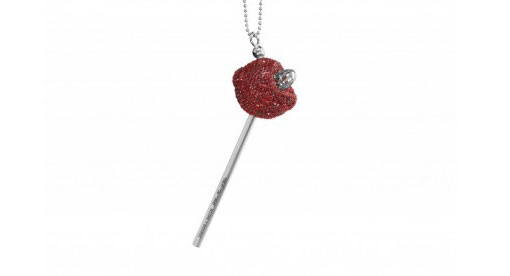 Inspired by Simone's journey and designed to create awareness, 10% of the purchase price of every Crystal Lollipop is contributed to the America Cancer Society. In case you want to share the love or fancy another color, check out more choices from the Simone I. Smith Sweet Touch of Love Collection. For Valentine's Day, Simone I. Smith and The Blonde & The Brunette are doing a special giveaway where one lucky winner will receive an absolutely gorgeous Platinum Over Sterling Silver Ruby Crystal Lollipop Necklace. To win, click like and leave a comment telling us how you'd style the necklace.
Entries will be accepted until February 15th at 5pm PST. The winner will be announced on February 16th at noon PST. Please note: this time, the giveaway is open to U.S. residents only. One entry per person. The winner has two weeks to claim their prize; if prize has not been claimed within 2 weeks, we will draw a new winner.
Happy Valentine's Day. Share The Love.
NJ Goldston, The Brunette & Kathryn Lebowitz, The Blonde