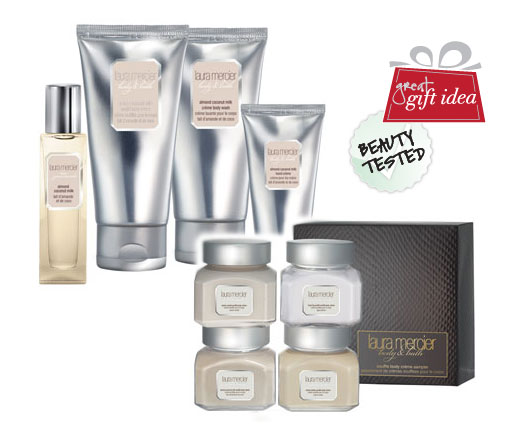 We're getting down to the wire. Here's a great last minute gift idea. Laura Mercier makes the most amazing scented lotions and bath sets! They smell just like my favorite desserts and anyone would love these as a gift (and so would we).
Laura Mercier Almond Coconut Milk Body and Bath Quartet.
Considered the ultimate travel luxury, Laura Mercier's La Petite Patisserie Quartet in Almond Coconut Milk evokes memories of the islands with seductively succulent notes of milk, coconut, almond and vanilla combined with heliotrope and musk for a rich and alluring experience. Features 3 oz. portable tubes of Creme Body Wash and Souffle Body Creme, plus a deluxe-travel hand creme and Eau Gourmande fragrance. $50
Laura Mercier Souffle Body Creme Sampler$60
This sampler has all of my favorite cream scents in it: Ambre Vanille, Almond Coconut Milk, Creme Brulee and Fresh Fig. Yum Yum!Blended with the finest gourmande notes, each delectable body creme contains active ingredients in a silky smooth super-whipped souffle formula that instantly nourishes the skin with vitamins and protein derivatives, while shea butter and macadamia nut oil provide conditioning benefits. Ideal for travel, each scent is packaged in a non-breakable 4 oz. jar. $60.
So delectable!
-Kathryn, The Blonde