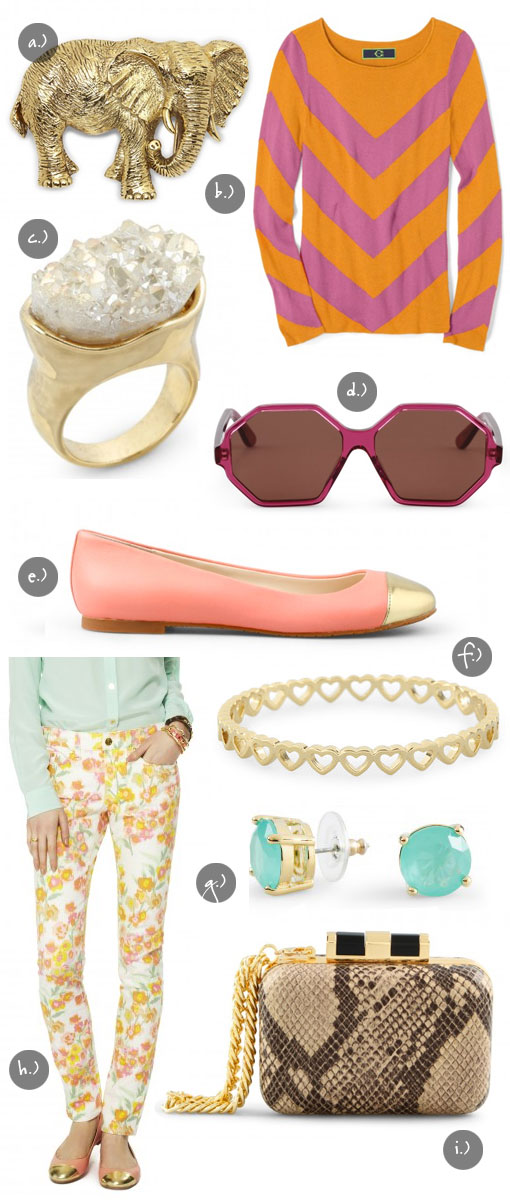 Bold prints, pops of color, and gold jewelry are leading the way into spring. Lots of our friends had asked us if we had heard of C Wonder. Nope. So we did a bit of a deep dive and couldn't get enough of their new arrivals.
Now it's our newest style secret and we thought it was time to share it. If you are wondering (pun intended) who they are, C Wonder's design philosophy is to deliver brightness to every corner of life (and we love everything bright) by offering unique clothing, accessories, and home decor products.
We've rounded up a few of our favorite pieces to create the perfect "must have" spring look. Irresistible, right? A luxury experience at astonishing prices.
a.) Walking Elephant Buckle $38
b.) Chevron Intarsia Knit Sweater $60
c.) Small Druzy Stone Studded Ring $38
d.) Hexagonal Sunglasses $68
e.) Metallic Cap Toe Ballet Flats $98
f.) Hearts Bangle $38
g.) Frosted Neon Bling Stud Earrings $28
h.) Stretch Skinny Watteau Floral Jean $128
i.) Snake Embossed Leather Minaudière $88
– Ashlee and Jadan, Brunette Contributors