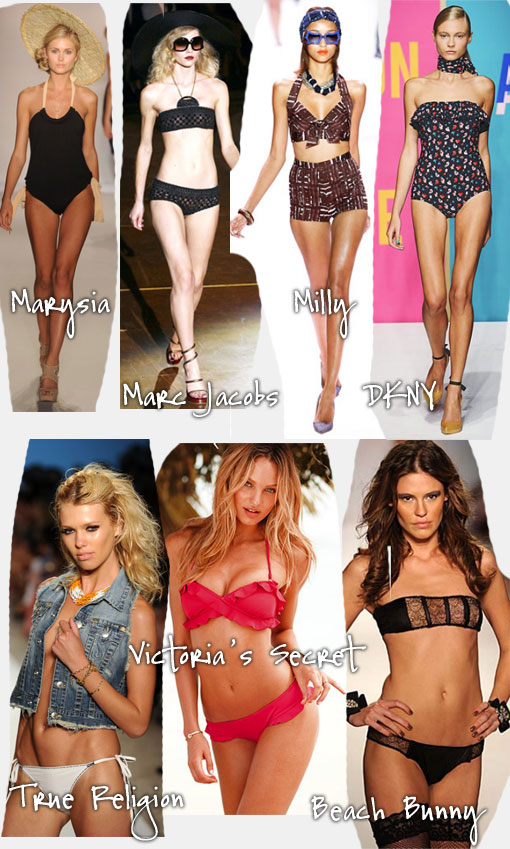 It's barely Spring, but the weather says otherwise. I'm not sure about you, but Summer is on my mind!
Although I always opt for the classic solid-color swimsuit, it looks like Spring 2011 swimwear is all about an abundance of patterns, ruffles, denim, bold bandeaus, and old fashioned suits!
As featured on DKNY's runway, we see not only an adorable patterned one-piece, but the ruffles add a the perfect flirty touch.
In Milly's 2011 collection, we see looks from earlier decades, such as the high-waisted two-piece suit (another favorite style of mine) in a brown and white pattern shown here. Pair an old fashion suit with any of the "cat eye" shades we featured in our earlier post, and you are sure to WOW everyone on the beach!
Surprisingly, denim is the #1 head-turning trend this Spring. From one-pieces to bikini styles, corsets and vests, take this opportunity to experiment with boy shorts, studded denim, and even the denim halter tops. Seen here, True Religion rocks the denim vest on their runway.
Another favorite look of mine is the bandeau top. It is similar to a bikini but with a strapless, straight top. Though bandeaus have been in fashion in style throughout previous years, this year, designers are really coming up with new styles and colors. I'm loving this Victoria Secret ruffled bandeau!
Now, If your like me…and you just cant get away from classic black, here are a couple favorites I have seen so far this season.
Black Marysia One-piece, Black Marc Jacobs bandeau and a lingerie-inspired two-piece from Beach Bunny!