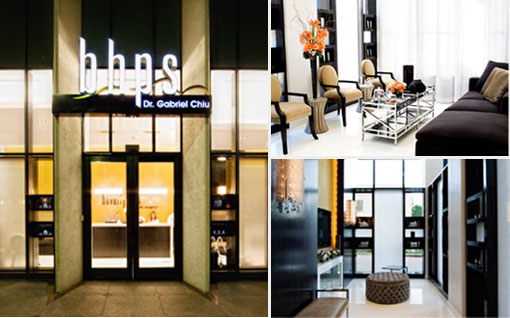 I'm obsessed with the results from my Cryo Stem Therapy Facial at the MediSpa at Beverly Hills Plastic Surgery. Stem Cells from a cow in France were applied to my face! Yep, I never thought beauty treatments would come to this, but I must say it's genius and no joke.
So let me tell you how it went. As I relaxed in a beautiful treatment room at the Spa at BHPS, a lovely esthetician performed standard facial procedures. My skin was cleansed, toned and exfoliated to prep for maximum penetration of the Stem Cells. Then the facialist went to the freezer and came back with an ampoule of Stem Cell serum that she applied to my face. It felt amazing and actually smelled great! The ampoule contains constituents that are naturally found in skin and live DNA that has been carefully cultured with vitamins, minerals, enzymes, and collagen and elastin builders specific to human skin. So the existing skin replicates the condition of the perfect cell applied, thus the damaged and aged skin becomes younger and firmer. This live DNA comes from France and is taken from a pregnant cow, much like an amniocentesis procedure for a pregnant woman. The cows are not harmed and are carefully supervised.
I was told to leave the serum on overnight and to not touch my face with any other products. Let those cells do their magic! I left the spa and my skin felt hydrated and looked great already.
I woke up the next morning, with the Stem Cell serum on from the day before and my skin is amazing. I had a blemish that cleared up overnight, and my skin is tight and glowing! The Stem Cell Treatment Facial can really replace my standard monthly facial; the results are better! You can get the stem cell treatment as often as you would like; I heard that models and celebs come in for Stem Cell Facial very often when they are in town. This treatment is picking up traction in all the spas and doctor's offices in 90210!
Once it was openly revealed that Reese Witherspoon, Madonna, Jacqueline Bisset, J Lo and even Marc Anthony reportedly use stem cell treatments as part of their facial regimens, placental stem cell therapy has become better understood and a much more acceptable (and affordable) skin rejuvenation option.
The future of skincare has arrived!
Cryo Stem Hydra Facial: Deep hydration emphasis for a youthful, radiant glow. Instantly reduces the appearance of fine lines and wrinkles.
90 min / $250
Cryo Stem Firming Facial: Provides immediate toning, firming, and lifting effects.
90 min / $250
For more information,contact:

or phone 310-888-8087

9454 Wilshire Boulevard
Ground Floor
Beverly Hills, Calif. 90212
– Kathryn, The Blonde