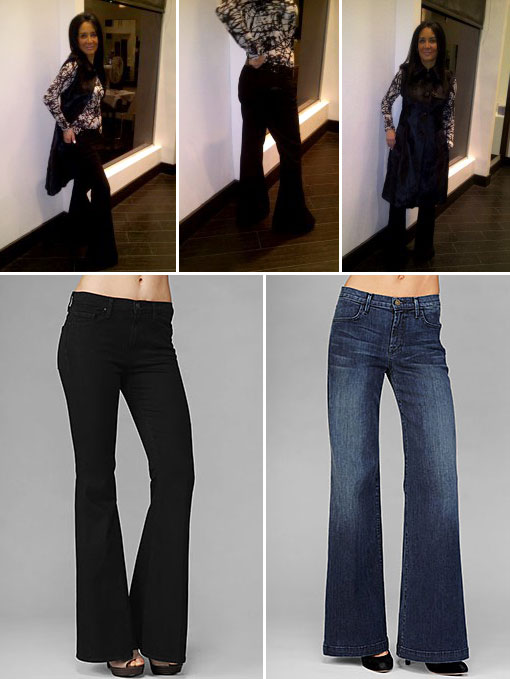 Last Saturday, I had a "business casual" lunch with two icons at the famous Grille in Beverly Hills. Your status in the Hollywood pecking order determines where you are seated. If you are at a booth, then all is well. And, of course, we were. So I thought just a bit more about what I might wear to a very late lunch with B&B Beauty & Hair Expert José Eber and famed producer and choreographer Kenny Ortega (à la High School Musical, This Is It, Dirty Dancing, Fame ,Ferris Beullier's Day Off, and his latest directorial effort, In The Heights, which is just going into production). So what to wear? What to wear? Hmmm… I decided to check out the new Bell Bottom or Flare styles since we've being writing about denim.
First, Bell Bottoms have been slightly re-invented. They don't "bell" so much as "flare" (hence, all the massive press and fashion push), so they are much more flattering. Two, they range in width. This is how it works: they go from the widest (which is a "Bell Bottom") to a Flare to a Trouser cut. 7 for all mankind has them in all three shapes and great washes from Black Onyx to various shades of blue. Look for them under the Bell Bottom, Trouser and Ginger cuts. Then I had to figure out how to style them. For me, I loved them with a very fitted top (preferably with a pattern — I used a Proenzer Schouler top) and a three-quarter length Prada fur vest to dress up the look and stay warm. It was a blistering 58° in LA. That means cool for us and balmy for the rest of the country. I also had to make sure this outfit transitioned to dinner. It did. In terms of fit , you might want to go down one size or two from your regular size. And remember, the jean should be very fitted on top to accentuate the bell.
I was a bit skeptical but this look is a new staple in my wardrobe. You can find 7 for all mankind online at their site. Be on the lookout for these styles:
a.) Bell Bottom. Starting at $198.
b.) Ginger Flare. Starting at $155.
c.) Trouser. Starting at $169.
Oh… in case you are wondering what we talked about. Everything. Including planning the upcoming opening of José's new Beverly Hills Salon and a very private tour of the new space under construction. We promise to keep you in the loop.
– NJ,The Brunette