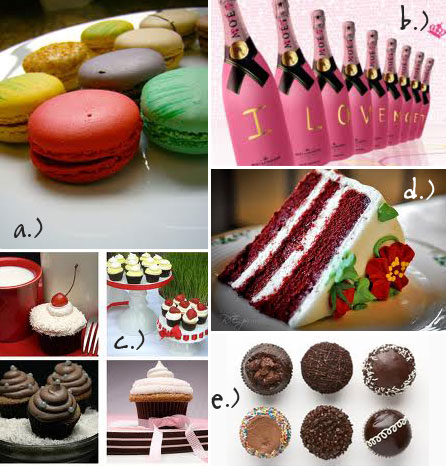 To some, chocolate is the Valentine's Day standard. This year, you might want to try these Valentine's Day hot-spots for a new twist on sweet inspiration. All are located in LA and most of them ship anywhere in the U.S. You won't be disappointed.
a) Paulette's on Charleville in Beverly Hills for a down-right delectable macaroon.
b) While you're ordering don't forget Moët and Chandon's new I Love Moët inspired pink bottle! It will make any table beyond elegant!
c) Vanilla on Wilshire for "Mother's Cake" white cake cupcakes with milk chocolate frosting and write your personal and sweet inspiration on the top of the cake.
d) Sweet Lady Jane for their to die for red velvet cake. And, their carrot cake is equally amazing.
e) Crumbs. Just a reminder that this is one of an Astrid favorite for their amazing cupcakes.
Happy Valentines Day!
– Randy, Blonde Contributor + NJ, The Brunette