It seems everyone is always on the search for the "perfect" skin care products. Between my friends and I, I'm pretty sure we have tried just about every cream, lotion and toner out there. After all the trial and error, I've narrowed it down to the winners! I guess you could call these my "must have" products.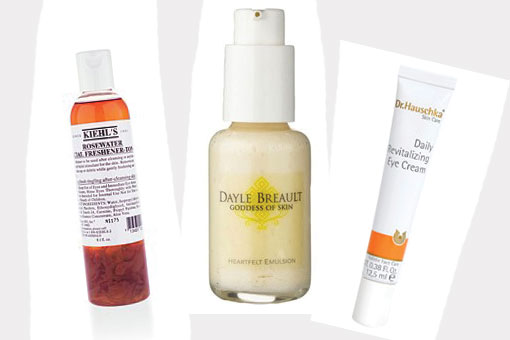 Goddess of Skin "Heartfelt Emulsion" Daytime Creme $65
This is my favorite skin creme. I apply it every morning as a base mouisturizer. Whether I add my foundation and bronzer, or go au natural, I know it will not make me look greasy yet keeps my skin feeling freash and moist all day long. Most importantly, it aids in preventing wrinkles that might sneak up with age. It's never to early to take excellent care of your skin!
Dr. Hauschka Revitalizing Eye Creme $51
"Nurturing oils firm the delicate skin around the eyes while refining fine lines. Rose water and other botanical extracts hydrate and soothe, leaving skin smooth, soft and resilient."
Kiehl's Since 1851 Rosewater Facial Freshener-Toner $16
"A gentle soothing freshener formulated with Rose Extract to be used after cleansing or any time as a mild astringent and facial stimulant for normal to oily skin types."
Take care of your skin…In twenty years, you'll be happy you did!
Xx. Jadan