It's always takes at least a week, or even more, to recover and distill the trends from a frantic fashion month. As usual, we love to opine. For next Fall, it seems that we might just be embracing a new era (or revisiting an old one) as millenials are suddenly coveting power dressing, sharp shoulders, remiscent of "Dynasty", bright, neon-colors and a return to romanticism for an updated take on the 80's. It turns out boomers and millenials may have more in common than they think – or not.

The month was also full of unforgettable and emotional moments from Brandon Maxwell dedicating his collection to his mother, and walking the runway with her on her final day of cancer treatment to Karl Lagerfeld's final collection for Chanel presented posthumously at the Grand Palais, beginning with a moment of silence, then words from Lagerfeld himself. This season saw elaborate sets like Nicolas Ghesquiere's transformation of the Louvre into a space inspired by the Centre Pompidou and Chanel turning the iconic Grand Palais into a Swiss skiing village complete with snow on the ground. The trends were far more approachable and wearable for everyday than seasons past. Here five of our favorites in no particular order with black and white, wide-legged pants and menswear motifs leading the way.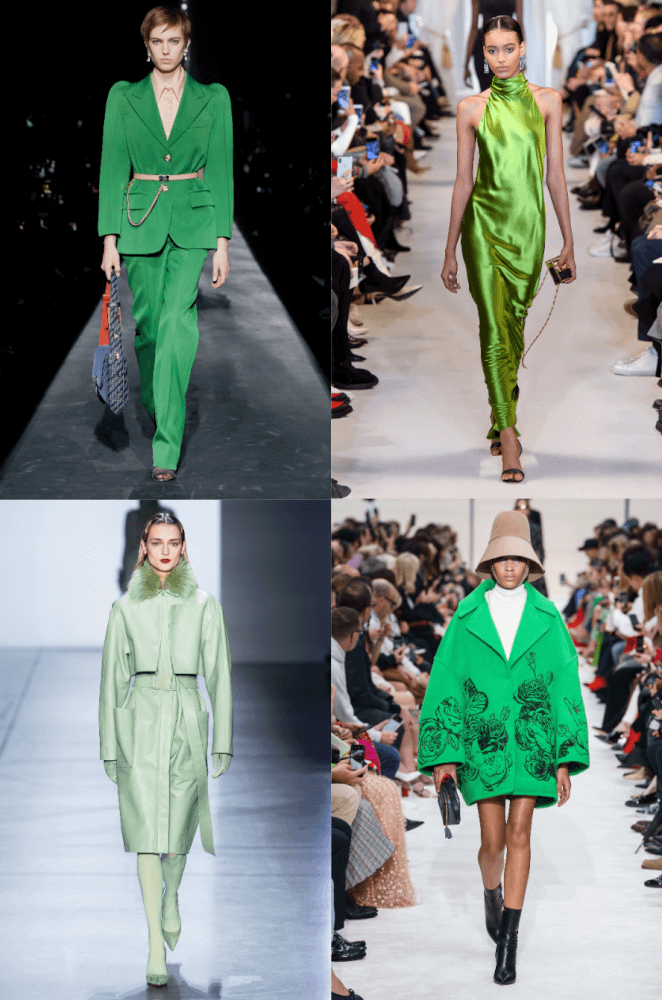 Green Light
From shades of Kelly, shown by Givenchy and Valentino in Paris to the chartreuse and mint of Sally LaPointe and Brandon Maxwell presented in New York, green turned out to be the surpise color of the season. A welcome change from the darker tones usually expected from fall winter collections, designers from all four fashion capitals emphasized bright colors in their collections, with green taking center stage along with shades of soft pink, lilac, and purple.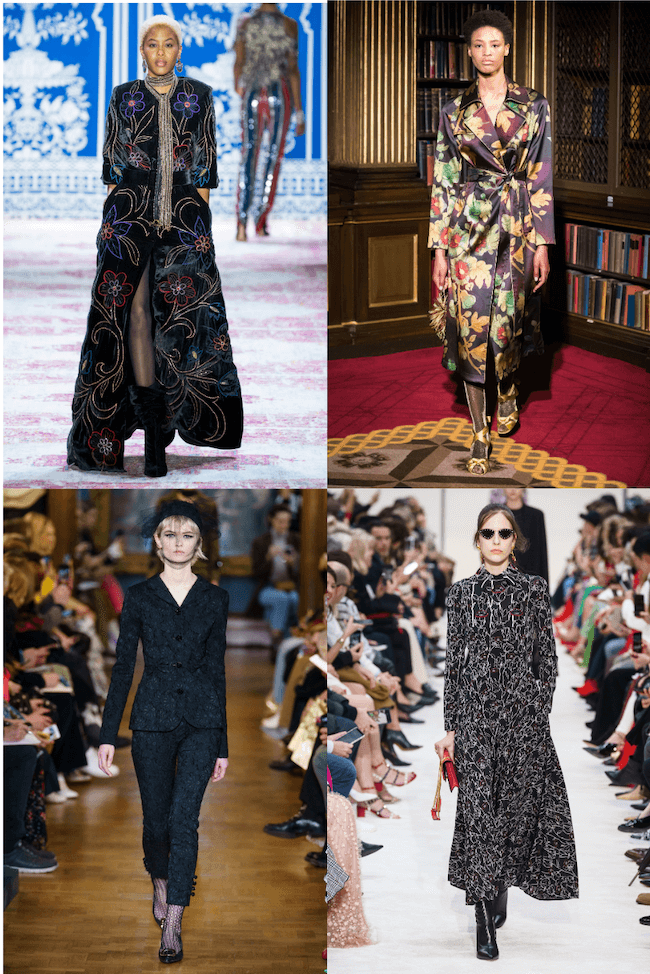 Florals? For Fall?
Groundbreaking. Florals have long been a staple for spring-summer dressing. This season, it was a "Bad Romance" as dark florals suddenly took center stage punctuated with unexpected touches from combat boots and gothic details. Pierpaolo Piccioli at Valentino and Peter Pilotto both chose silk to take florals to the dark side, the former using an embroidery of white roses, the latter. London based Erdem used brocade to execute his vision of winter florals while Naeem Khan gave a nod to the 80's with dark floral embroidered velvet. Some are even calling it the "Punk Princess" look.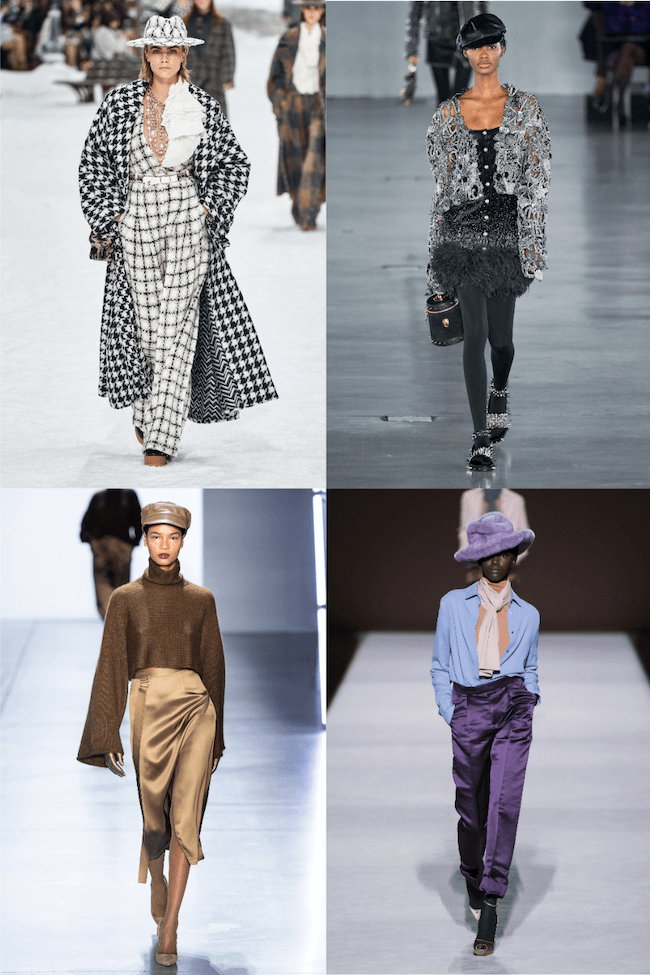 Plaids & Hat Attack
Suits were everywhere with plaids leading the way but don't forget your hat. What a comeback. Hats are a must-have for this season and were the preeminent accessory on many Fall/Winter runways. Karl Lagerfeld's final collection for Chanel saw fedoras in the iconic tweeds for which the house is so well known while Tom Ford sent mink fedoras down the runway in a variety of shades from purple to burgundy. Both Olivier Rousteing at Balmain and Sally LaPointe went with leather bowler hats for their collections. LaPointe choose a palette of Mint, Burgundy and Camel. Balmain sticking to black.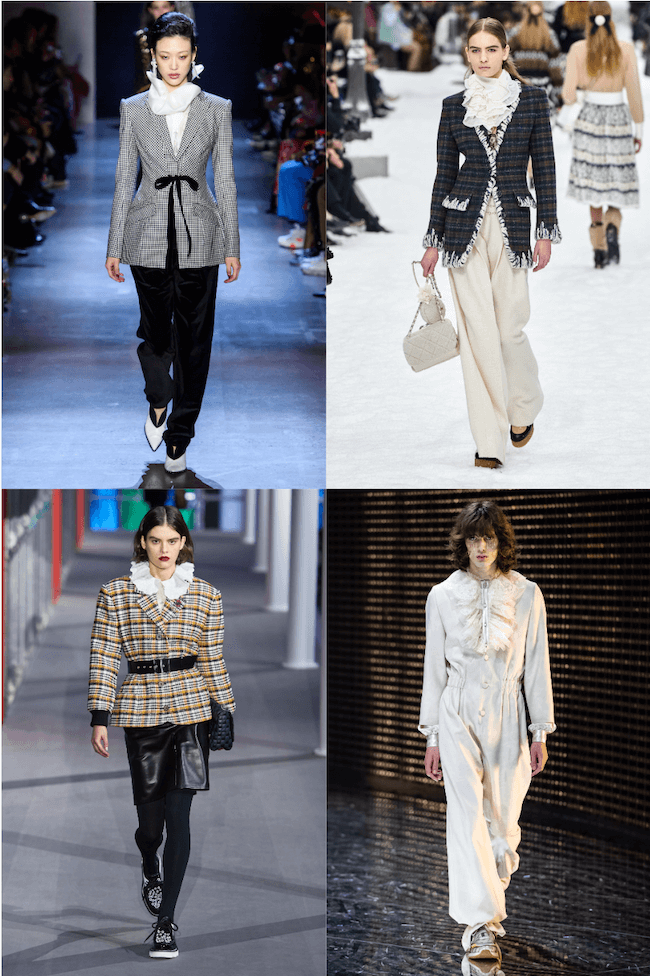 Notorious RBG
Designers in all four fashion capitals seemed to be paying homage to America's most beloved Supreme Court judge, Ruth Bader Ginsburg and her iconic white lace collars. Prabal Gurung created a white collar with a sculptural element, adding a modern edge to the classic statement piece. Both Nicolas Ghesquiere at Louis Vuitton and Karl Lagerfeld at Chanel paired their RBG looks with plaid blazers while Alessandro Michele transformed the victorian inspired collar into a jumpsuit for the boys.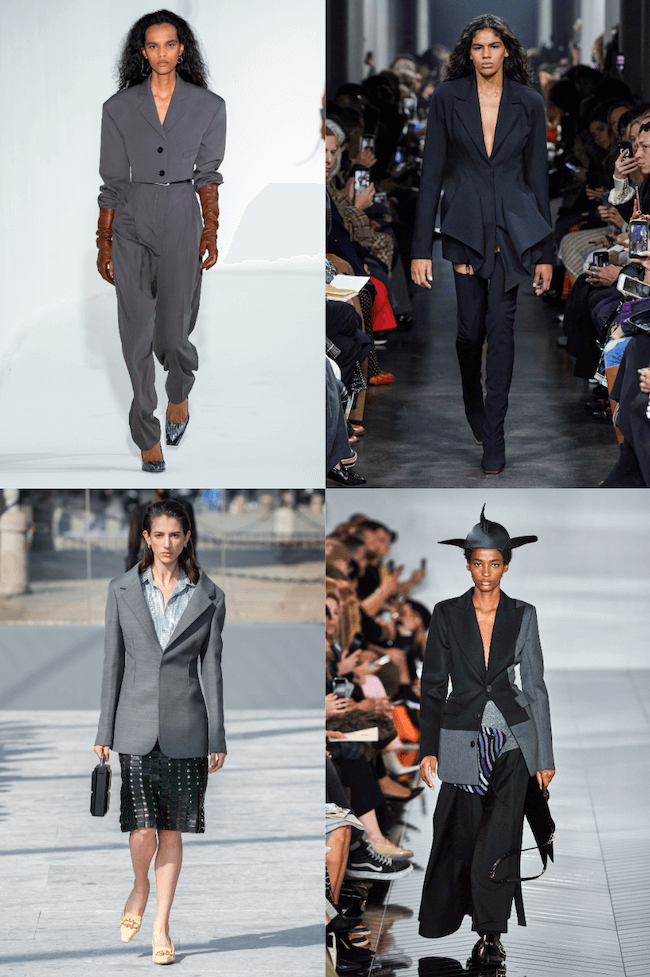 A New Working Girl
A new generation of women are entering the workforce and with them comes a new set of rules for workplace attire. Gone are the days of the boring suit as waistlines are moved, bottoms are changed and materials combined. Acne Studios presented high waisted trousers with a cropped blazer, a new totally new approach done in a classic grey wool, creating just the right amount of edge for today's modern woman. Mugler presented a cinched waist jacket with a peplum, suitable for any age or occasion. A welcome twist to a wardrobe staple. Daniel Lee paired a classic grey blazer with a perforated leather pencil skirt in his debut collection for Bottega Veneta, adding much needed edge to a classic ensemble. Lastly, Jonathan Anderson presented mixed media blazers at Loewe, pairing grey and black to make a versatile and refreshing conversation piece. Millenials are finally getting to experience dressing up and may have never seen "Working Girl" or "The Mary Tyler Moore Show" but they're about to add thier own twist. The difference is comfort and versality combined with statement pieces.

That's a wrap.
Nolan Meader, Guest Contributor With an Assist From NJ Falk