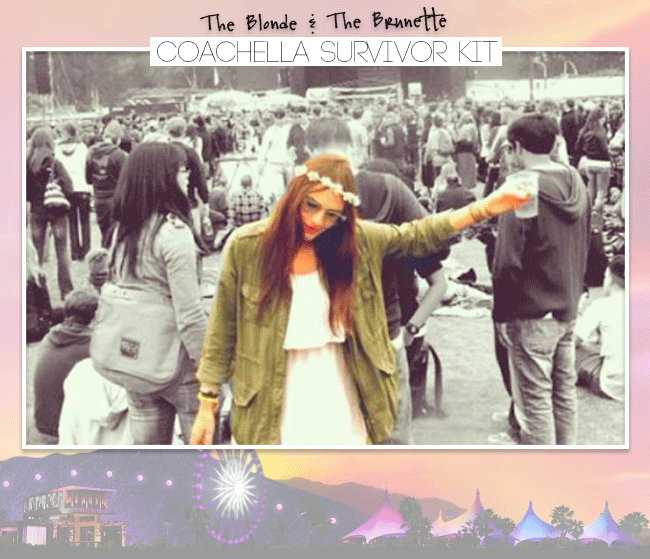 It's almost here! The Coachella Valley Music and Arts Festival takes place every April in Indio, CA, a short two hours outside of Los Angeles. Over the last 10+ years, Coachella has grown into one of the largest music festivals in the world. People from all over the globe now travel to California to take part in the unforgettable experience. That being said, ticket prices and availability has now become luck of the draw. This year, tickets to both weekend sold out in a record breaking 40 minutes!!!
If you were lucky enough to get a ticket, consider this guide your cheat sheet! Having years of Coachella under my belt, I've created a list detailing the top 12 festival MUST haves, & below I've included where you can buy them!
1.) Two pairs of comfortable shoes : You heard me, two. If it rains you will be very glad you listened. Also, comfortable shoes means sneakers, skate shoes, or boots, anything but sandals or heels. Sandals = 200 people stepping on your toes & heels = blisters!
2.) Backpack : Each person is allowed to bring one backpack into the festival. My advice? Do it! Below is what I suggest you put in it. Trust me when I say, Distributing the weight across your body instead of on one shoulder is crucial in 100+ desert temperatures, not to mention it makes dancing so much easier!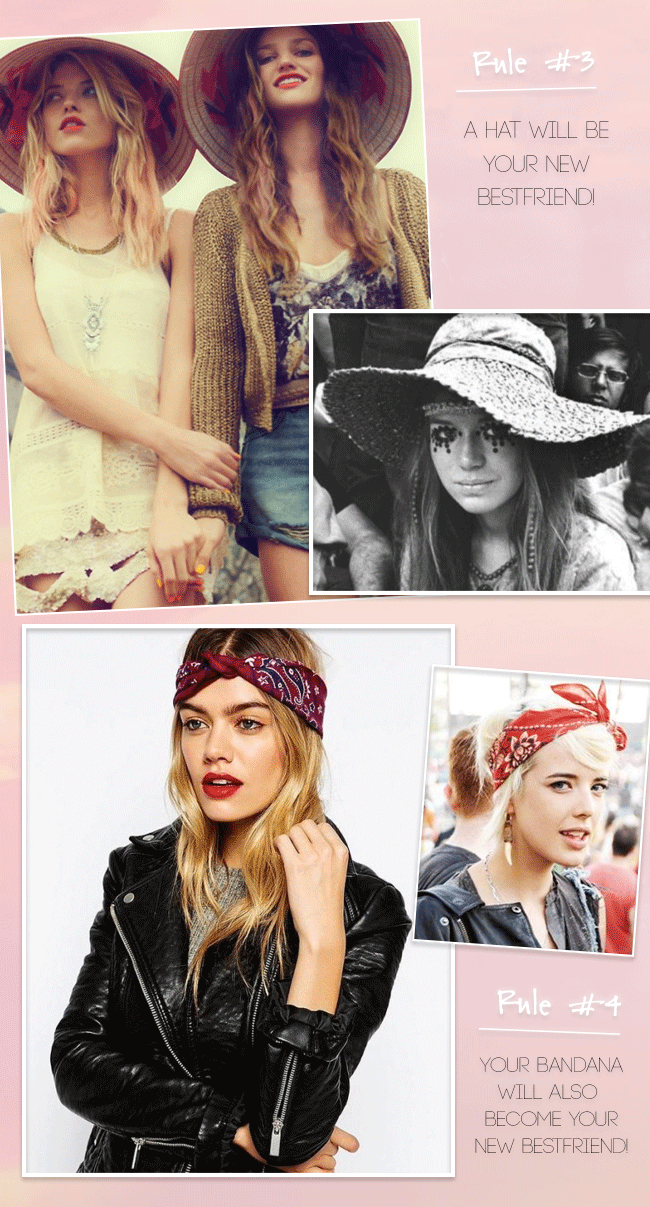 3.) Hat : Anything that gives you 365 degree shade & looks good.
4.) Bandana/Scarf : This is your most important and versatile tool! Pull it out of your bag to sit on, tie it around your head as an anti-sweat fashion statement, drench it in water to cool yourself down or tie it around your face to keep the dust out during those gnarly desert wind storms!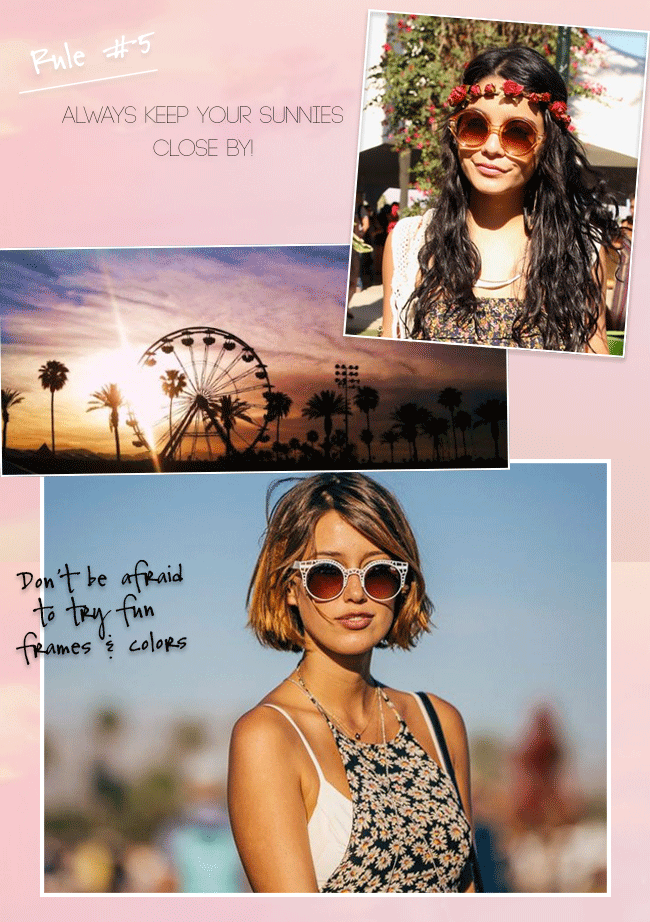 5.) Sunglasses : Protect your eyes from the harmful UV rays and desert dust storms. Most important though, pick up a quality pair at an inexpensive price point before you leave. Don't bring your expensive sunnies, I've never seen a good outcome with expensive shades at a music festival! Below, I have rounded up a few of my favorite affordable shades
6.) Sunscreen : Try La Roche-Posay tinted (featured below) for your face, ears and neck. Good color, great finish, and it doesn't leave an oily residue. Spray sunscreen for the rest of your body. It's easy, it feels refreshing and it protects you from the harsh desert sun!
7.) Tarte oil-absorbing blotting papers : These will help keep your make-up in tact while blotting the excess sweat off. Trust me, you need these.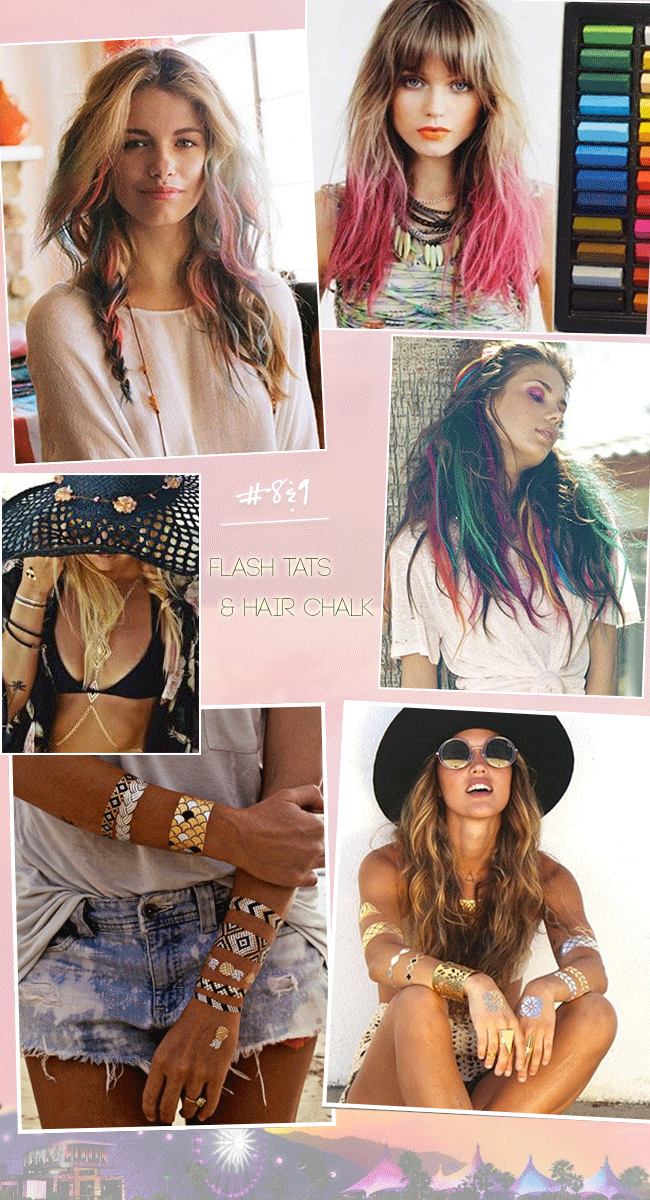 9.) Flash Tattoos : A little extra flair of bohemian perfection! We've been obsessed with these super fun and chic semi permanent tattoos since we discovered them! (Our favorites HERE & HERE)
8.) Hair Chalk : What better place to have colorful hair than a music festival? Hair Chalk will last you between two and 10 shampoos and looks great on light or dark locks!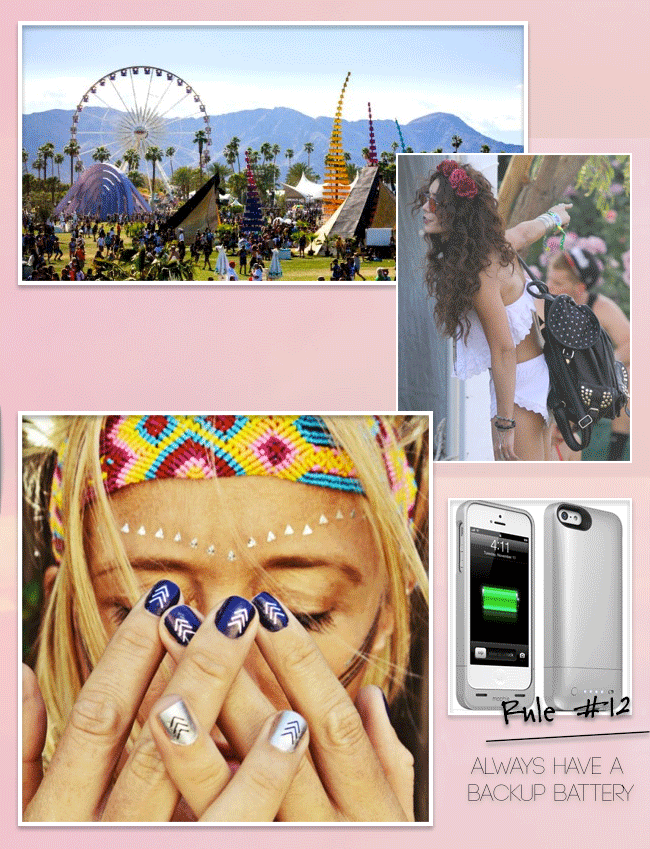 10.) Light weight sweater: Even at scorching 110+ temperatures, I've been out there where it drops to low 50's at night, & rather than spending $50 on a cheesy Coachella sweater, you will be so happy you have your own.
11.) LED light up fan : Trust me on this one, you will be everyone's favorite human. Comes in a variety of colors, and as the sun goes down, the fan goes bright enough to illuminate a small room with dozens of random patterns. It's a fun toy and a lifesaver during the mid-day scorchers.
12.) Mophie : If you only purchase one thing from this entire list, the Mophie is a must have! This is my go-to phone case for any all day event, especially one in the middle of the desert that doesn't come equipped with outlets.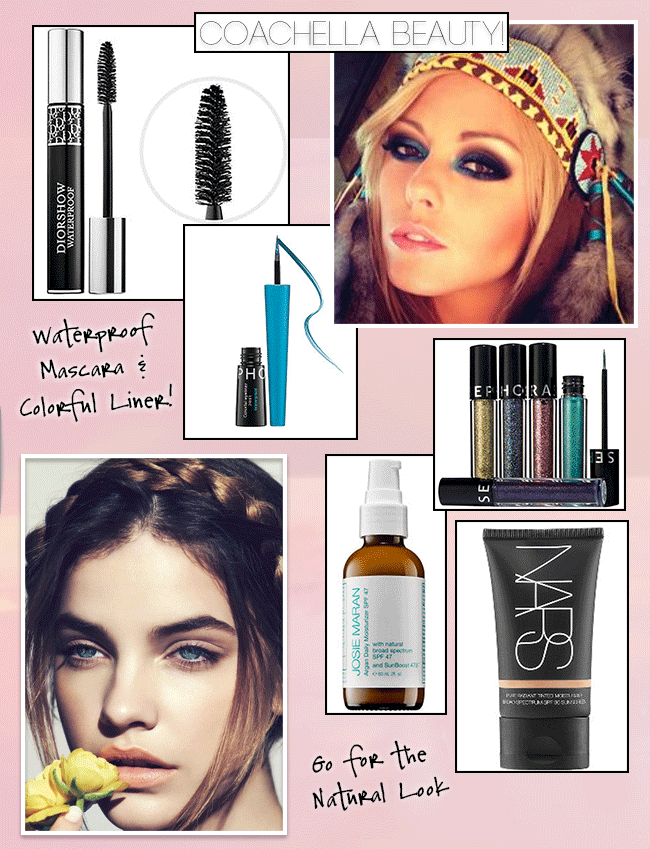 Our beauty guide is quite simple. Less is more. Especially out in the desert heat, it's a nice change to good natural for the makeup, and let your fun accessories and outfit stand out! Above are some of our favorite must-have beauty products.
Below, are a few favorites of the items listed above! It's your one stop festival shop.

Xx. Jadan Huter