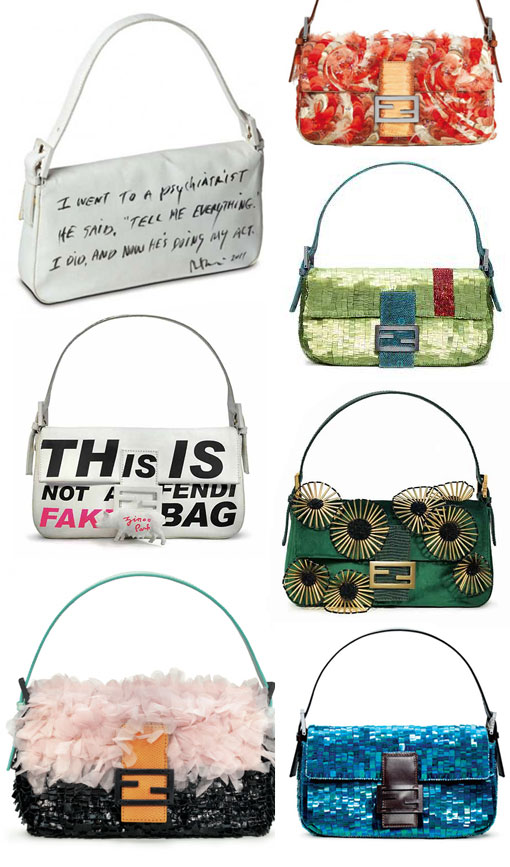 Four of The Six Reissued Fendi Baguettes.
Often considered the first "it' bag, the Fendi Baguette, created in over 700 models, has been toted across tv screens worldwide by Sarah Jessica Parker's Sex and The City character Carrie Bradshaw (and smashed over Mr. Big's head) and carried by everyone from Elizabeth Taylor, Julia Roberts and Madonna. It turned 15 in June and the Italian fashion house thought it was time to celebrate in style. Creative Director Silvia Venturini Fendi hand-picked six of her favorite bestselling styles, reissued them in for spring/summer 2012 along with a dazzling photographic coffee table catalogue from Rizzoli called The Fendi Baguette Book. Using 250 images, the catalog chronicles the astonishing variety of Baguettes, from the classic and the sublime to limited edition delights created by some of the most talented contemporary artists.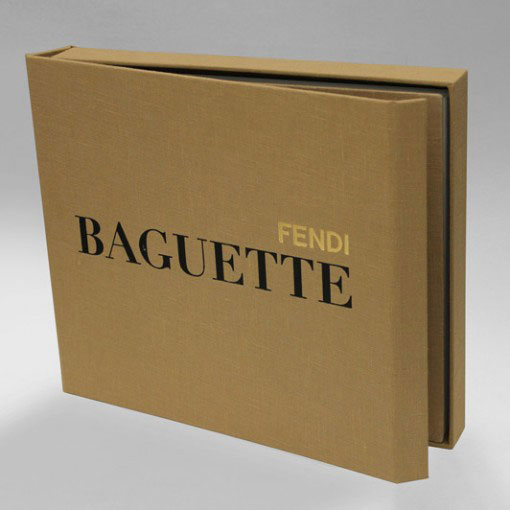 How did this beloved fashionista accessory happen? The small, rectangular handbag, which Mrs. Fendi conceived back in 1997, was designed to be carried under the arm like a French loaf (hence its moniker). When interviewed about it's origin, Mrs. Fendi explained, "I was asked, among other things, to come up with a particularly easy and functional handbag. In a certain sense, it had to be technological and minimal, just like the times. My response (fortunately I am indomitably disobedient) was the Baguette". She also sought inspiration far and wide to create the bag's diverse array of adornments. "I was in the garden playing with my children when Leonetta (my youngest daughter) started picking daisies and arranging them on my jeans" she says of the denim style encrusted with beads used to create a flower motif (pictured above).

The Tucano and Gialla Baguettes.
Two of my all-time favorites,The Tucano and Gialla Baguette styles, above, are also part of the six bag line-up just reissued and still available at Fendi stores. Each one is an exquisite example of a classic Fendi print, and their elaborate beadwork while still capturing all the traditional baguette elements: a sleek design, logo buckle and comfortable, adjustable shoulder strap. To view over 200 of these spectacular masterpieces online, enjoy at Discover The Fashion It Bag.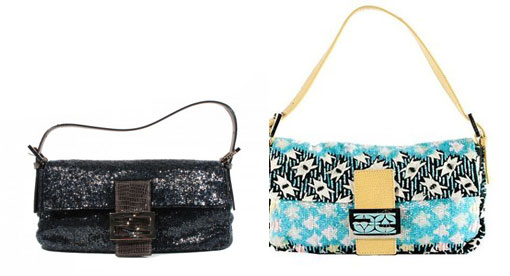 Now to my fashion dilemma. The celebration is making it's way to Beverly Hills tonight with a special cocktail party at Maxfield's on Melrose followed by an exclusive private dinner. I'm so excited to be included and can't wait. So, I have two classics in my closet and seriously debating which one to wear for the evening. Help me. Vote! Tell me what you think. Which one? They're both almost 15 years old. The classic Fendi Jet Black Beaded Baguette on the left or the Beaded Lizard Trim Baguette on the right.
It's time to celebrate in style!
xo
NJ, The Brunette