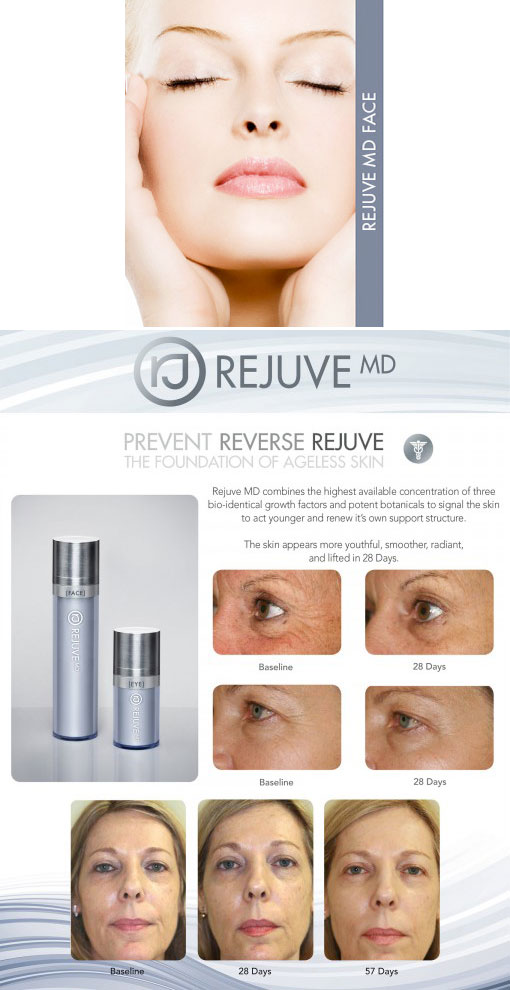 The Blonde and The Brunette is always on the more youthful and glowing skin mission. We have tried it all! Lotions and potions oh my! We have found the ultimate line of face and eye creams by Rejuve MD. To our fellow Blondes, Brunettes and Reds, this is our secret line of defense. Better yet, no gimmicks here; this line is created by Board Certified Dermatologist, researcher and educator, Alex Khadavi, MD., FAAD.
Here is the science behind it: Rejuve MD gives you youthful, smooth, plump skin. How? Young skin has an abundance of growth factors that signal the fibroblast cells to produce and maintain this matrix. But growth factors become less plentiful with age, causing the fibroblasts to get sluggish. As the production of collagen- and elastin-producing fibroblasts slow down, enzymes in the skin begin to destroy the supportive matrix faster than it can be replenished, and that's when fine lines , wrinkles, dullness and other signs of aging become apparent. Bio-identical growth factors are effective because they act just like the growth factors found naturally in young skin. They work by sending messages directly to the cells that have the ability to rejuvenate the skin all on their own. In essence, each growth factor speaks its own language, and because these messenger molecules communicate directly with the skin, they are the best way to instruct the cells to act younger. Rejuve MD contains the highest available concentration of three different bio-identical growth factors capable of communicating directly with the skin cells to renew the skin's support structure and return it to a more youthful state.
To buy Rejuve MD face and eye cream, click here. Remember, you must apply this twice daily for maximum results!
-Kathryn, The Blonde