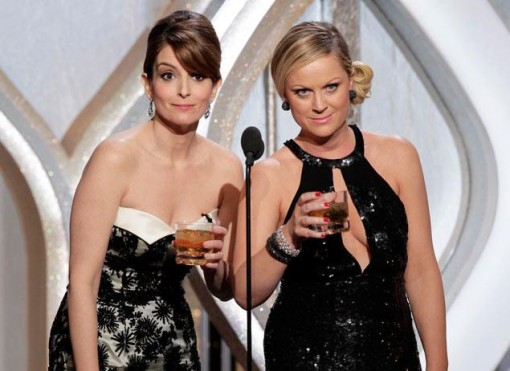 Ladies and Gentlemen – It's Awards Season! But you know that. Sunday night, the very live Golden Globes made a huge comeback after the controversial hosting reign of Ricky Gervais. What a refreshing, fun, and easy to watch experience. The ratings proved it. Like the audience, I had such an incredible time seeing the Hilton Ballroom filled with so much talent, all in one room, celebrating for a lot of reasons. This time, it was a bit more informal, a bit sloppier and more inviting. The difference? Girl power. The Golden Globes and the Hollywood Foreign Press Association embraced and celebrated female success in Hollywood; and, it was wildly refreshing.
Between two comedic goddesses as the hosts (Tina Fey and Amy Poehler), to the not at all surprising win of "Girls" star Lena Dunham for Best Actress in a Comedy Series (and then "Girls" winning for Best Comedy Series), the night seemed to celebrate all things powered by the ladies. Yes, men won as well and they were deserving, amazing actors (Daniel Day Lewis, anyone?) but the female theme seemed more prevalent.
For me, the highlights were the following quotes:
"It was a great year for women. It was a great year for women in television." – Tina Fey
"Only at the Golden Globes do the beautiful people of film rub shoulders with the rat faced people of television." – Amy Poehler
"Ang Lee has been nominated for best director for 'Life of Pi" which is what I'm going to call the six weeks after I take this dress off." – Amy Poehler
"But, enough silliness! Daniel Day Lewis is here." – Amy Poehler
"I'm fifty! I'm fifty!" – Jodie Foster
"We made movies together. And you can't get more intimate than that." – Jodie Foster
"If you had to fight for a life that felt real and honest and normal against all odds, then maybe then you, too, might value privacy above all else. Privacy." – Jodie Foster
"Love people and stay beside them." – Jodie Foster
"And Judi Dench. Where did she come from?!" – Will Ferrell
"Maggie Smith in the 'Quartet.' And no one knows what the quartet is and it's ambiguous. And you're like, you think you know what it is and then you don't and then that guy comes." – Will Ferrell and Kristen Wiig
And my absolute favorite speech and quote –
"I've wanted to be an actor since I was a little girl and I've worked for a really long time. I've auditioned and struggled and fought and been on the sidelines for years. To be here now in this moment – it's a beautiful feeling to receive this encouragement and support and thank you so much." – Jessica Chastain accepting Best Actress, Drama for "Zero Dark Thirty"
2013 – we can do it 😉
~Kate
For more info and a list of all of the winners, please click here.
of these talented people in one room together