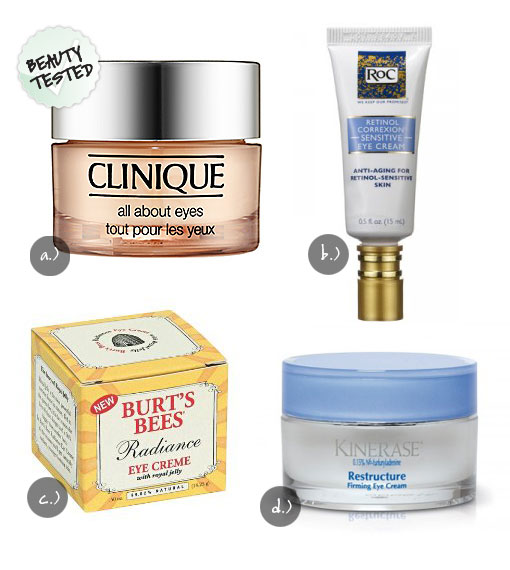 With all the awards shows and events going on in LA last week, my girlfriend Shannon made my day when she sent me a message entailing how "I was her go to person for anything beauty related." Turns out, she needed help finding a new eye cream. Naturally, I did my research and came back with a few great options for her. Two of which I use and love (Clinique and ROC) and two which have gotten great reviews.
After sharing the information with her, I felt it was only fair to share with our readers as well!
a.) Clinique All About Eyes $30.00. Lightweight. Diminishes the appearance of eye puffs, darkness and fine lines. Actually helps hold eye makeup in place. For use morning and night, both under eyes and on lids.
b.) ROC $18.00. Visibly reduces wrinkles around the eyes and crow's feet in 12 weeks. In addition, it evens out dark circles and reduces puffiness in 4 weeks.
c.) Burt's Bees Radiance Eye Cream $25.00. Clinically proven to smooth skin and help diminish appearance of crow's feet. Helps reduce appearance of dark circles and under-eye puffiness.
d.) Kinerase $59.00. Clinically-proven anti-aging power of Kinetin with a more concentrated level of elastin-strengthening and wrinkle-reducing technologies. The eye area is noticeably lifted, moisturized, and smoothed.
Because no likes puffy eyes in Hollywood!
Xx. Jadan Huter