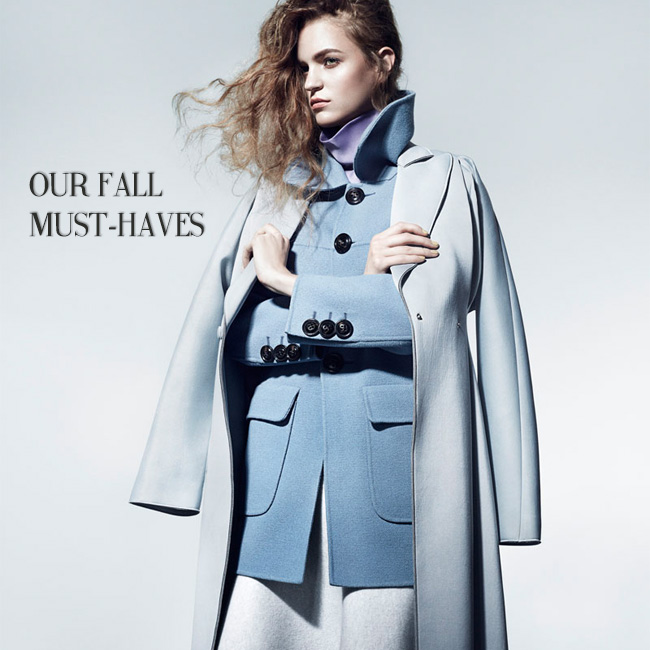 Fall is nearly here and we've been getting ready to switch up our wardrobes. We're rounding up each of our 5 favorite items we've been lusting over for Fall and will be worth the investment.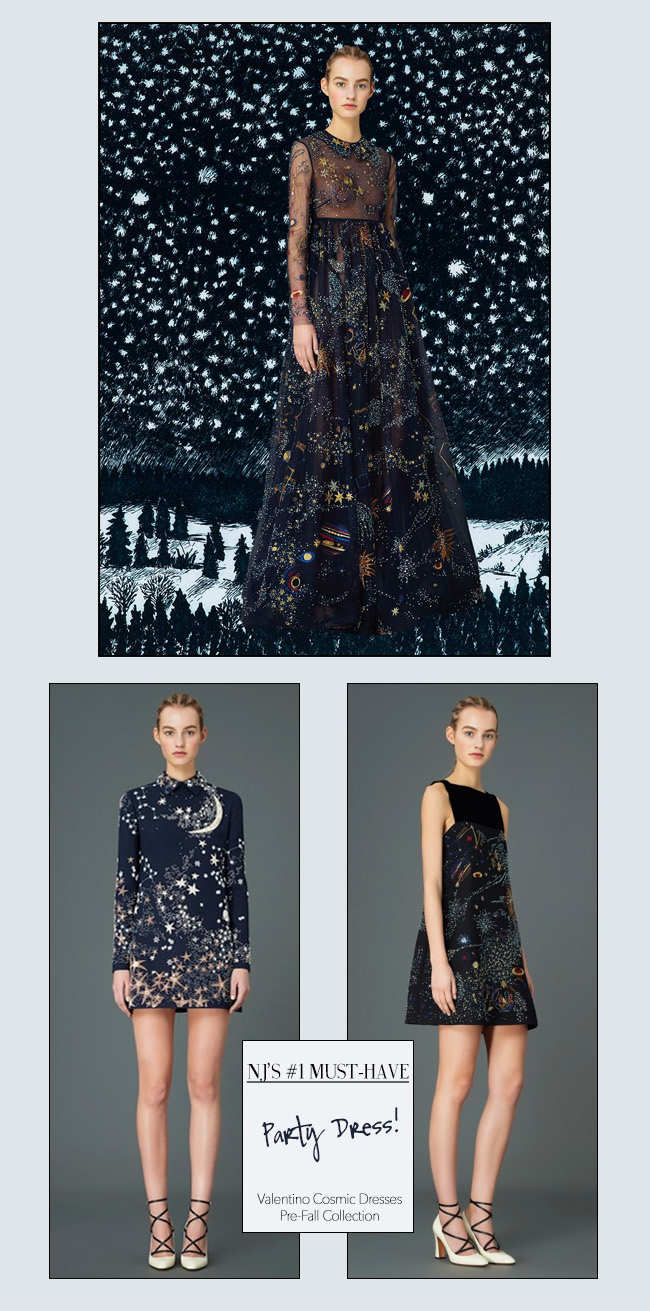 When I think of Fall, I think of party dresses and events. I know you have to grab the best looks early, so this year I'm focused on an 'it' dress, a great new pair of pumps, and additions to my looks for work. I'm totally thinking about pants for day and evening too but mostly I've obsessing over the Valentino Constellation and Cosmic Dresses from the Pre-Fall collection. Obsessing. Obsessing. Obsessing.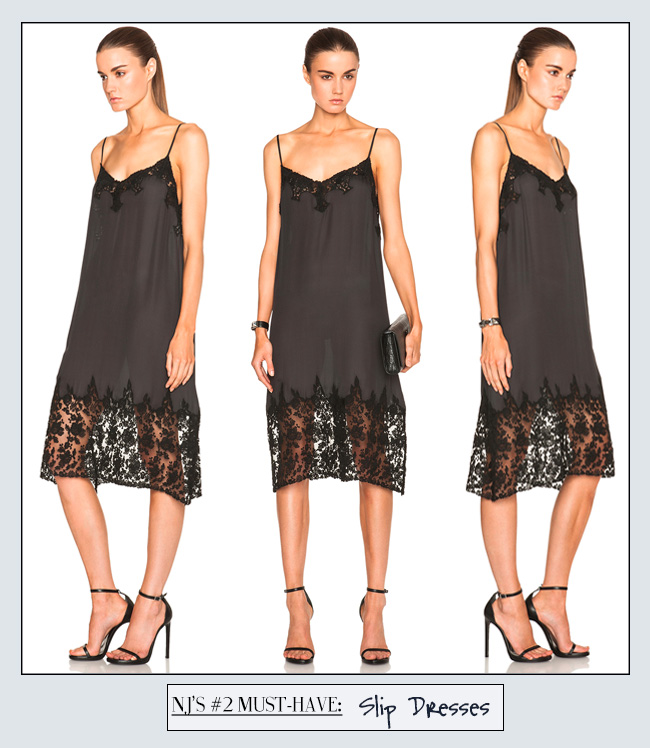 NJ's #2 Must Have: Here's a surprise. Slip Dresses are trending for Fall and I love them. You can grab this one at frwd.com Add pants or a coat and you're ready to go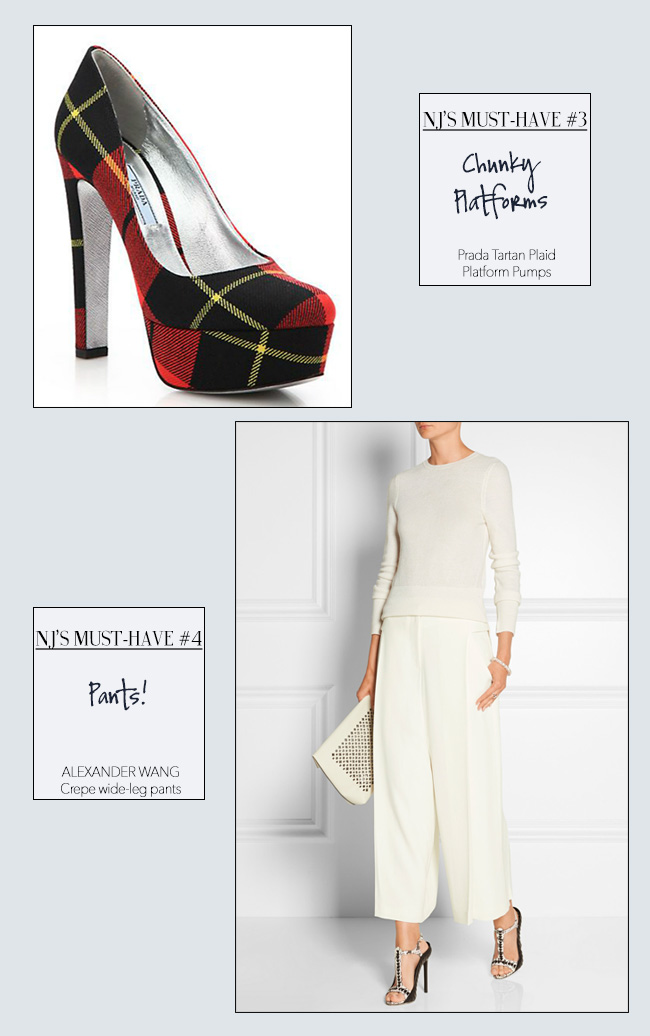 NJ's Must Have #3: The Chunky Platform is back in a suddenly very modern way. I'm especially loving the Prada take on the trend with a plaid pop of of color for Fall!
NJ's Must Have #4: Like I said, the pant is back! I plan on on wearing dressier pants to the office this Fall because they are perfect for meetings and right into a night on the town. ,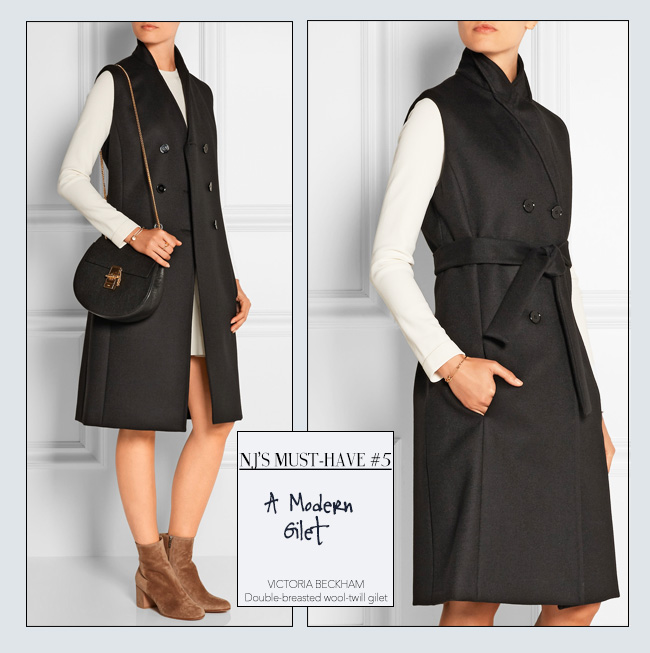 NJ's Must Have #5: The Modern Gilet has suddenly become a chic fashion statement. Victoria Beckham can do no wrong with this one!
---

Lauren & Jadan's Must Have #1: A comfy Cashmere Sweater is the epitome of Fall. Being able to cozy up in some cashmere, while still looking fashionable is our go-to when the weather gets a bit chiller. Also great for layering!
Lauren's Must Have #2: A trench coat is timeless, and can be worn year after year. The trick is getting one that is a light enough fabric that wont weigh you down, but still keep you warm.
Jadan's Must Have #2: A chic perfectly cut black jumpsuit will keep you incredibly chic all season long. You can dress it up, with a pair of pumps, or keep it casual with a cute oxford.

Lauren & Jadan's Must Have #3: Black Boots & Booties are a Fall staple. And Kate Bosworth's new Catherine Leather Moto Boots : There are oh so awesome! Talk about biker chick with a high class twist! Kate Bosworth nailed it when she designed these.
Lauren's Must Have #4: For me, the Hat is a go-to year around – but for Fall it's a must! The perfect hat goes with just about anything, and it can dress up a look, or make it a bit more casual, depending on how you style it! Our rule when shopping for the perfect cap? Always go for a neutral.
Jadan's Must Have #4: Always a must have for fall! There's nothing like buying a fresh pair of J Brand jeans to break in before winter. The fit, the style, the comfort, a definite MUST!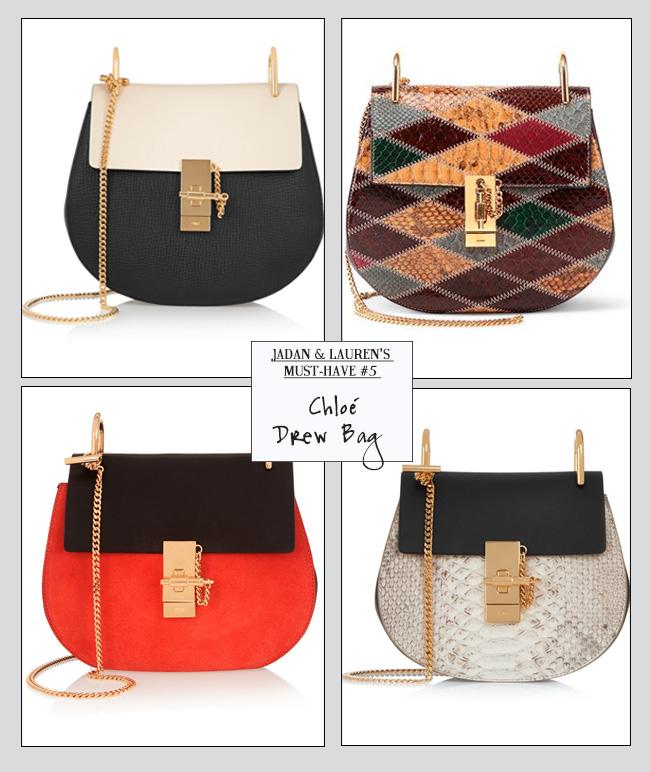 Lauren & Jadan's Must Have #5: These bags are so chic, and perfect for Fall! The Chloe Drew Bags are the perfect size when you're on the go, and fit everything you need! We want one in every color!

What are your must-haves for Fall? Let us know in the comments.
xo,
-NJ, Jadan, & Lauren.