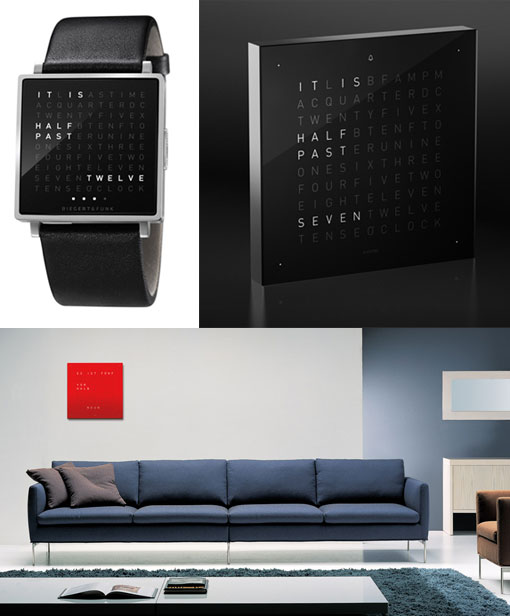 Let's welcome QLOCKTWO, the newest addition to "time". And what an ingenious addition it is. It is a square grid of 110 letters. When the stainless steel button is pressed, words light up in unexpected places which describe the time. Whenever you look at your QLOCKTWO, it´s a new experience. QLOCKTWO is available from autumn 2012 in the versions polished, brushed or black stainless steel respectively in the languages German, English and French. You can see how it's made HERE .

Choose between the QLOCKTWO, the QLOCKTWOTouch, or the QLOCKTWO Large. If you don't have a few hundred dollars to invest into your time at the moment, this QLOCKTWO App is for you.
Time in words – QLOCKTWO® App

The "Time in words – QLOCKTWO®" application is available in the App Store for iPhone® and iPad®. – A change of colour and various languages are also available here and turn the mobile device into a pocket QLOCKTWO®.
bigertandfunk.com
Xx. Jadan