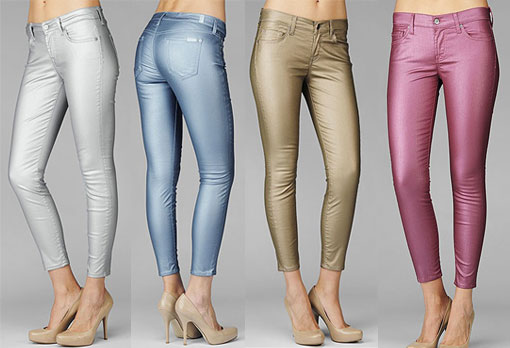 Just as The Blonde and The Brunette predicted, skinny jeans are still the hottest thing going. Now they are scorching with the crazy metallic coated crop jeans just in from 7forallmankind.com.
Just introduced in a Metallic Coated denim wash, which has a shiny look and a almost leather-like feel, The Metallic Collection come in the Crop Skinny fit, which is the shorter version of the regular skinny fit. Available for $198 in Silver, Blue, Gold and Pink. Astrid and NJ love the silver and pink for brunettes and the blue and gold is great for blondes and redheads.
The keep it simple style rule applies to this look. All you need is a white t-shirt and a nude or black heel and a little jacket and you are ready to hit the town! These pants are enough of a statement so keep everything else in your outfit subtle. If you want to show off your legs, here is how you get those legs some attention!
Kathyrn, The Blonde