The Blonde & The Brunette have mastered the daunting task of packing for our boyfriends and husbands. Here we give you a method to the madness of packing your man or man friend for a beach vacation. Most men don't like to think about what they are going to wear, let alone on vacation so we want to make this very easy and fool proof for our precious honeys.
Here are a few rules:
Stick to a color palette. I suggest neutrals with one color. Neutrals such as cream, khaki, grey, black or white. Then choose a color such as blue, green, red or orange. Here I chose blue because that color looks great on every guy. A soft plaid and stripe can be worn together or with a solid. Don't pack both plaid top and bottoms. Don't let him make that mistake! Here I chose a soft plaid to wear with solid pant or a soft stripe short.
Pack those two-for-one items. Pack as many swim trunks as you can fit because those take up little room, they can be washed and have a double purpose and can be worn off the beach with a polo or t shirt around town with a pair of sneakers or loafers.
Pack one pair of day shorts, casual pants and a nicer pant. Pack a casual shirt and a dress shirt for each day to mix and match with the bottoms.
One pair of beach/day shoes. Most men don't love sandals in that case pack a pair of sneakers that can be worn on or off the beach.
One pair of loafers and a belt to match. Trend watch: Skinny belts are hot this season!
A hat helps is great for your morning walk to breakfast and looks hot for the afternoon happy hour!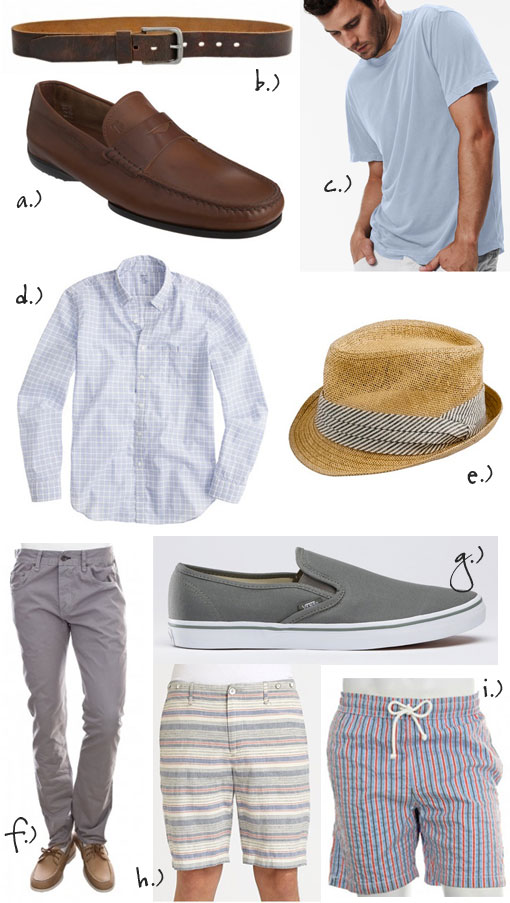 -Kathryn, The Blonde