The Blonde and The Brunette have put together our top 5 must-have's to upgrade your Spring wardrobe. We talked it over and collaborated on our criteria. If's not already in your closet, or if it is, it will suddenly look fresh again. We wanted trends that are fun and maybe not too pricey, plus look great all season long.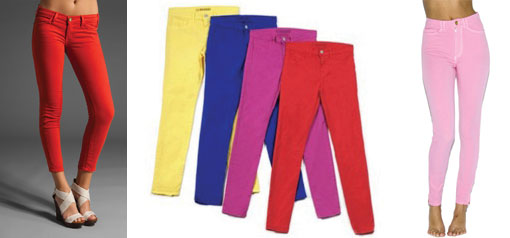 1. Colored pants/jeans in any color, but we especially love the Current Elliot cayenne stiletto. Almost sold out everywhere. Or you can try J Brand's 811, which is available on Singer22. American Apparel's Four-Way Stretch High-Waist Side Zipper Pants are also available in a variety of fun shades. For more places to buy, check out our recent post on colorful pants! Personally, I wear colorful pants year-round, but pair them with darker tops, boots, and scarves for fall/winter.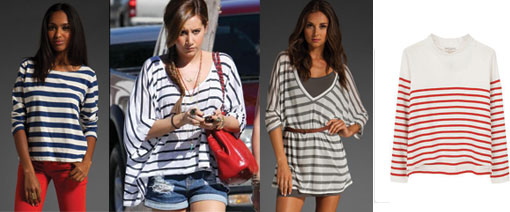 2. Stripes With Boatnecks. Again, Revolve Clothing has this top at $128 and and this Enza Costa oversized v-top for $154. Or try one like Ashley Tisdale's from Singer22.com. Cropped stripe tops are also great. Try this red and white one from La Garçonne. Office or casual. Stripes are also hot in accessories. For example, the Prada striped canvas bags are a true lust item at $1995.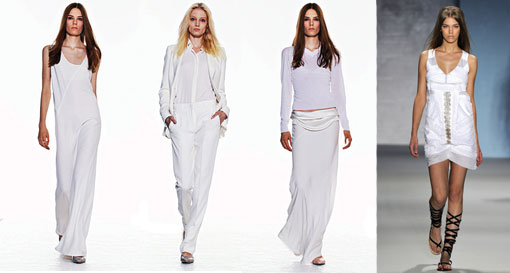 3. Anything white. Preferably a great white suit, jacket or dress. The Olsen twins' line, The Row (at Barney's), has several great options and the little sun dress from Derek Lam (at Barney's or Neiman's) is perfect too. For similar looks at great prices try The Cusp. If you prefer a more casual style, find a great pair of white jeans.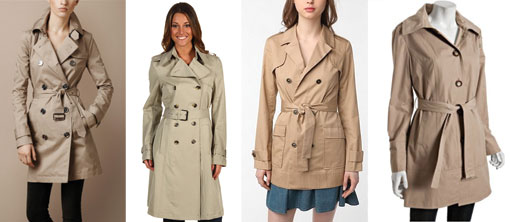 4. A Trench Coat, especially in a light neutral color, is definitely staple for any spring wardrobe. Doesn't matter if it's hooded, double-breasted, or belted, it works just as well with a pair of jeans as it does a pair of slacks or dress. And, it comes in handy for those springtime showers. Here are some of the styles we liked: Burberry Double-Breasted Trench Coat, Theory Practical Adyna Trench Coat, D Collection Trench Coat, MICHAEL Michael Kors British Khaki Cotton Blend Hooded Trench Coat.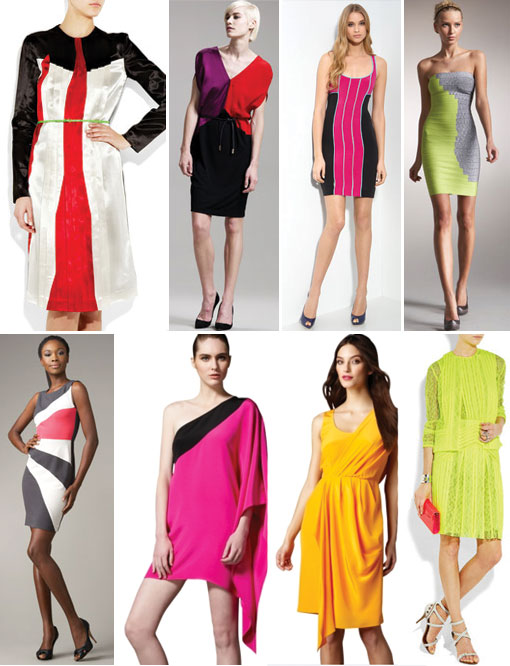 5. Brights at Night. Brights, especially with color blocking, are standouts for evening. Here are our favorites: Miu Miu Pleated Colorblock Satin Dress, Vionnet Tri-Color Dress, Jay Godrey 'Holden' Colorblock Racerback Dress, Herve Leger Two-Tone Strapless Bandage Dress, Yoana Baraschi Transatlantic Colorblock Dress, Jay Godfrey Draped-Shoulder Shift Dress, Ali Ro Asymmetric Draped Dress, Proenzer Schouler lace outfit.

– NJ, The Brunette and Ashlee, Brunette Contributor