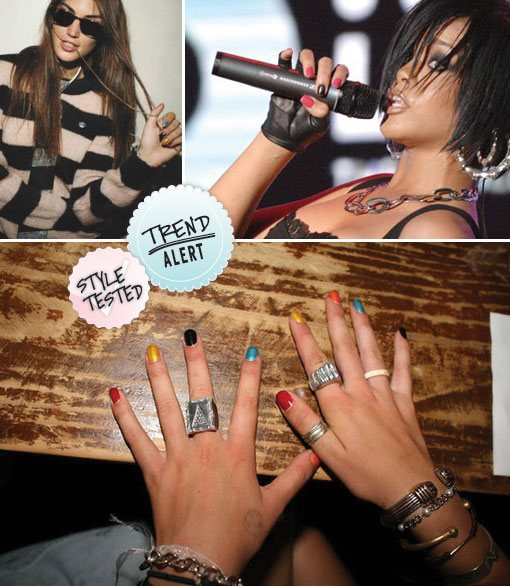 A trend that's always changing…now what could that be? Oh right…NAILS!
Here at The Blonde and The Brunette, we agree that this is the season to get creative and funky with your nail color choices. Last night, I was having such a tough time deciding whether I wanted to rock the white or the red, and then it occurred to me! They are my nails, why not do both? So here we have below, my color-swapped nail polish.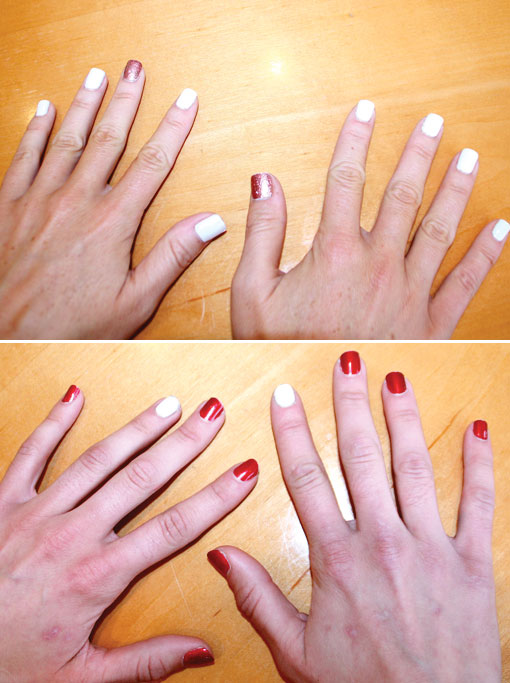 Kathryn opted for an elegant "color-swap" look with her white nails and pink glitter accent. "I love adding glitter to one nail to substitute for a diamond sparkler ring. A coat of silver or gold glitter on any two nails over any color is a great accessory statement. Go for it."
Among us here at The Blonde and The Brunette rocking the color-swap nails, we can always count on Rihanna. Per usual, Rihanna was ahead of the times when she donned a pink and black combo in Tokyo. Also, we have recently spotted Australian supermodel Tallulah Morton at a shoot with nails that take color-swap to an extreme while wearing a different shade on each finger.
What do you think about this trend? Is it too much, or just the right amount of edgy cool?
Xx. Jadan