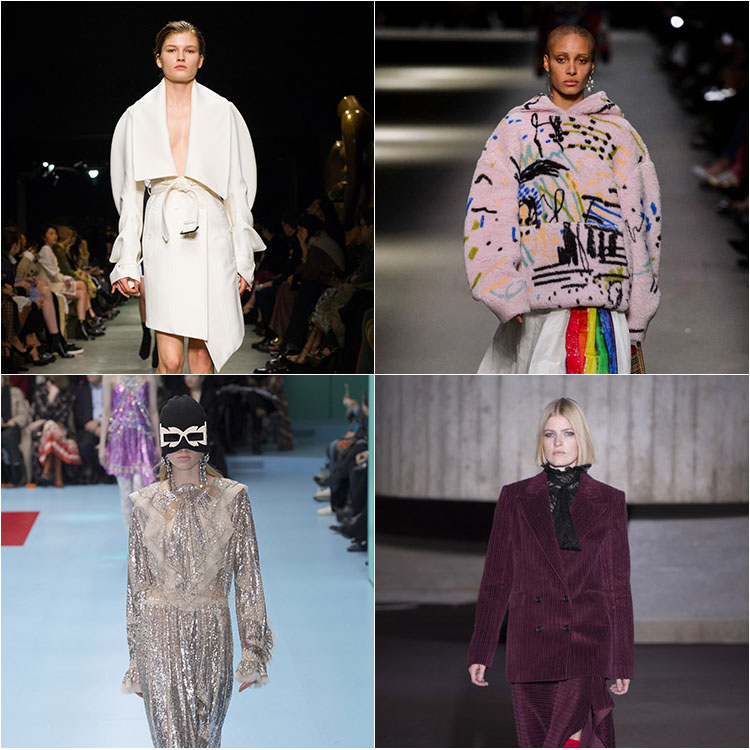 If you're wondering what you'll be wearing next fall, don't. We've got you covered. With London Fashion Week behind us and Milan Fashion Week drawing to a close, the dominate trends will be adjusted ever so slightly to make their way into your wardrobe. Even if some of the looks are a bit over the top, remember that's why they call it a "show." As we worked our way through the latest round of shows, key trends ran the gamut of winter whites, power dressing for a new generation to the not so subliminal technicolor social statement dressing and a big focus on embellishment. Here we go.
Winter Whites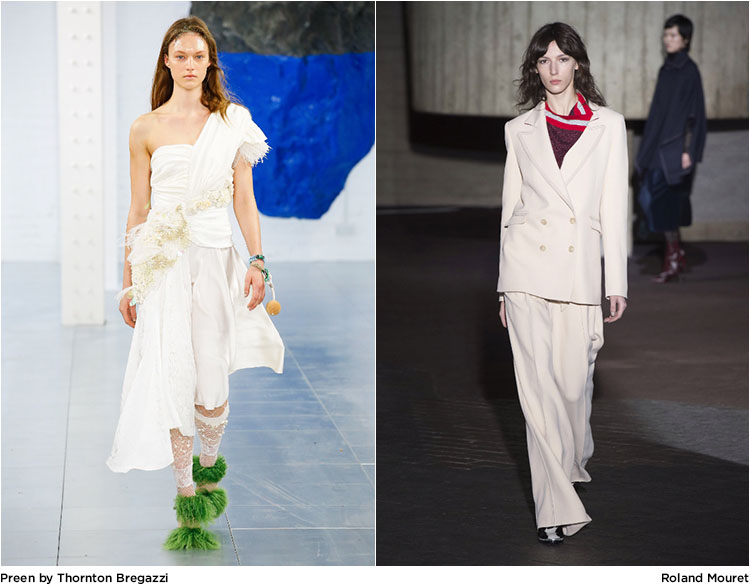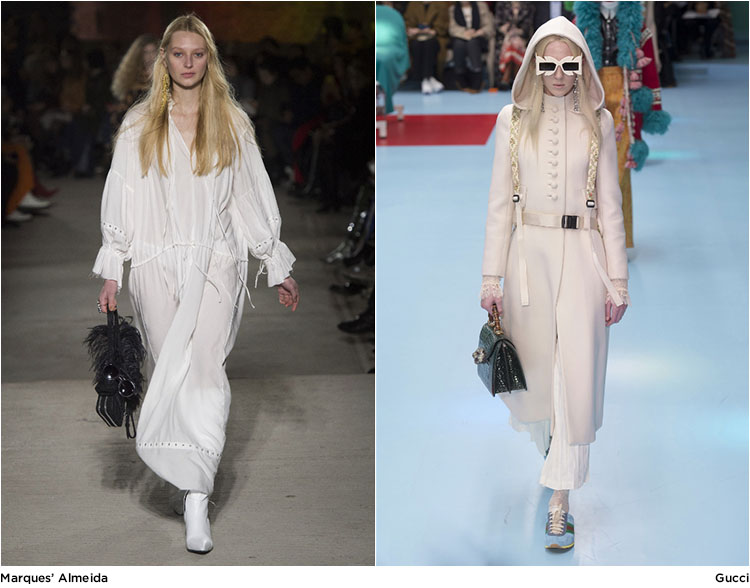 Winter whites are back and gone are the days when wearing white after labor day is, no, was taboo. Designers like Roland Mouret in London (and I just joined him for an intimate dinner party in New York right before he winged his way back to London) and Gucci in Milan emphasized whites and off-whites throughout their collections. There was also been a huge influx of bright colors for winter. Brands like Moschino, Osman, Preen and Mary Katrantzou (another designer I know well and admire) seemed to have technicolor on the brain for this season's collections.
Technicolor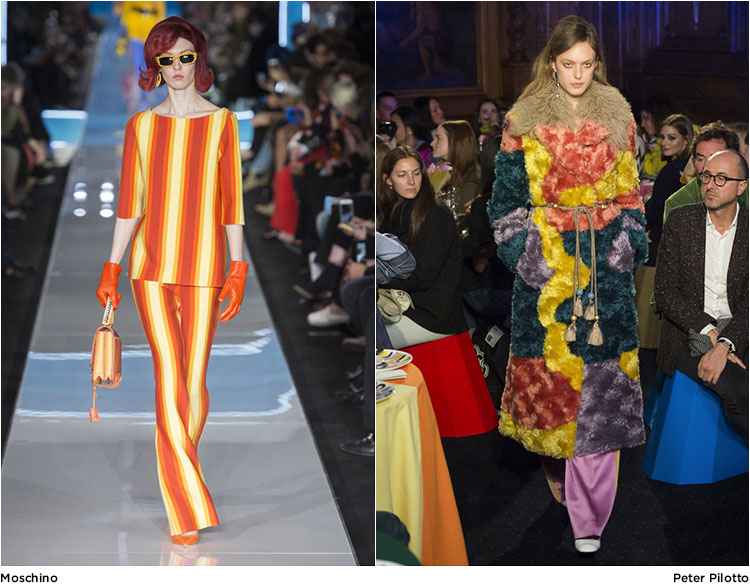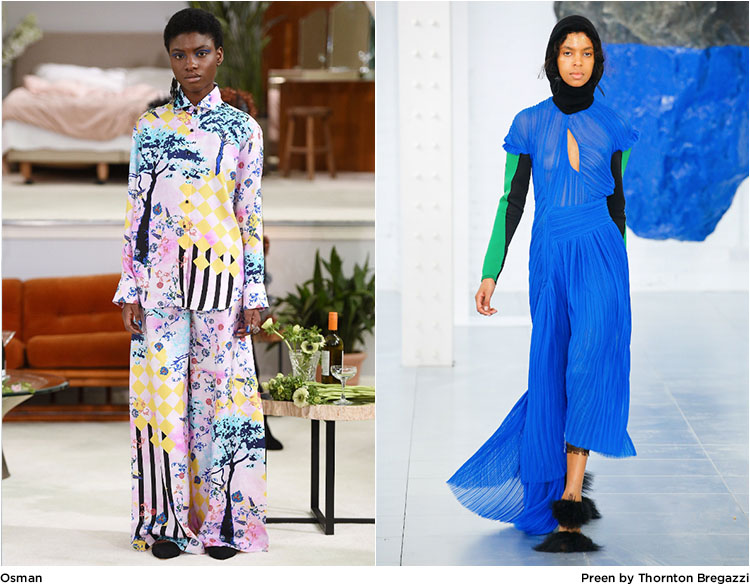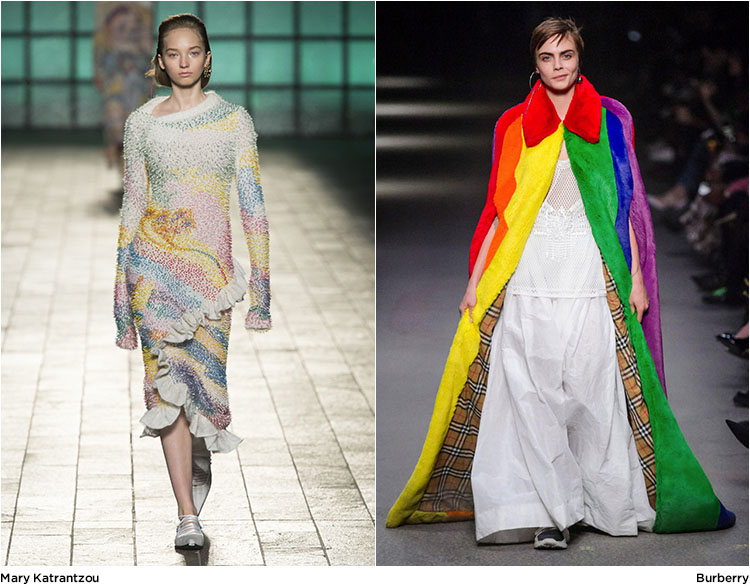 60's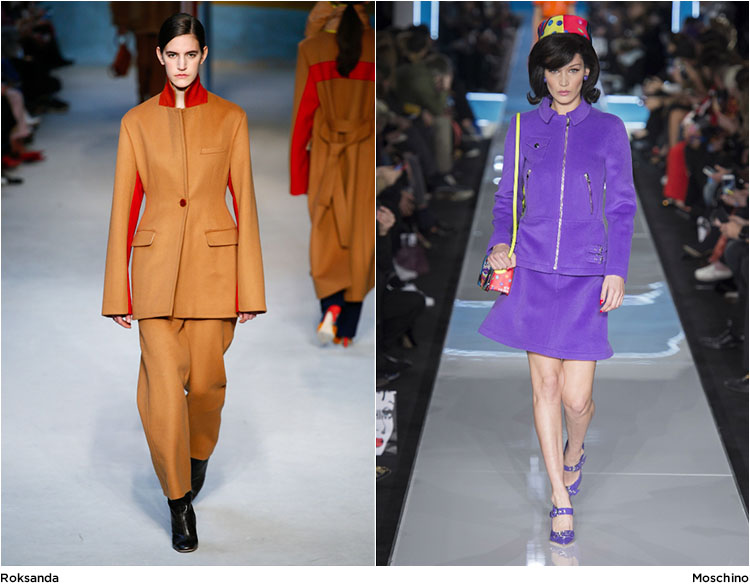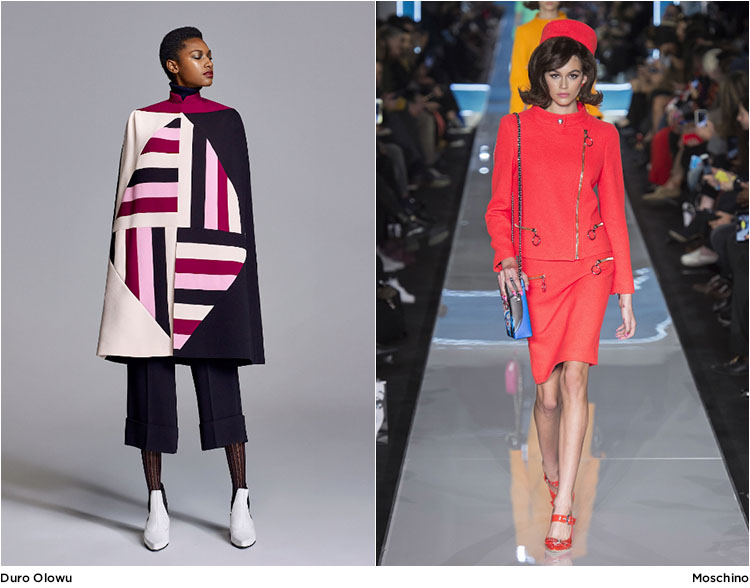 Maybe designers are feeling nostalgic or maybe they are harkening back to a time when we were on the precipice of social upheaval (because that's what it feels like right now). The 60's are back and even Oprah is alluding to it in some of her recent statements. It ranged from Duro Olowu mixing classic 60's silhouettes with bright color and bold prints to Moschino's Jeremy Scott clearly channeling Jackie O and her iconic looks from the 60's. He created his own interpretations of her power suits and her inaugural Pillbox Hat from Halston to a touch of a Pan Am stewardess vibe and a nod to Oleg Cassini.
Bosslady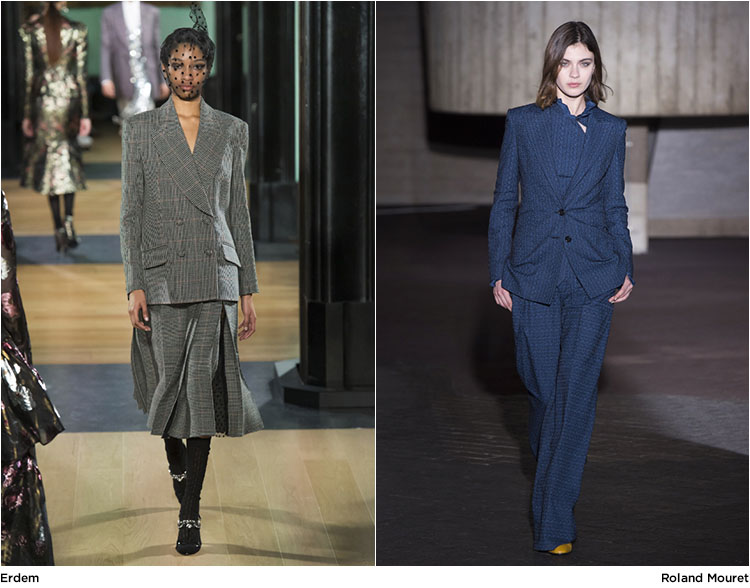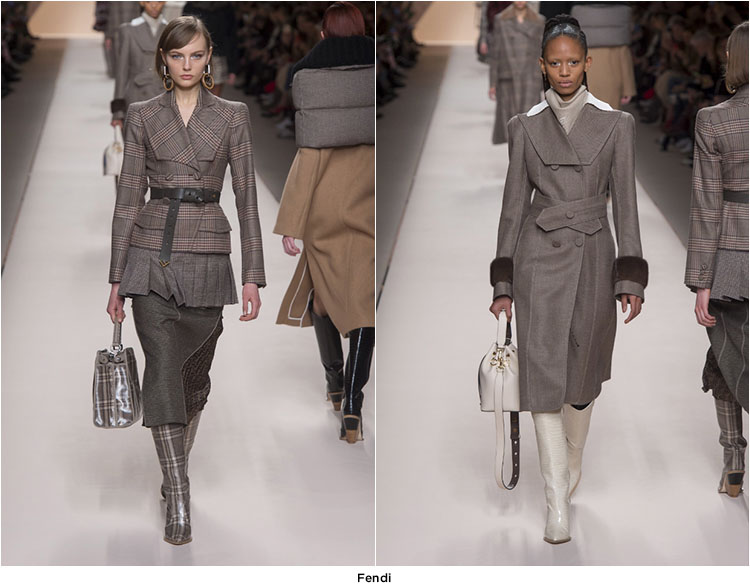 Perhaps in response to recent political and societal changes, power and strength for today's woman was clearly important to many designers. It's a new kind of armor for a battle that's just beginning. While some designers took influence from women of years past, many presented looks created for the modern power woman. Wait a second, her predecessor, the 80's women who paved the way for today's generation of lady bosses. This time round the shoulders and silhouettes are softer and comfort is part of the equation. We like the messaging and the look.
TEXT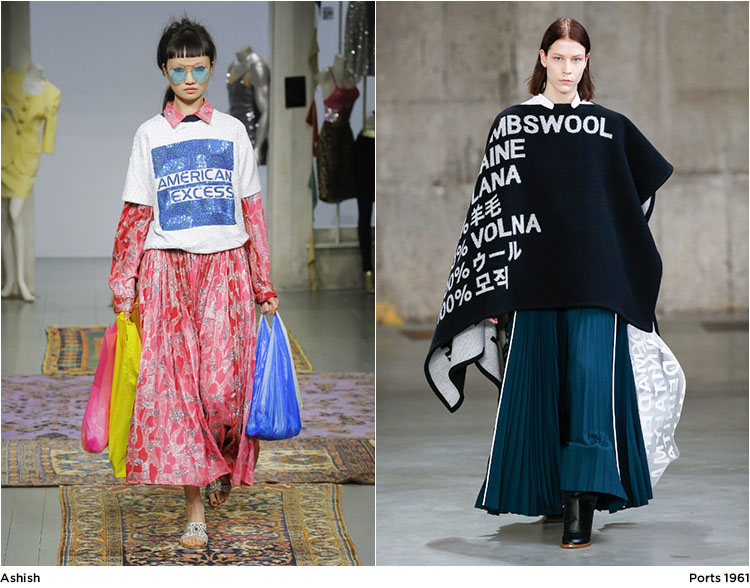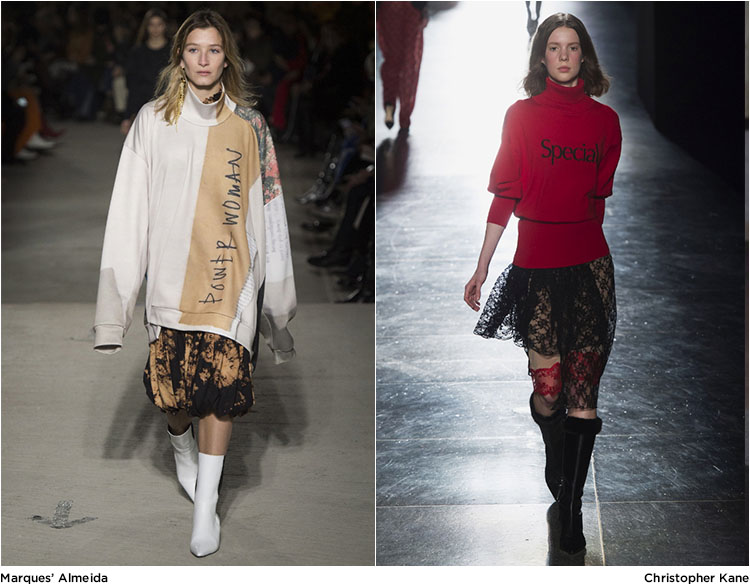 I hope you brought your reading glasses because designers from both London and Milan plastered text across their collections. We're not talking about bold branding, but words and phrases. Actually, many of the looks were so bold it will come down to a very personal decision on how much you want to publicly express yourself. Either way, we don't see this trend going away any time soon.

Embellishment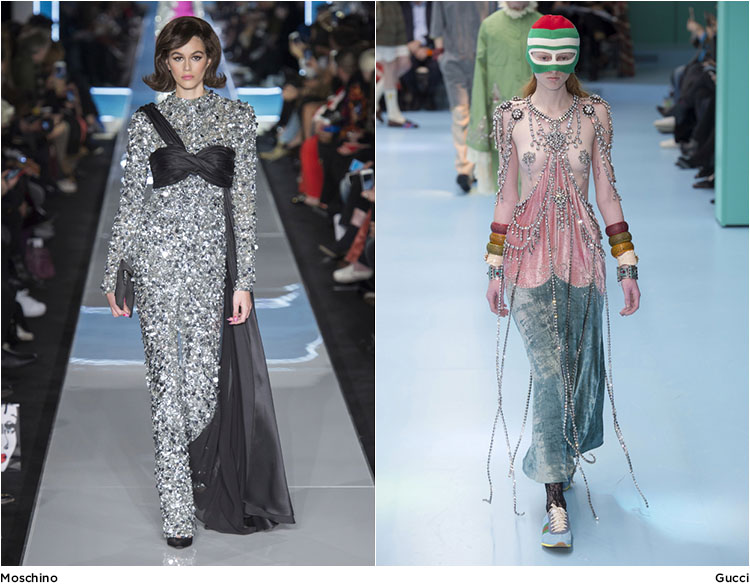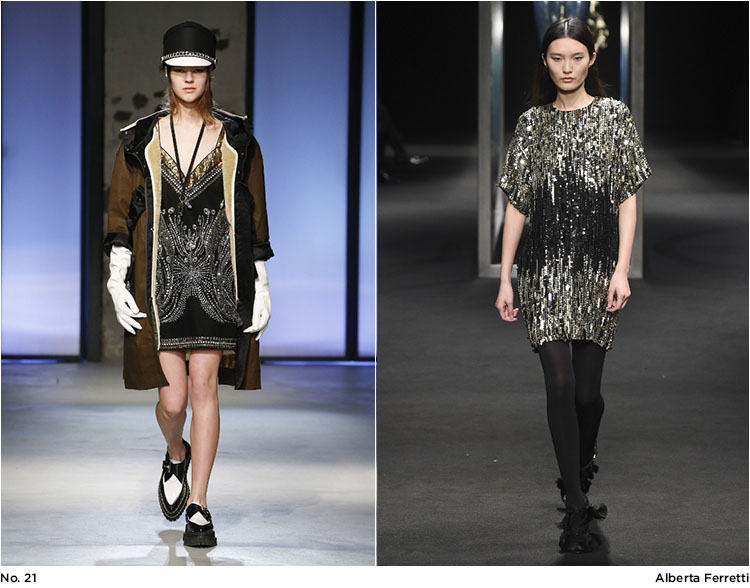 Heavy Eembellishment was plentiful in Milan as well as London. Gucci, No.21 and Moschino all used lots of embellishments throughout their respective collections, both in day wear and evening wear. We're so obsessed with the Moschino look above, obsessed, NJ might just stalk it for months. Hmm. Will we see it on the Oscar party circuit? Our guess, is yes.
Since we're never shy with our opinions, as the month long fashion marathon continues, we'll be back soon with more trends from Paris Fashion Week.

xx
Guest Contributor Nolan Meader & NJ Goldston
Editor's note: The Blonde & The Brunette is delighted to welcome Nolan Meader as a guest contributor. Based in Boston, Nolan is a student of fashion and known for his distinctive take on runway trends as well as his work as an up and coming fashion consultant.