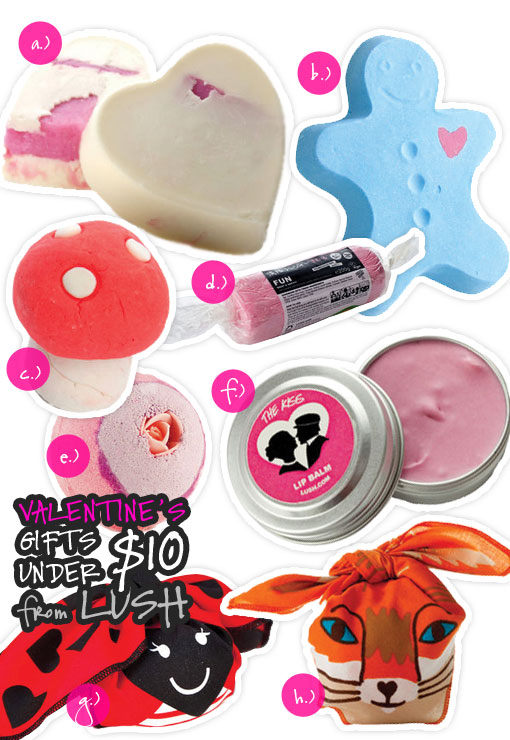 If you're looking for the perfect little Valentine's gifts that won't break the bank, look no further than LUSH. They have an assortment of gifts all under $10 that any Valentine will love…whether it's your sister, girlfriends, office mates, yourself, or even as a surprise for the love in your life.
a.) Tender Is The Night $7.95 – Soft-centered massage bar of shea and murmuru butter.
b.) The Ex-Factor $4.95 – The vanilla musk-scented man is the perfect gift for a single gal pal. Limited Edition.
c.) Magic Mushroom $5.95 – Bubble bar with vanilla and strawberry scents.
d.) Fun $6.95 – Vanilla tonic-scented bubbler for a relaxing (and EDIBLE) bubble bath.
e.) Sex Bomb $6.95 – Jasmine, Clary Sage and Ylang Ylang make for a relaxing aphrodisiac. Lush's best-selling bath bomb!
f.) The Kiss $8.95 – Light pink lip balm with almond and mandarin flavor. Shea and cupuacu butters keep your lips buttery soft.
g.) Love Bug Knot Wrap $4.95 – The perfect finishing touch to any of the products above.
h.) Foxy Knot Wrap $4.95 – Tell your giftee just how foxy you think they are!
– Ashlee, Brunette Contributor