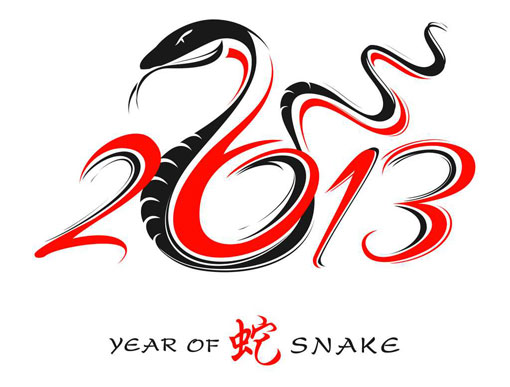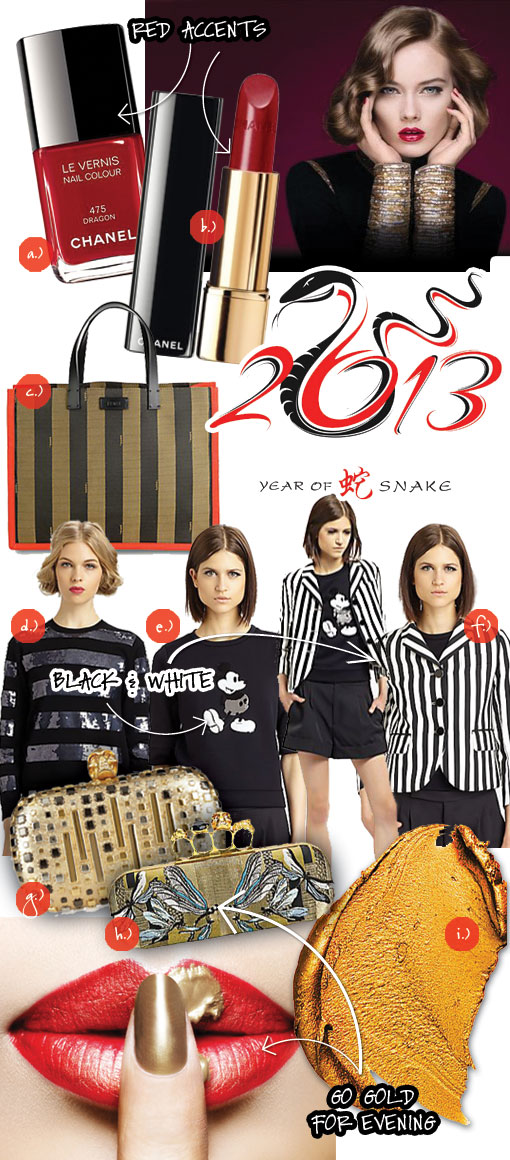 Did I happen to mention that I recently spent two amazing weeks in Hong Kong? The lights, the style, the city, the culture were absolutely intoxicating and my only regret is I am not actually there for Chinese New Year. But for all of our readers who are among the most stylish women in the world, celebrating The Year of The Snake is all part of the fun along with perhaps the most amazing fireworks displays in the world.
We picked a few of our favorite things that would be smashing additions to your wardrobe. The best part is Saks has teamed with The Blonde & The Brunette for a very special offer. And by the way, we know the shops don't always deliver (unless you have a driver!) so this makes your life so easy. FREE EXPRESS SHIPPING on orders shipping to China, Hong Kong, Japan, Korea, Singapore and Taiwan. Just enter the promo code LUNAR13 to any order. The offer is valid 2/6/13 – 2/10/13.
A few of our favorite looks to kick off the New Year.
a.) & b.) From the runways of Paris, scintillating Chanel Vernis Polish in Dragon ($27) and the next generation in lipstick Chanel Rouge Allure in Coramandel ($34). Dress your lips with unmistakable attitude. The new formula with concentrated, ultra-thin pigments offers radically intense color with full coverage and a satin finish. Leaves lips supple and protected with lasting comfort.
c.) Fendi Penquin Busta Striped Canvas Tote. A structured design in striped canvas with contrast trim and leather accents. Also available with yellow or pink piping. $595.
d.) Do a 60's vibe for evening with Marc Jacobs Sequin Sweater ($995) and Skirt combo from his super hot spring collection, which is selling our quicker than he could have imagined.
e.) Another favorite. Marc Jacobs Mickey Mouse sequined embroidery creates a charming, tonal motif on this knit pullover. In black or ivory. I love it as much as I love Mickey Mouse. $995.
f.) Marc Jacobs 60's inspired spring collection is worth a look, especially the black and white striped jacket.
g.) Alexander McQueen Metallic Leather Skull Clutch. Go shiny with a metallic leather embellished version with tri-tone studs and an iconic, skull accent. $1875.
h.) So beautiful. The exquisite Alexander McQueen Dragonfly Embroidered Jacquard Knuckle Clutch. A nature-inspired design in detailed jacquard accented with a radiant knuckle detail. $ 2,075.
i.) For the final touch, Lancome has luminous eye color that stays true for 24 hours without creasing. The revolutionary formula offers a silky, powder-to-cream texture that lasts all day and all night. Try it on your lips. It's the hottest trend. $24.95.
Now find your favorite. Happy New Year.
xo
NJ Goldston, The Brunette & Ashlee McNulty, Brunette Contributor