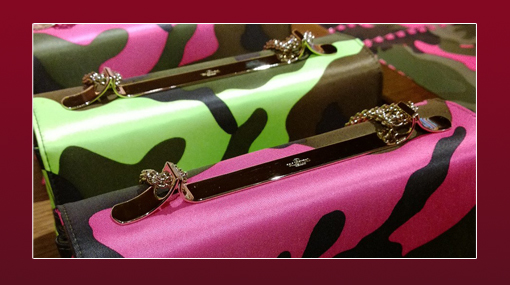 Just a few nights ago Valentino launched their intimate supper series in Hollywood right at their Beverly Hills Rodeo Drive Boutique. Sue Kroll, President, Worldwide Marketing & International Distribution for Warner Bros., hosted the evening. The Girl's Night Out crowd, which I was lucky enough to be asked to join, was a fabulous mix of women in the entertainment industry.
Notable guests included famed Producer Lynda Obst, well-known for Sleepless in Seattle and the highly anticipated Interstellar, to accomplished film editor Mary Sweeney, along with a sprinkling of fashion elite including one of Hollywood's favorite jewelry designers, Irene Neuwirth. I spotted many of the celebrated guests sporting her stunning creations especially dramatic opal necklaces. I wore my a Valentino dress from the Fall 2013 collection along with my personalized black and ermine trimmed clutch.
It was a relaxing evening filled with lots of great conversation, networking, hors d'oeuvres, and a candlelight dinner served on the second floor of the boutique. Much of the Spring 2014 Valentino Collection had finally arrived. Crowd favorites included the brightly colored camouflage and leopard printed clutches (stunning!) along with the fringe clutches with astrological corner clasps. I'm a Leo and feel in love with the red one.
We also saw many of the gowns from the spring grouping including one that had just been unpacked. The yummiest one, pictured below, has heavily hand-embroidered red beads with black sheer panels.
Perhaps it was apropos that the dinner series kicked off with an entertainment industry group. After all, designers Maria Grazia Chiuri and Pierpaolo Piccioli said just before their Spring show: "It's a fashion opera. A show has to be a show."
With Love From LA,
NJ Goldston, The Brunette