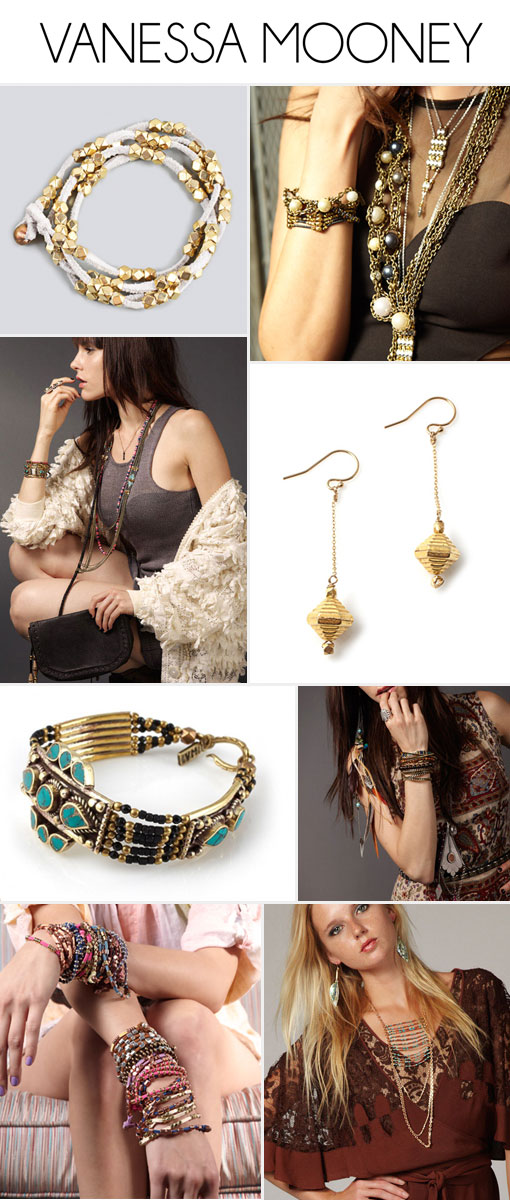 The Blonde & The Brunette are BEYOND excited about our exclusive interview with the beauty behind the jewels, Vanessa Mooney herself! Not only is she giving the first 5 readers who purchase something off of her website 25% off, but she also agreed to team up with us to do one of BnB's biggest GIVEAWAYS yet! Continue reading below to find out how you can get your hands on her fabulous pieces, as well as your chance to win her "Special Edition" necklace.
Jadan for B&B: When did you know you wanted to be a jewelry designer?
Vanessa Mooney: I have always LOVED Fashion, and used to spend hours and hours in thrift stores and my friends closets. I have always been interested in finding out of the ordinary items and putting them together to make something different. I would do it with clothing, painting, pieces of jewelry, things for my home. When I would sit down to start putting it together I would spend hours focused and concentrated on creating what I had envisioned. Nothing else mattered in that moment. A few years ago I was working on something I didn't fully love and decided it was time for me to just be myself and follow my dream! I felt there was a limited amount of jewelry in the contemporary market place that I would wear or want to buy. I was more drawn toward flea market finds, and antique pieces given to me from my mother and grandmother. I wanted to create jewelry that had that feel. Special pieces that felt like they came from different parts of the world, and or time periods.
B&B: When did you create your first Vanessa Mooney piece, and How did you get the company started?
VM: I made a set of Gold and Silver Bali Bead Bracelets that people just died over. A stylist friend of mine started wearing them around and soon, Jennifer Lopez, Leah Remini, Lily Allen, Marisol Nichols and a few other actresses had them on. I started selling them to one of my favorite Boutiques in the Valley called Dari and that was the beginning of the company.
B&B: Whom or What is your biggest design inspiration?
VM: I am inspired by the girl on the street. I love a girl who is creative and fearless with what she decides to wear and look like! Those are truly the girls I design for. I think "unexpected" and "a little out of the norm" when I am designing for my line. I want each piece to make you look twice. Another big inspiration to me is the city of Los Angeles. I grew up in Hollywood. The music scene, old Hollywood fashion, and all the artist and art that is created is constantly apart of my life. It will always continue to inspire me.

As for now, I have to admit I am pretty inspired by the 80's! The power women! I am starting to design my next collection of jewelry with that in mind which is fun!
B&B: At this moment, what is your favorite piece in the new collection?
VM: Right now I am obsessed with my CASBAH necklace. It is the perfect metal collar detailed with cool pyramids. I wear it every day!
B&B: What celebrity would you love to see, or have you seen your pieces on?
VM: I would love to see Kate Hudson wearing it 'cause she is just so Boho, and Rhianna cause her style is exciting to me. I would also die to have Chloe Sevigny wear it, cause she is just too cool!
B&B: Where are your pieces being sold?
VM: We sell at ShopBop, Singer22, Amazon.com, Planet Blue, LF Stores, Free People, Urban Outfitters, American Rag, Scoop NYC, Endless.com, and over 300 amazing boutiques in the US and overseas.
B&B: What is your goal for the future? Do you think you will expand into clothing etc.?
VM: We have started a bag line which has been totally fun! You can see some of the bags on Free People and Shopbop and soon, these fabulous Moccasins we are designing will be in stores as well! I would like to expand to shoes and bags, as well as focus on some super high-end jewelry. As for now, I am so happy designing accessories, there is just so much more to do!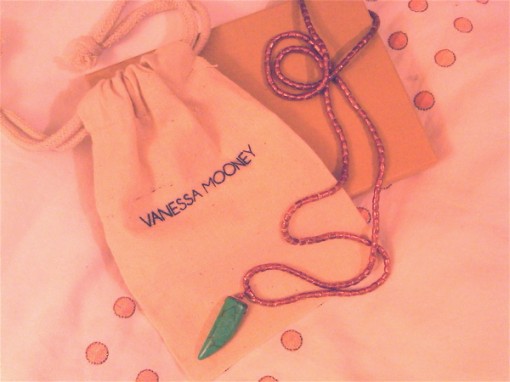 GIVEAWAY
For a chance to win her "Special Edition" necklace, please follow these steps:
"Like" Vanessa Mooney Jewelry Facebook
"Like" The Blonde & The Brunette on Facebook
"Like" & "Comment" on this post and tell us why you LOVE "BnB" & "Vanessa Mooney Jewelry"
Entries will be collected until Friday, October 21st 2011 at 5pm PST. We will announce the 4 lucky winners on Monday, October 24th!
It doesn't stop there, Vanessa agreed to give the first 5 readers who enter the promo code "blondebrunette" while checking out, 25% off their purchase.
WHAT ARE YOU WAITING FOR? HURRY UP & GET SHOPPING!
Xx. Jadan Huter