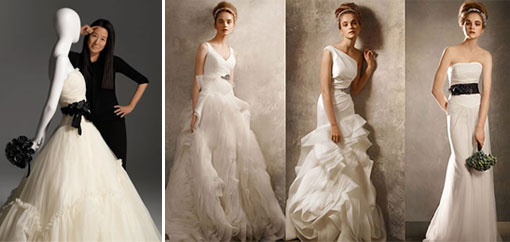 That is…their clothing lines do.
We are now only days away from the unveiling of Vera Wang's new bridal collection for David's Bridal. The name of the line is WHITE and it is due to hit stores, as well as online on February 11th. The bridal gowns will be available in 150 select David's Bridal stores nationwide, while all David's Bridal locations will offer brides the ability to order their desired gown.
After looking through the photos, It is safe to say the line does a wonderful job reflecting Vera Wang's extremely feminine yet sophisticated look, including the classic ballroom styles as well as some slim silhouette looks. Each gown is unique, beautiful and beyond-reasonably priced within the range of $600-$1400
Take a look at the entire collection here: David's Bridal's Website
Dress prices from left: $1400, $1200, and $700.
Xx. Jadan