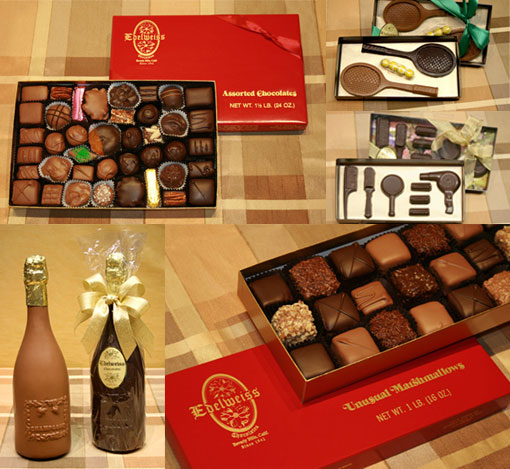 What better way to say "I Love You" than chocolate? Hmm…well I am sure there are plenty of ways, but if your special someone is any bit as much of a chocolate lover as I am, we have the perfect treat for them this year!
I will NEVER forget the first time I had Edelweiss. I was about 16 years old at a girlfriend's house, and her boyfriend surprised her with a box of the chocolate covered honeycomb. Being single at the time, I naturally included myself in this gift. I can honestly say, I don't think two teen girls have ever eaten their way through an entire box of chocolates so quickly! So, when I hear the two words "Love" and "Chocolate" my immediate reaction is Edelweiss!
"Edelweiss Chocolates has been a Beverly Hills tradition since 1942. Their clientele includes some of the most recognized names in the world…from presidents to princes, producers, entertainers, sports figures, and, of course, serious chocolate lovers everywhere. Through the years, our chocolates have been acclaimed by many chocolate experts." – From the Edelweiss website
See a video about how they create all this chocolatey goodness HERE!
Edelweiss Chocolates
444 N Canon Dr
Beverly Hills, CA 90210
Don't forget to take a peek at all their personalized goodies as well!
Xx. Jadan