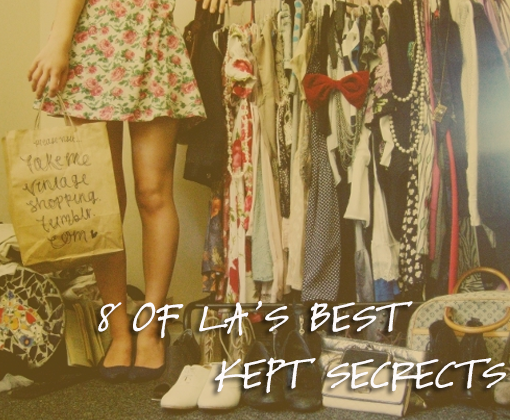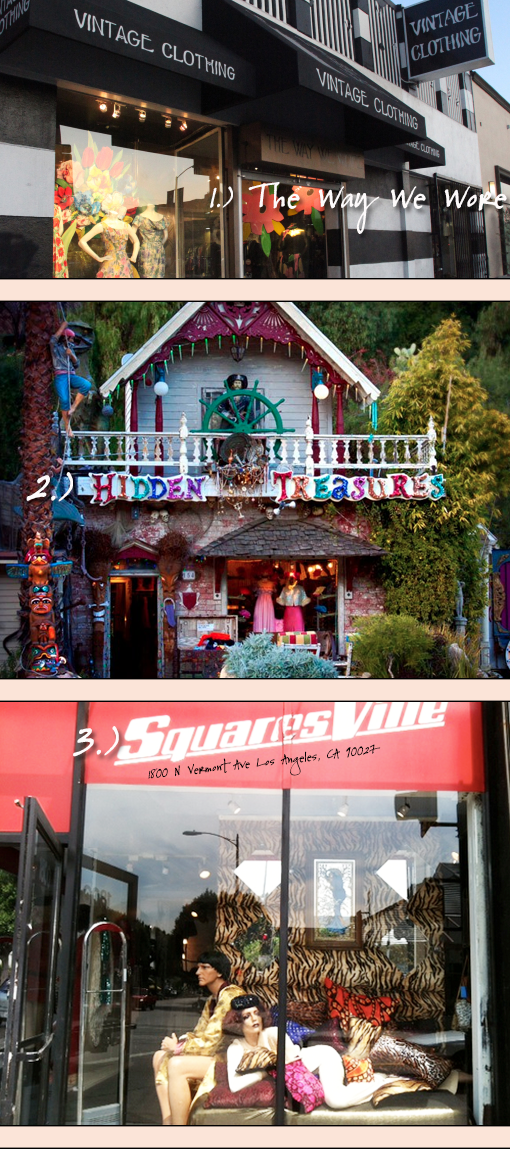 One thing Los Angeles has an abundance of is shopping destinations! Rodeo Drive, Melrose Blvd, and The Grove are among the many "tourist-friendly" shopping meccas in L.A. But for the locals, this city has even more to offer! If you are planning a trip to LA from out of town, or you are an LA local and just haven't had a "thrifting" experience, this post is for you!
I am going to let you in on my 8 best kept shopping secrets in Los Angeles! Hidden vintage stores are what Los Angeles is all about! The thrill of the hunt, the joy of a good bargain, and the one-of-a-kind pieces you can only find vintage stores makes vintage shopping my favorite weekend activity.
Throughout the years I've lived here, I have scoured the city for all the most fabulous vintage store gems, and if you can keep it our little secret, I will share them with you!
Below is a list of my 8 most beloved hidden gems!
THE WAY WE WORE
If you can't be bothered with picked-over piles at thrift stores, let The Way We Wore do the dirty work for you. Frequented by Hollywood stars and their stylists, this expertly-curated haven is the perfect place to nab that chic Chanel brooch, Valentino gown or Yves Saint Laurent blazer that you never won on eBay.
334 S La Brea Ave Los Angeles, CA 90036
HIDDEN TREASURES
Hidden in an elbow of winding Topanga Canyon Boulevard, Hidden Treasures is an apt name for this shack filled with retro clothes and accessories. Style hounds as famed as Kate Moss shop here.
154 S Topanga Canyon Blvd Topanga, CA 90290
SQUARESVILLE
A fashion connoisseur of no less a magnitude than Christian Louboutin has admitted that this is one of his favorite shops. Who are we to argue? The store boasts a wide array of vintage, most of it not particularly high end, but in good condition. As an added bonus, they regularly feature hilarious window displays.
1800 N Vermont Ave Los Angeles, CA 90027
VIRGO
We're huge fans of Virgo's vintage and reworked offerings, much of which skews '80s and '90s. The clothing is priced right: almost all of it is $10-$85, except for the leather motorcycle jackets. For those bad boys, you will have to fork over a Benjamin and some change.
216 E 9th St. Los Angeles, CA 90015
JET RAG
There's a reason why this is one of Gwen Stefani's favorite vintage stops in LA. Known for its unique array of secondhand apparel, accessories and footwear, Jet Rag is every retro-inspired style star's secret weapon. Serious bargain hunters (and those with serious scavenging skills) should hit up the megastore's famous $1 yard sale that goes down every Sunday.
825 N La Brea Ave Los Angeles, CA 90046
IGUANA VINTAGE CLOTHING
Come to Iguana with lots of time to shop: There are three floors filled with racks and racks of clothes, all very neatly organized by decade, color and type of garment.
6320 Hollywood Blvd Los Angeles, CA 90028
www.iguanaclothing.com
MISTER FREEDOM
French expat Christophe Loiron poured his fascination with selvedge denim, military memorabilia, and NOS (new old stock) fabric into this Beverly Blvd outpost, a combination retail space and design studio. Here you'll find styles both old and new (Loiron collaborates with Japanese brand Sugar Cane Co) as well as boots, bags, tees and accessories.
7161 Beverly Blvd. Los Angeles, CA 90036
www.misterfreedom.com
SHAREEN VINTAGE
Whether you're looking for something casual or a dress to wear to a wedding, you'll find it in this massive vintage warehouse. No boys are allowed (seriously, leave them at home) so patrons can drop trou to try on the wares anywhere throughout the store.
1721 N. Spring st. Los Angeles, CA 90012
www.shareen.com
Xx. Jadan Huter