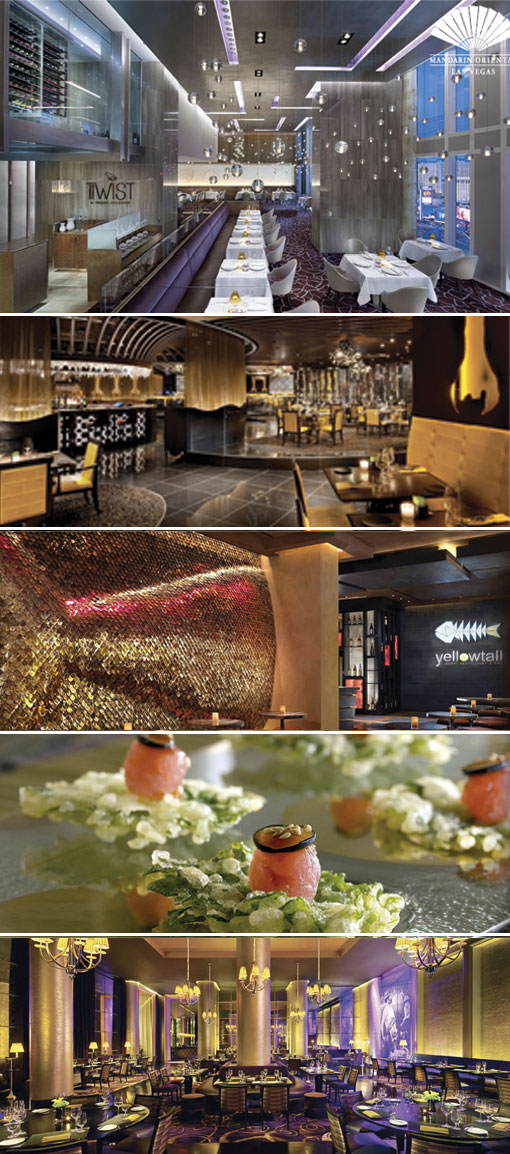 If you are making plans to go to Vegas for New Year's, The Blonde and The Brunette have compiled a great list of restaurants we've all tried and loved. But, make reservations! The Jean George Steakhouse at Aria challenges the definition of the traditional American steakhouse by adding energy and world-class appeal to this stylish and contemporary experience . The menu features the highest quality meats and seafoods from around the world all complemented by great side dishes and home-made sauces. Guys will love it. You can even book the intimate private dining room for parties as small as 10.
At his namesake restaurant Chef Julian Serrano features both traditional and innovative interpretations of Spanish fare with everything from fresh shellfish and cerviches, tapas in the lounge and or dishes from the chef's native Spain all at nice mix of price points. My personal favorite at lunch time is his egg, potato and onion omelet. www.JulianSerrano.com at the City Center
Sage (at Aria) serves contemporary American cuisine spiced with global influences in a sophisticated, comfortable environment. Chef Shawn McClain combines farm-to-table produce with an emphasis in simple, clean flavors and seasonal ingredients with unique cocktail offerings.
Internationally acclaimed chef Pierre Gagnaire makes his US debut with Twist (at the Mandarin Oriental), It's the only place in the country where you can experience the extraordinary cuisine of the three-star Michelin chef. At this venue, the chef introduces an entirely new concept matching flavors and textures in the most unexpected way with its modern twist on classic French cuisine. The interior is just as innovative. Designed by Adam D. Tihany. It's a match for the Las Vegas skyline with 300 illuminated globes seeming to float across the ceiling like fireflies and a dramatic suspended wine loft reached by a glass staircase all with rare views of the glittering city heights from 20 foot high windows. This is special occasion dining at its best. Randy, Pamela and The Brunette all had one of our most exceptional culinary experiences ever here.
In the mood for Japanese? If you haven't already tried Yellowtail, this is a personal favorite of Jadan's and The Brunette! We've been lucky enough to try some of the best and Yellowtail is our hands-down favorite! The restaurant is located inside the Bellagio hotel, and offers private seating with a view of the magnificent Bellagio fountain. Their menu includes a roll with Pop Rocks inside of it.Personal favorites on the menu are sashimi pizza sprinkled with truffle sauce as well as their rock shrimp which is to-die-for.
One BnB follower also recommended Union and the Gold Lounge as great choices. For go-to destinations and bars for New Year's Eve we fell in love with the views and drinks at the Mandarin Bar, XS at Encore with 95 VIP tables and the home of the $10,000 cocktail, or try Tryst at the Wynn Hotel for a more intimate and opulent bar that's a favorite recommended by Blonde Contributor, Susan. Finally, if you're looking for culinary drama, famed chef José Andrés is opening two new restaurants, Jaleo & China Pablano at The Cosmopolitan. If you've been to the Bazaar at The SLS in LA, you know how special his culinary experience and atmosphere is for that special night out.
Don't wait. It's time to make plans for the annual Big Night Out and to ring in the new decade. Think about that for a few seconds. A new decade.
Almost Happy New Year From NJ, The Brunette, Jadan, The Bnb "It" Girl, Ashlee and Randy, Blonde Contributor