As The Blonde & The Brunette pointed out back in August, Warby Parker is one of the hottest new designer eyewear companies on the market. So, why mention it again? Because I just ordered my first pair!
To get my new frames, I purchased the "Home Try On" Package and it arrived a few days later. With this package, I chose 5 styles and colors that I liked. Then, they sent me those 5 pairs so I could see what they looked like on my face. The best part is that you get to mix and match, decide what you like, then send them all back for free. Find a frame that works for you? Have an up-to-date prescription? Great! Order your favorite pair online being confident that it will look right on you.
And, besides being adorable glasses, they are doing their part to give back to the community with their "Buy One, Give One" business model. When you purchase one pair from the Warby Parker website, they will give a pair to a child in need. You get better vision, then you give better vision to a child that would otherwise not have it. You can feel satisfied about the help you provided while looking stylish in your new frames.

Here is a photo of what the "Home Try On" Package looks like so you can get a taste for the amazing packaging and the even cooler frames: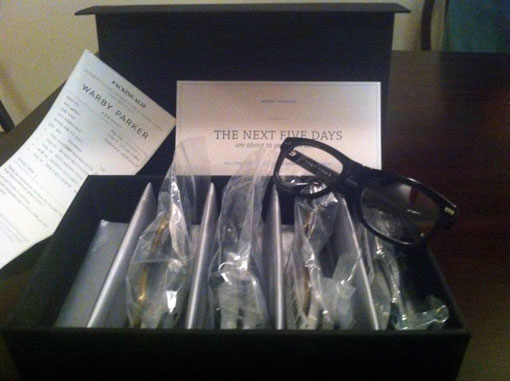 The free UPS shipping label that comes in the box makes sending the frames back easy and painless.
You know I love a good cause that also looks good !
xoxo
Brittan, B&B Contributor