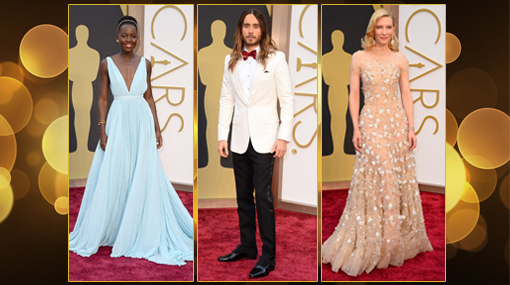 There were a lot of big winners on the Red Carpet at the 2014 Oscars last night.
The range of silhouettes, to the range of color palettes, the red carpet fashion did not disappoint!
Some of our favorites of the night were Kate Hudson, who looked stunning in Versace. Jennifer Lawrence and Charlize Theron who both looked flawless in Dior. Cate Blanchette was spectacular in Giorgio Armani (I am in love with this dress). And of course, Lupita Nyong'o didn't just steal the spotlight in the style department (in her gorgeous duck egg blue gown by Prada) —she also took home the Oscar.
As we've said before, the pixie cut continues to dominate the red carpets. Everyone in Hollywood is doing it now, from J. Lawrence and Portia de Rossi both making waves with their short swept back dos, to Charlize Theron's elegant slicked down pixie. We love them, keep them coming please.
Well to sum up the Oscars this year, we would have to note it had a historical "selfie" moment, when host Ellen Degeneres literally broke Twitter, trying to get the most amount of Re-Tweets, well ever. And, the ever-so-handsome Matthew Mconaughey, brought home 'Best Actor'; we'll just say this was an Oscars to remember!
xox,
Lauren, The Blondette, & The Whole Blonde & Brunette Team.