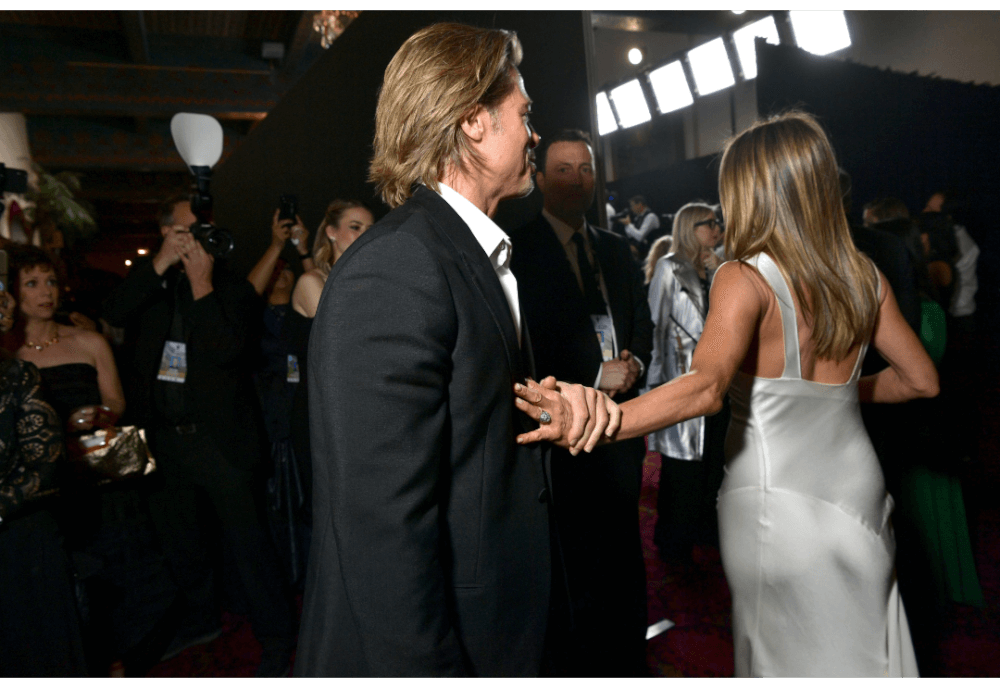 Happy Thursday Loves!
Over this past weekend, Brad and Jen legit broke the internet. People were seriously freaking out and left breathless. Brad won a SAG award, gave his acceptance speech and charmed the pants off of everyone. Then he stopped what he was doing backstage to affectionately watch Jen accept her award. Then we were all blessed with that picture of the two of them backstage congratulating each other. THAT picture of them that went viral of him holding onto Jen's hand which was placed lovingly on his chest as she walked away was a lot. It was pretty heavy stuff for a Sunday night.
So, are Brad and Jen back on? Don't hold your breath guys. It has been confirmed to me by a VERY reliable source that Brad and Jen are JUST FRIENDS. If they are friends with benefits I couldn't tell you but they are not romantically involved.
We should all move past that picture though. Honestly speaking, has everyone chosen to forget that Brad cheated on Jen and in a very public and humiliating way? The nostalgia for their relationship is not actually about them, it's about us. It's what we want to see happen.
Yes, Brad is undeniably, ridiculously hot, but Jen already won. She won a SAG award that night, put on a John Galliano for Dior vintage dress, had a fantastic hair night (nothing new there) and slickly walked away with Brad staring wistfully at her. This picture was analyzed by hundreds of body language experts and most likely Angelina. Bottom line, Jen has probably dreamt of that moment for years and good for her. There's no reason to get back together with Brad as he did her very wrong. Every time we think about Brad and Jen taking a walk on the beach in Malibu or in Cabo, it's because they represent what we want to see, a fairytale ending. We're personalizing this story to be our story about "the one who got away". What we all need to understand is that although Brad and Jen were once a golden couple, they went on to lead very different lives and Jen chose to be the bigger person and forgive him for the pain that he put her though. I'm happy to see they've reconnected as friends but let's let go of the idea of them as a couple.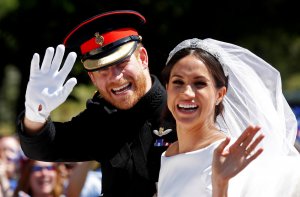 After a week of going back and forth with the Queen, Harry and Meghan have been given permission to step down as senior royals. In fact, they were invited to not be royals and to step down altogether.
This past Monday, Meghan Markle was photographed walking her dogs in Canada, at a public park, while holding Archie and being trailed by two security guards look happy as a clam. On Tuesday, a cease-and-desist letter was sent to some members of the British press from Harry and Meghan letting them know there would be lawsuits if these particular pics were published or sold. Their whole narrative of not being able to endure the press harassment sort of falls apart when Meghan is caught smiling directly to the camera in an allegedly unwanted photo. The fact is, they are still highly demanded by the press and the press will continue chasing them. They should try to be low key for a while and stop with the lawsuits.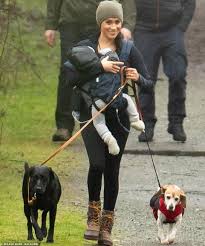 From somewhere near lots of shiny gems and pretty people,
Julia Obst